By: Sam Meyerkopf / @euro_adventures
That looks like saliva slowly dripping off the side of your lip.  Yep, you're legitimately drooling right now, staring at your favorite meal, slobbering uncontrollably.
I'm talking about you, every Euroleague fan out there.  You're mouth is watering because we're finally here: week four of the regular season with a potential Final Four preview going down today.
Four undefeated teams.  The four best point guards in Europe.  The reigning champ and the MVP.  The current leader for MVP.  It's all wrapped together in two games:
FC Regal Barcelona vs. Montepaschi Siena
and…
Panathinaikos Athens vs. CSKA Moscow
Thank you, great gods of tiny white ping pong balls for letting these teams ending up in the same regular season groups. You're too kind. Here's the dilemma: if you could only watch one from beginning to end, which would you choose?

Loading ...
Although ELA will be attending the Barcelona game in person, I know which one I'd choose: Panathinaikos Athens versus CSKA Moscow.  I know (and I sincerely hope) Barcelona vs. Siena will be an incredible contest, but I simply can't turn down the reigning champs at home against this year's most dominant squad.
Through three games of the season CSKA has been the most dominant team and Andrei Kirilenko has been the most dominant player.  If you got their frontcourt starters to stretch out and hold hands, they would cover the entire baseline.  Their length and talent is unmatched in the Euroleague, but this is still a team that was basically made over in the offseason and has some questions with its rotation.  They haven't had a tough game yet and can't let the Euroleague crown holders catch them sleeping.
On the Greener side of things, Dimitris Diamiantidis has played flawlessly so far and he's teamed up with Nick Calathes to make one of the best backcourts on the continent.  But can Panthinaikos stack up against CSKA's frontline?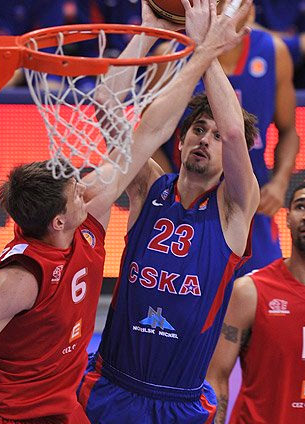 Mike Batiste is always a lot to handle, and he's got girth to counter the length of CSKA.  Ian Vougioukas has been solid so far, but former All-Euroleaguer Aleks Maric is still having trouble fitting into Zeljko Obradovic's lineup.  To be able to fend off CSKA and Kirilenko's constant assaults on the interior, Maric will have to step his game up and Steven Smith will have to play bigger.
CSKA's biggest obstacle will be the opposite: point guard play and backcourt defense.  Milos Teodosic hasn't looked anywhere close to his 2010 MVP form yet, and the guards haven't had to play any tight second half basketball either.  If Diamantidis can slow down or shut down Teodosic, running the offense is going to fall into Alexey Shved and Jamont Gordon's hands.
That's not somewhere I'd feel comfortable.
Shved has looked much improved this season, but he's still wild with the ball.  That could cause problems for him against one of the Euroleague's best home defenses.  And of course if all else fails, CSKA still has AK-15, who's averaging 4.3 assists this season and loves letting the offense run through him.
If this game is played in the 70s, Panathianikos is better at D'ing up and playing half court basketball.  If this game gets into the 80s or up into the 90s, CSKA has the edge.  Any way you slice it, this might be the best collection of talent you see on a basketball court this year and you need to watch.
So keep drooling. This game is going to be that good.