For Olympiacos fans, looking back at recent Final Four history has been deeply rewarding. Last week, unfortunately, Vasillis Spanoulis recreated only part of last year's semi-final - the first three quarters of it where he was held scoreless; monochrome rather than glorious technicolour.
You could have lost a lot of money betting against Kill Bill and a supporting cast since 2012, as he showed in that fourth period blitz to break CSKA spirits last year. So it would take a brave prognositcator to declare the Reign of Span over - but the signs are becoming increasingly worrying for the fans in Piraeus. So much so that a question that might have seemed heretical only 9 months ago might need to be at least raised in discussion.
Through 11 games in Euroleague this season, Spanoulis is shooting 20.7% from three point range. Some of his lines from behind the arc so far include a pair of 0-for-5s and a 1-for-8. Player Index Rating has its limits as an analytical tool, but his average this season Euroleague is 5.9. He's averaging 9.5 points per game, the first time he's ever been in single figures, and 4.9 per game down on last season. He's only shooting 35% from inside the arc, and is getting to the line less as well - 3.3 per game this season compared with 5.3 last time out and 5.1 per game since 2012.
Some of the trademark Spanoulis finishes are looking just a little more tired. The hang time on those off-the-glass runners is a split second shorter. The pull-up threes with not quite enough elevation to arc over outstretched hands.
To be fair he racked up 19 points only three weeks ago against Baskonia, and he dished out nine assists the week before in Barcelona. He's also missed time to injury, not for the first time, and that takes its toll on a 33 year old much more than it would on someone in their late 20s. So maybe it's a case not of Spanoulis' inexorable decline, but learning to use him in a different way - similar to the quandary that Barcelona have faced with Juan Carlos Navarro.
The trouble is, since the Top 16 began, the supporting players have not risen to that challenge, they have shrunk away from it. Injury has played a huge part - Patric Young's season ending torn ACL after only five games robbed the Reds of their deterrent at the rim.  If they had signed the Shawn James of 2013 they'd have had a replacement, but the maniac who swallowed up entire frontlines defending Maccabi's paint is long gone. Georgios Printezis is ailing too, and there is no adequate backup to overcome these problems at the big positions. But Matt Lojeski continues to drift in and out of games despite looking like one of the best wings in Europe when he's locked in. Vangelis Mantzaris just looks sluggish, far from the familiar defensive spanner in the works of even the best pick and roll offense.
There was very little resistance to the slashing of Sergi Llull and Sergio Rodriguez or Felipe Reyes and Gustavo Ayon's high low game.  There was no intimidation, no pressure. Forget Xs an Os, character-wise it was the antithesis of everything Olympiacos threw at CSKA, Barcelona and Madrid on the way to those two titles. Of course they were unsuccessful the last time they stepped onto this floor, but that was the Euroleague final, and they were playing a far stronger Real Madrid team. This year's edition has struggled with elite athleticism and shooting whenever they've faced it, and was under a certain amount of pressure.
There is little margin for error in making the playoffs in their Top 16 group. Not only the perennial Final Four competitors but Baskonia are looking great, Bamberg are far from the punchline they were in their last Top 16 outing, and Khimki have carried themselves with a swagger seen only sporadically in the Regular Season. It's usually considered vital to finish in one of the top two spots, to get homecourt advantage in the playoffs, but right now the Reds would be happy with merely making it.
And if Kill Bill responds to this by dropping 28 points and a game winning triple over Khimki on Friday, then you can thank this article for tempting fate and making me look stupid. It wouldn't be the first time…
Double screen fun
It's always fun to see a nice set that works to counter one of the opponent's defensive trademarks. It's also nice to go back to the 2010-era 'non-moving-pictures' approach to analysis. Whatup, Sebastian Pruiti?!
This is a sweet double-screen set that gets Felipe Reyes an open layup. First, Reyes sets a ball screen for Sergio Rodriguez, a split second after KC Rivers backscreens for Gustavo Ayon moving from the left corner across the paint.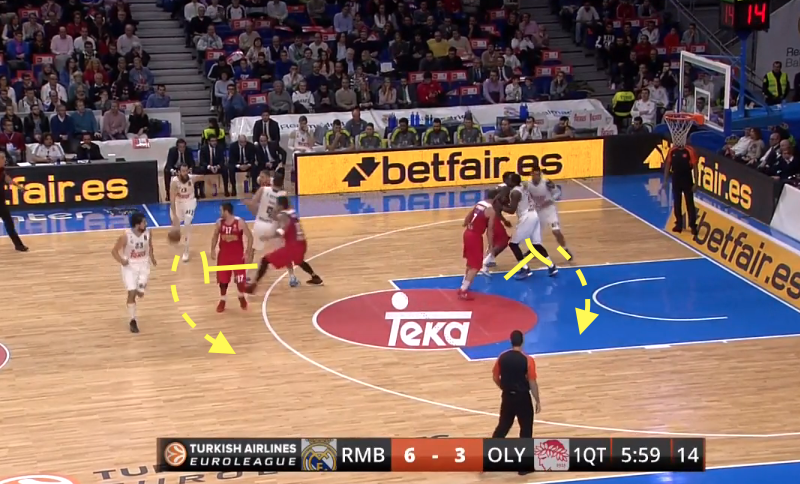 Reyes doesn't really roll or pop, he just stays where he is for a beat, as Spanoulis, caught up on Rivers' screen, has to make a decision. Printezis, guarding Reyes, as is the norm with Sfairopolous' scheme, has shown hard over the ball screen to try and force Rodriguez away. But because of the off-ball screen, Spanoulis has to recover over to Rivers - an excellent three point shooter - on the perimeter. Or, if he stays inside, great, Rodriguez has two options - Reyes with a mismatch or an open Rivers on the three-point line. Because Printezis is temporarily out of the play, Spanoulis is left with the impossible task of guarding two players.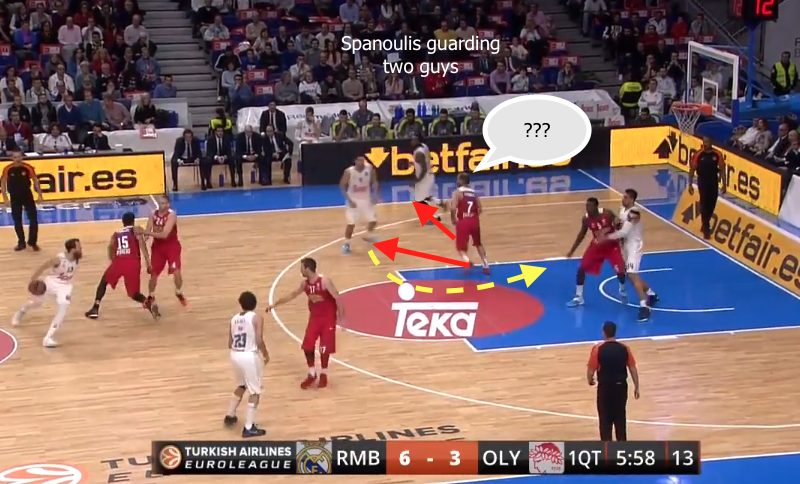 Reyes slips down into the paint and Spanoulis has made the understandable decision to follow Rivers. Printezis can't recover quickly enough (how could he?) and Ayon steps out from the under the rim as Reyes takes the pass and drops it off for an easy two.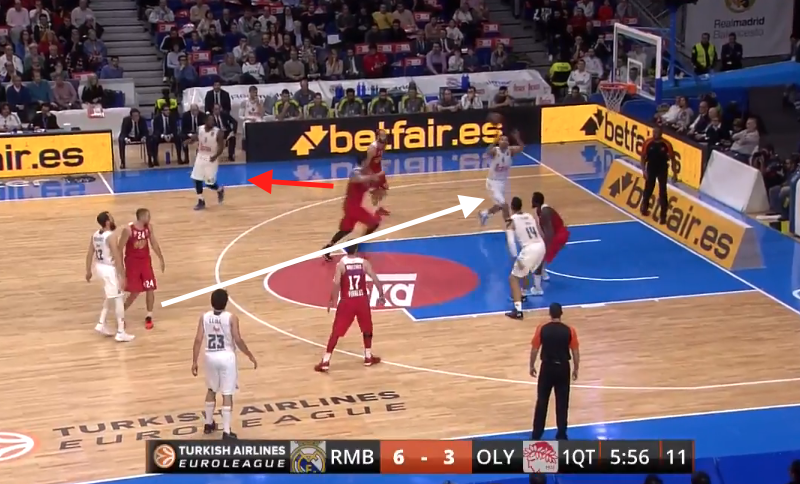 A nice, subtly effective halfcourt set that relies on Rivers' gravity as a shooter (it could easily have been Carroll) and Rodriguez's ability to make quick reads on the fly.
Fenerbahçe: International class
Fenerbahçe remains the only unbeaten team in the Top 16, rolling to 5-0 with a hard contested win over Cedevita Zagreb. Jan Vesely picked up January MVP, and there's not a whole lot to worry about right now.
We've not really covered Fener much so far this season, but that's at least in part because there's been something of a mundane inevitability about them. They'll be a fine participant in the Final Four, and are probably at worst the second favourite to win the whole thing, goofy single-elimination game stuff discounted.
Vesely is a de facto provider of 'exciting plays' - high-flying dunks, vicious blocks, you name it. He's refined his new-found destiny as a rim-running centre, and is one of the toughest covers in Europe. Bobby Dixon has shaken off some initial rust, and  is producing at both a high usage (25.6%) and efficiency (third best PPP among point guards, at higher usage than both).
Luigi Datome has shown that if the NBA moved too fast for him, Europe works out nicely. He's in the 50/40/90 club (52.2% / 44.2% / 93.3% since you ask) and leads the team in minutes played. I was skeptical that Ekpe Udoh would either necessarily thrive in his first European home or be able to play alongside Vesely as a non-stretchy four. On all of these counts, this Fener team looks like a burgeoning monster ready to devour the competition.
But there's a bit of a corporate vibe this year - the NBA returnees Datome and Antic; poaching Bobby Dixon from his cult hero status in Karsiyaka, and Kalinic from Crvena Zvezda. There's no mega prospects who are ready to play, nor anyone reaching the apex of their potential. It's all a bit…. obvious?
Of course tempting good players with more money is how the game works, so there's no criticism there. You absolutely have to respect the effectiveness but there is a certain lack of identity.
Without the restrictions of the Turkish League, Melih Mahmatoglou leads all of their homegrown players (no, Bobby Dixon doesn't count) in Euroleague minutes played, with 93 minutes over 11 appearances. Baris Hersek, Berk Ugurlu and Omer Yurtseven are the only other domestic players to appear, each with less than 47 minutes played over the whole campaign. Fellow financial giants Real Madrid, CSKA Moscow, Barcelona (to an extent) and Khimki for example, all have a core of national players alongside imported teammates, that generally play a huge role on their respective clubs.
From a performance point of view, recruiting the best possible roster is the aim, and I'm sure Fener fans would not swap places with Anadolu Efes right now, even if meant getting their hands on Cedi Osman and Furkan Korkmaz. It should also be said that the main obstacle in the way of Yurtseven becoming a Fener legend is likely to be the NBA Draft. So maybe this is just a sabbatical from playing domestic talent?
For the neutral observer though, there was something more appealing about Fener when guys like Omer Onan, Mirsad Turkcan and Ogus Savas were repping the blue and yellow jersey, though as Jan Vesely dunks his way to another probable Final Four appearance, I doubt anyone at Ülker Arena really cares, and nor should they.