By: Rob Scott / @robscott33
It's time for the Euroleague again, and this is our last chance to cram all the drama of the Top 16 into six weeks of intensive, highly caffeinated devotion.
The Regular Season is great, we all know that. There were some pretty big surprises – Cantu survived, Caja Laboral went home, Zalgiris fired their coach… OK, so the more things change, and so on. But, now we crank it up a notch, and get ready for some heightened senses and lowered inhibitions.
Here, in five bitesize chunks and in no particular order, are some things your correspondent is looking forward to between now and the end of February.
1. Can Olympiakos defy all common sense and reason?
In the weeks since the Regular Season finished, some new faces have arrived in Piraeus. Those of us who were heartbroken at missing out on another six weeks of Caja Laboral can sleep easy – our weekly fix of Joey Dorsey is safe in the hands of of Dusan Ivkovic.
Acie Law is also reborn into the Top 16 after failing to make it with another club, swapping the intensity of Pionir Arena for the slightly more sparsely populated Peace and Friendship Stadium. Out have gone American rookies Matt Howard and Kalin Lucas as well as Marko Keselj, who seems to have stagnated since the 2010 World Championships with Serbia.
With the possible return of Lazaros Papadopoulos and Vassilis Spanoulis back in the lineup after injury at least there won't be a double period of adjustment for the newcomers. But adding another undersized big man alongside Kyle Hines and a ball-dominating point guard to put alongside Spanoulis doesn't exactly reek of logic, particular given the evidence of their European careers so far. Group E is wide open after CSKA, and The Reds might sneak through into the playoffs.
If they do, it still doesn't mean all of this makes sense.
2. Will Emir Preldzic finally get it together?
Preldzic is probably too versatile for his own good. Is he a point forward, is he a wing? Should he be handling the ball or curling off screens and catching on the move?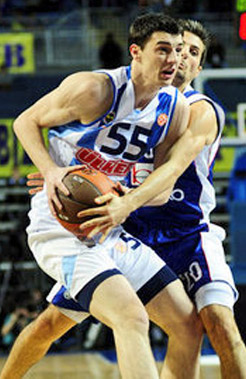 So talented he's eligible to play for more countries than most, what's certain is he can't do any of that from the bench. With Curtis Jerrells left as the primary playmaker in Roko Ukic's absence through injury, Fenerbahçe needs a secondary ball handler anyway, so Neven Spahija might as well let Emir play through some mistakes. It's not like they have a squad full of flawless alternatives. In tight games, I want Preldzic initiating the offense.
3.  Will Zalgiris cause a stir for good reasons?
You have to give it to Mad Vlad: it's never dull in Kaunas. Scraping by a nanometre into a barely deserved Top 16 spot, they have weathered the ignominious Ty Lawson era, the obligatory coaching carousel and signing an undersized power forward who got kicked off his college team this year (UCLA's Reeves Nelson).
Amidst all of this, Sonny Weems settled into an All-Euroleague calibre year, they're undefeated in the LKL having dispatched Lietuvos Rytas last month and they're even on a three-game winning streak in the VTB United League. The downside is that now they have to play Barcelona and Maccabi, not Budivelnik and Astana, but there's a feeling in my gut that tells me Weems is going to go off at least once.
They won't qualify, but if the Praying Mantas and The MVP Paulius Jankunas can do enough in support and Robertas Javtokas can stop smoking cigarettes long enough to regain his Valencia form, then they could at least make the headlines for positive reasons this time. That would be progress.
4. Who will avoid CSKA?
Group E's relative weakness outside of the Red Army means it's one of the biggest nailed on certainties, barring catastrophic injuries, that they will win their group.
The bracket would pit them against the runner up of Group F, containing Real Madrid, Montepaschi Siena, Unicaja and Gescrap Bilbao. Siena once again made do without Bo McCalebb for part of the campaign but unlike last year, with fingers crossed for no repeat harm, Bo will play in the Top 16.
With Lavrinovic out long term, Siena isn't deep upfront but somehow the likes of Tomas Ress and Andrea Michelori do what needs done. In the backcourt, Igor Rakocevic and Pietro Aradori stepped up in Bo's absence. In order to win the whole thing they probably need Lavrinovic and Kaukenas back, but whoever ends up playing Olympiakos or Anadolu Efes in the playoffs is going to be handed a discount ticket to Istanbul.
Neither of these sides is infallible, but Madrid's big win over Barcelona over the holiday period came with losses to both Estudiantes and Joventut Badalona, and another slip-up, maybe on the road in Bilbao or Malaga, could force them to navigate to Istanbul via Moscow. That's a road even Cormac McCarthy wouldn't like to go down.
5. More Demond Mallet in the Monitors
One player who deserved a second life in this season's competition was Demond Mallet. The veteran point guard was high usage at Spirou (25.6%), but still managed to shoot over 50% from two point range and 37.5% on threes.
He was part of an entertaining side that, although it ran out of steam towards the end, had shown in beating Efes and Milano and running Real Madrid close that it was at least one level above the bottom-feeders like Union Olimpija and Asseco Prokom.
Now Mallet has to step up to replace Jordan Farmar, and by extension, Jeremy Pargo from last season's championship game run. However, Mallet has struggled in his last two Adriatic League games and the Israeli league bears no real comparison to what's about to unfold. While he doesn't have the sheer power or quickness of Pargo at this late stage in his career, David Blatt's offense is so much more effective when it has a ball handler who can get to the rim, and Mallet should be able to fulfil this role to put Maccabi back on track.
Find more of Rob's work on his Switching Screens blog, on The Basketball Post or over at his newest project, Euro-step.net.