Anyone who's made the daily voyage to Istanbul's Abdi Ipekci Arena for Group B play has surely been struck by several things. Tunisia's Marouan Kechrid is small, Iran's Hamed Haddadi is large, and Team USA's Kevin Love is the best thing going in the USA paint. After playing just 42 minutes in the first four games, Love led Team USA in total rebounds, offensve rebounds, and was even fifth in scoring. In the game vs. Iran, Love led the red, white and blue with 13 points despite seeing the floor for only 11 minutes.
But that's not the issue here. What got the arena—if not the entire city of 16 million—buzzing was Love's new, clean-cut look. Always ahead of the curve, ELA asked Kevin about this bold grooming decision:
Freaknick: So you shaved the beard today. Did that make you a little more aerodynamic out there?
Kevin Love: Yeah I think so, a little bit. There have been a few people talking about that, and the shaving did well for me today and hopefully it will for the rest of the tournament as well. So yeah, that's the look I'm going for right now.
[Someone asks him about his role on the team.]
KL: I just try to come in and have energy. Everybody's kind of bought into their role, so for me it's to come in, rebound and get easy baskets, shoot a high percentage and play good defense. That's a couple things I can always do: play defense and rebound. I know Lamar's going to be the starting center and he's going to play a lot of minutes. So when I come in I've got to get the job done whether I play 5 minutes or 25 minutes. That's the kind of mindset I have coming into the games and it's worked for me so far in my career and so far in this tournament.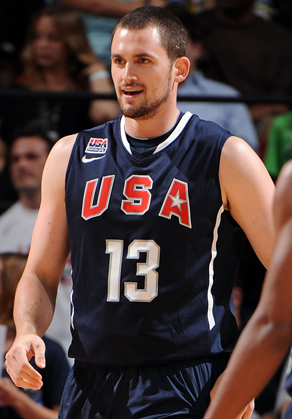 FN: Is it tough to stay focused and motivated through all these blowouts?
KL: We know that after tomorrow that you only get one shot at this thing. You can come out and get a tough test like in the Brazil game and you're out of the tournament and on your way home. You know we got one more game [vs. Tunisia] and then a practice after that and then we're looking at the medal rounds and we're going for gold.
FN: Are y'all watching any other games and checking out who you might see in the next round?
KL: Yeah our coaches were huddled around watching—who did Germany play tonight? They lost to…Angola, yeah Angola. It was 92-88 so we were crowded around because that's a team we could end up facing in the first or second round. I think we've been paying close attention and back at the hotel we've got our screen and when we're eating basketball's always on, whether it's the games here or elsewhere.
FN: A lot of teams have talked about tanking or losing strategically to avoid certain match-ups in the next round, is that even ever something that crosses your mind? Obviously you're advancing comfortably now, but is that something the coaches ever even mentioned?
KL: No, we want to go undefeated. I don't know what it is, whether it's 8, 9, 10 and 0 but we want to win every game. That's what we came here to do. I don't think it would serve us right working so hard and becoming a family to lose a game like that. So we just want to come out and win every game.
[Someone else asks him about his playing time, his role, etc. I'm sure he's not tired of that one.]
[Not done yet: somebody else now asks him about  if that loss to Greece in 2006 in the back of their minds.]
KL: Oh yeah. We know in our near future that we'll be facing some of the teams that have knocked us out in previous years and we know that are some very good teams to this day. So it's still in the back our mind, what was that, 2006? Greece knocked us out so if we face them we'll have it on the back of our minds and maybe it will add a little bit to the game. We just want to treat every game like it's our last. I know that's a cliché but it's just how we do it.
FN: You got 12 different guys that weren't there in '06. So you know that Greece beat you but is it a personal thing or is it more just people telling you that you should be worried about Greece?
KL: Ha. A little of both, but probably more the second part. I think for some of those guys and the coaching staff that were coaching during that time, they have it in the back of their minds as well. Like I mentioned, we're going to play every game like we can get knocked out. Because we can get knocked out in this tournament. But no matter who we're facing, we want to come out and get the 'W'. However there might be some added incentive for that game if we do face them.
FN: Is there any other team that you think you should be worried about?
KL: You know there are 3, 4, 5, 6 other teams that I know Coach wouldn't want me to mention because he doesn't want me to get ahead of myself. But there are a few other guys that I'm sure you guys could figure out without me saying it that we're looking forward to facing if they come our way.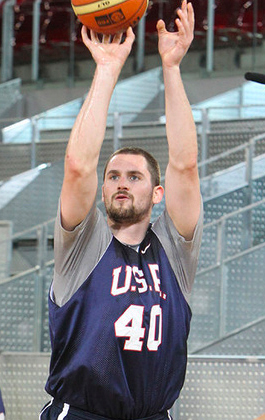 FN: You sure you don't want to just tell us?
KL: No comment.
[The press collectively pushes him for specifics.]
KL: There are a couple teams, and we've traveled to a couple places where those are some of the top teams. And then there are other places that we haven't traveled to where those are some of the top teams as well. [Read: We played Greece in Greece. We played Spain in Spain. We have not played Serbia in Serbia or Argentina in Argentina]
[On the Iran game's political implications:]
KL: To us it's just another basketball game. We were laughing with the guys, they were helping us up, we were helping them up. For us it's just like another game. Those guys can play some ball.
FN: A lot has been made about you being an ideal FIBA player. You've got the size, you can rebound, pass, shoot from the outside a little bit. Do you think that's overblown, or is there such thing as a 'FIBA player' and a 'non-FIBA' player?
KL: I think they labeled me that because I'm not one of those guys who puts it between my legs and dunks it an does all the windmills like, I mean, probably 11 of the other guys on the team can do. I just try to go out there and be a basketball player. I want to represent us well, represent the country well. As far as being a FIBA player, yeah I think I fit the description well. But a lot of players do on this team.
FN: Do you think it's talked about a little too much? Being able to fit in to FIBA?
KL: Uh…not really. Because it helps the team, and I know what you're saying. But I think it's a compliment, I think it's definitely a compliment because it gives me a chance to come out and play for my country and play with these guys I'm playing with now.
FN: Thanks Kevin. I appreciate it.
KL: You got it.
Related posts: