By: Freaknick/@euro_adventures
"You play…to win…the game"

-Herm Edwards
It seems strange that I even have to argue this, but here it goes: intentionally losing a game is wrong, in any context. That sounds simple enough, yes? But to many, this purposeful failure is an acknowledged part of the game and that doesn't annoy them one bit. Fans actually defend its place in the sport, saying it's tactical, wise, strategic. This is losing we're talking about. This is gift wrapping a victory for your opponents in order to avoid another.
Coming into tonight's game between Greece and Russia to determine second place in Group C, many believed the loser would find its way to the more desirable draw (ie: avoiding USA and Spain) in the next round and the tank talk cranked back up. Greece proceeded to put up an embarrassing display and came up four points short, 69-73. But this is about more than just one game today in Ankara; this is about putting a stop to the most ridiculous 'tactic' in sports.
Disrespectful to your opponents
After playing your ass for forty minutes—sweat, hustle, cuts and bruises—there's no better feeling than knowing a victory made it all worth it. There aren't many things that can get under your skin when you're on that sort of high. Your opponent claiming they let you win is among the spare few. To insinuate that a win was not earned is a slap in the face. Sasha Kaun and Sergey Monya are professionals and I doubt they're in the business of accepting handouts when fair competition is the alternative.
Russian Coach David Blatt summed it up best after the two teams played: "Greeks should be ashamed. What we saw was comedy, not basketball. Greeks shot to miss, on the other hand my players played with passion."
Turkish Coach Bojan Tanjevic was a witness to the Greeks' mockery of basketball and he let Ioannis Bourousis know after the game, clapping in his face and then telling him, "Congratualations, you did the same thing for the second consecutive year." Bojan was referring to last year's Eurobasket, where they again disgraced the competition by putting forth a halfhearted effort against France in last year's Eurobasket. It seems that occasional apathy is quickly becoming commonplace among tournaments involving Greece.
*Update: Despite what Tanjevic implied, I have no proof of a tank job in last year's Eurobasket. Although Greece did get the easier draw because of the win, it was a Nando de Colo buzzer beater from deep that won France the game. Also, many thought that France wasn't putting their best foot forward against New Zealand yesterday, hoping for a loss by 11 or fewer. As I've said in the comments section, I was writing this piece up right after the Greece game ended. But as we saw with France, their tactics—if they indeed did tank—only ended up screwing them as well. It was all going fine until Thomas Abercrombie put it at 12 with a 3-pointer with :06 left. Proof again that karma doesn't smile on the tanker: now France has Turkey in the next round. I stand by everything else in the article.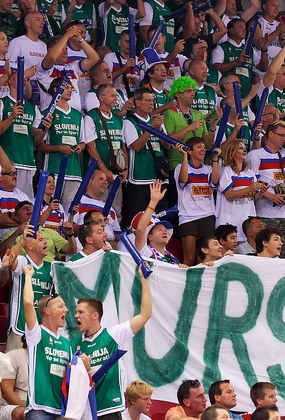 Your fans deserve better
All week long my left ear has been buzzing with the beautiful cacophony of Slovenian chants. From the moment their boys step on the floor for warm-ups until they hit the showers three hours later, 4,000 passionate individuals stand and pay tribute to the 12 men representing them on the floor. These folks flew 1,500 km to be here, and they'll be damned if they're going to take any of it sitting down, win or lose. They've been rewarded with an effort unsurpassed by another team here in Istanbul.
And though Goran Dragic and the guys are heading to the next round, a majority of the Slovenians have to fly home tomorrow to return to their jobs, their families, their lives in general. But even with second place locked up and facing a clearly inferior Iranian team, they arrived at Abdi Ipekci ready to give their fans a proper send off. And as Sani Becirovic told me after the game, it's going to be a lot more difficult to win without their fans behind them. "They were our sixth player," said Becirovic, "and they were carrying us through the whole tournament."
Throwing a game would be no way to pay homage to the fans who make your lifestyle possible.
You will never be great

Wilt Chamberlain brought the best out of Bill Russell, Larry Bird brought the best out of Magic Johnson and the NBA Finals brought the best out of the Jordan-led Chicago Bulls. Great players and teams don't become legendary for their conquests over mediocre competition, but for what they achieve at the highest level. Greece is jeopardizing their newly earned spot in international basketball's upper echelon by seeking out easy opponents. Ironically enough, all of their jockeying left has left them with potentially the least desirable first two matches of anyone in the next round. In the first round you've got reigning World and European Champions, Spain. While the Pau-less Spaniards have two losses in the group stage, this is still a similar team to the one that beat them 82-64 in the semifinal of last summer's Eurobasket semifinal in Katowice, Poland. A win there—which I wouldn't count on—would leave them with the winner of the Serbia-Croatia game. From the five games I've seen them play here in Istanbul, I know that this Croatian team is good, but not Serbia good, and the Greece-Spain winner might end up with the Eurobasket runner-up who locked up first place in Group A with a win over Argentina. So is that the easy draw you were looking for? I didn't think so. That's what happens when you succeed at failing and then expect everything to align how you expected.
In the end, a loss is a loss. And that makes you a loser.