This hasn't been the Olympic basketball tournament we expected. For one thing, there is an element of genuine tension going into a game involving the United States, and even more surprisingly, it's not the final. Spain has a genuine chance to take down the most awkwardly constructed US roster since Athens 2004 tonight in Rio, even if that chance is probably a little smaller than most are telling themselves it might be.
On the other side of the bracket, Australia and Serbia both hope to make their first ever Olympic final, and the Antipodeans have the advantage of having beaten their Balkan opponents by 95-80 at the start of the tournament.
That was back on 8th August, only 11 days ago, and so much has happened it's been difficult to take stock, with games almost every day. Before the big games tonight, here are some notes on what has happened so far:
Talking about talent
One of the main narratives has been how the superior 'talent' of the American team has been challenged by the teamwork and unity of 'inferior opponents'. On a base level, Demar Derozan is more 'talented' than, say, Nikola Kalinic. Talent is often used as a proxy for 'that which can't be taught' - which is why Milos Teodosic is never given the 'inferior talent' label. Derozan is more adept than Kalinic at crossing over, stepping back and making a shot with two men on him - although you'd have to watch Raptors, not Team USA highlights to see that. If the two played one-on-one, my money's on Demar.
But if talent is seen as a synonym for effectiveness on a basketball court in the context of helping a team to win, who is the more talented? Kalinic has a bloodhound's sense of when to jump in for a steal, he makes instinctive cuts with split second precision, and the way he blew by Dario Saric late on in the quarter final win over Croatia shows that he does have a hell of a lot of that individual talent so prized in others. He rarely holds the ball longer than necessary and everything he does fits in around Teodosic, Bogdanovic and Raduljica. The way we talk about talent should include basketball IQ, how to play without the ball, how to operate in a team dynamic.
Hitting the Markovic
While we're on the topic of Serbia, whether they make the gold medal game or not, my unsung hero of this tournament is Stefan Markovic. He won't get the same attention as Milos' outrageous invention, or Bogdan's shotmaking, or even Raduljica's low-post Hell's Angel act, but he's one of the most important players on that team.
Markovic has 19 assists and only five turnovers so far, and his steady hand gives Teodosic time to chill away from the ball, which is important. Not just for X's and O's but for the same reason that Nando De Colo and Aaron Jackson are vital to his success with CSKA - you get the feeling that the electrical storm surges in Milos' brain that let him do what he does are only ever moments away from short circuiting. Like when he fouled Hezonja with Serbia up four points with seconds remaining. That mental down time - even just jogging up the floor without the ball - lets Milos be Milos.
If Markovic could just make a damn three pointer, Serbia would have a great chance of going all the way to Gold.
Balkan style clash
It was really interesting to see the clash of styles between Croatia and Serbia in the quarter final. Croatia's game is based on Bojan Bogdanovic and Mario Hezonja getting buckets, and there's nothing wrong with that. Bojan has been the most natural scorer this side of Kevin Durant, and leaves the tournament with his reputation enhanced. It was great to see Miro Bilan step out of Ante Tomic's shadow and show the world his crafty, high-IQ low post game, and Luka Babic similarly took a step up and played his role as a creative passer who can see the whole floor. They were only in a close game because Hezonja and Bogdanovic made shot after shot, and there's no problem with playing the game like that if you have those weapons.
But when it came to crunch time, their lack of a traditional point guard was a problem. They didn't really create a good look in the final two minutes before the game boiled down to a good old fashioned Balkan free throw contest. Mario can take and make no-dribble deep threes, and Bojan can make shots with guys hanging off him, but when they needed a clear head and, dare I say it, someone like Markovic to set someone up, they stalled.
As a final word on Serbia, these uniforms are just sick, by far and away the best in Rio. It's the font that does it.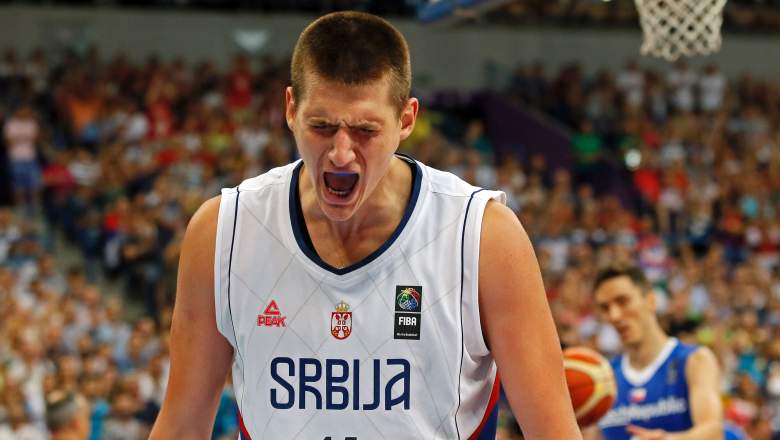 Mirotic passes screen test
It was Simon Jatsch, erstwhile ELA contributor and basketball savant who pointed this out, but Mirotic turns into a different player when he's used as a screener, rather than just sitting in the corner waiting for a kick out. Scariolo should get some credit for this - after the screen, he can pop out, shoot over the contest, pass, put it on the floor, and best of all use that Gold-medal-grade head fake to evade a late closeout. That's likely to be one of the main ways that Spain might be able to exploit the US's questionable effort and understanding of how to play team defense.
Hopefully this tournament might go some way to quieting the 'Why not Ibaka?' crowd. Yes, defensively he'd be an upgrade on both Mirotic and Willy Hernangomez, but they've been able to hide most Big Will's deficiencies, although France's lack of spacing meant they could bolster the pick and roll defense with help from the wings. But what Mirotic gives them not just as a stretch four but an offensive hub is far better than Ibaka could offer, and he's never going to supplant either Gasol for the playing time he thought he was owed. Mirotic is just the better option.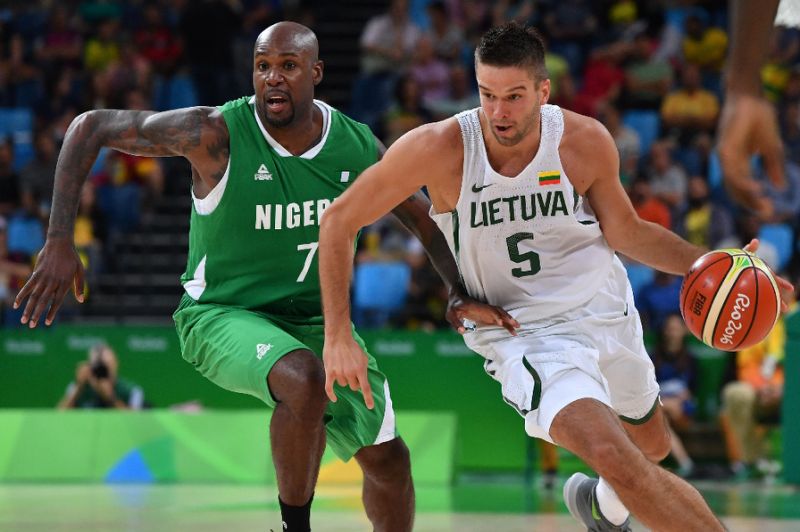 International upgrades
Some guys just play better in their country's uniform than in the everyday humdrum of domestic hoops. Whether it's a role better suited,  the ability to keep it 100 for ten days as opposed to nine months or something else, here's the Looks Better Than He Normally Is Starting 5:
C: Miroslav Raduljica - Serbia
F: Carmelo Anthony - USA
F: Yi Jianlian - China
G: Thomas Heurtel - France
G: Mantas Kalnietis - Lithuania (Captain, will have number retired)
The Vale of Shadows version of this squad is everyone else on Team USA (except Kevin Durant) Jonas Valanciunas and MVP Nicolas Batum.
Felipe Reyes, science experiment
@robscott33 The man is one of the true wonders of European basketball. As much as I hate how he can get away with that stuff, I love that…

— George Rowland (@georgerowland) August 17, 2016
Going back to the question of natural 'talent' versus human-acquired and manufactured cunning, Felipe Reyes does not make sense. The man is 36 years old, cannot jump and yet has 10 offensive rebounds in 89 minutes. If my life depended on one man drawing an off-ball offensive foul on the opposition it would be King Felipe. Ginobili, Scola, Nocioni, Parker… we saw their last international games this week, who knows with Pau, but who would really bet against Reyes taking the last spot on the bench in Tokyo aged 40 and getting a crucial tip-in at a big moment?
Freeing the fastbreak
I didn't see any official announcement but the refs seem to have been more willing to call fastbreak-stopping waist-hugs as unsportsmanlike, resulting in free throws and possession. I like this. Aco Petrovic would have liked it even more if Teodosic's hip-grab of Luka Babic with seconds remaining had been given the same call. Any move towards rewarding teams who have the ability to run hard off misses and steals should be applauded, but we might still be some way off refs making that call at crunch time, just like they do for most incidental contact.
Euroleague has given the same directive for the upcoming season too. Will this lead to less offensive rebounding as coaches can't tell their guys to press the mid-court bailout button? Fewer three point attempts to minimise long rebounds? That's a whole other article, but this is long overdue and good to see in the Olympics.
No offense, Murcia
I'm going to pass the rock to our friend George again:
No disrespect yo Murcia, but why the fuck is Facu Campazzo playing for Murcia next year?

— George Rowland (@georgerowland) August 17, 2016
You're the gran queso in the Real Madrid front office. You lost one of the most creative passers in the world this summer to the damn Sixers. You signed Facundo Campazzo two years ago, saw him kick his heels as third PG, so you sent him on loan to UCAM Murcia to get some real burn, purely so he could get some reps and return as a fully grown man. THIS IS WHY YOU SIGNED HIM.
Rather than give yourself a pat on the back for having the foresight to sign Sergio Rodriguez's replacement before you even needed him, you instead make sure that you have not one, not two but three import big men whose skillsets overlap, despite only being able to play two at a time in the Spanish league. Fac is now your fourth import so you send him back to Murcia so they can enjoy more lobs, more freeze-frame hesitations, more chasedown blocks and more of this:
You're gonna have to walk me through this again.