By: Adam Papageorgiou / @adamosgp
It's amazing how a franchise's blueprint can change in just one summer.
The 2011-2012 campaign will return just one starter from last season in Vassilis Spanoulis. It was just in March where Olympiacos were again in the quarterfinals of the Euroleague competition. This time though, Siena derailed the Piraeus team's path to another Final Four appearance, quite a shock considering OLY barely broke a sweat in the group stages. To say the Olympiacos organization and fan base conveyed their displeasure is an understatement. It was the beginning of the end for a squad that could have easily won the 2011-12 Euroleague championship had they only stayed together.
On the domestic side of play, Dusan Ivkovic's side nabbed its second straight Greek Cup with Olympiacos and was poised to take the league title from Panathinaikos.  OLY went undefeated in the regular season at 26-0, but come late May, again Thrylos succumbed to PAO in the playoff Finals; the Greens took down the Reds in just four games of the five scheduled. It's an astoundingly embarrassing sixth straight year OLY lost in the Finals of the Greek A1, as injuries and disinterested players proved too much to overcome.
Then the bottom officially fell out with OLY's ownership stating they'd abandon their team, claiming a referee bribing scandal against them over the years. Eventually, the Angeloupoulos brothers realized their obligation to the franchise they once had massive aspirations for and returned to active duty. Justified whining or not, that's the wrong image to depict globally. Add to that the franchise's financial losses, and predictably ownership made the decision to cut payroll. From there, it was a summer rummage sale on Olympiacos' roster.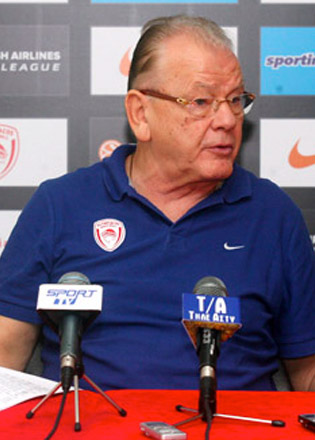 Usually it's one or two solid contributors at maximum that a top European team will truly miss. Olympiacos, however,  has lost over half a roster of supreme talent.
Some departures were mutual. Others were obviously money driven because of the economic hardships every Greek team is going through. Gone are the days of the Angelopoulos brothers offering Kobe Bryant $20 million. View last season's squad, now look at what's left. A confirmed eight players have bolted for different destinations, not even including the recently retired Rasho Nesterovic.
Some of the bigger departures include two of the best guards in Euroleague history: Greek legend Theo Papaloukas, and the FIBA Europe European Player of the Year and 2010 Euroleague MVP Milos Teodosic.
Ioannis Bourousis has only himself to blame for his move to Milano, after the imposing center got involved in a banned substance scandal. Then Bourousis, for no reason, bitched out the Angelopoulos brothers who were actually supporting him throughout the ordeal. Happy trails.
The HEBA A1 league may have weakened as a whole, but the rest of Europe shouldn't relax just yet. There are still superb coaches, talent, and systems that remain in Greece. Olympiacos may have had to downgrade its roster, but this can still be a dangerous side for any opponent to face. The front office still made some solid signings, as cheap labor can still provide a very efficient output. With all the above said, I expect another two-horse race between Olympiacos and Panathinaikos to determine who snags all the domestic hardware.
So what will it take for Olympiacos to keep it together? Well, the new signings have to mesh, and fast. Considering the unstable circumstances of the league, the talent is there for some serious damage to be done in and out of Greece. Martynas Gecevicius, Matt Howard, Kalin Lucas, and Kyle Hines have all done well in friendlies. While fantastic chemistry is always the much needed counterbalance to professional inexperience, it won't hurt to have some veteran help from the recently signed Pero Antic and Lazaros Papadopoulos. Also, Ivkovic will have to depend a lot more on youth than ever before with only three players aged 30 or above. Dusan will need to explore some more transition and isolation offense to bail out any weaknesses they may have in the halfcourt. That's feasible since Ivkovic has various scoring guards at his disposal.
Kostas Papanikolaou is at the helm of the young guys. At age 21, Papanikolaou just came off a very encouraging EuroBasket tournament and will be asked to carry a substantial load at small forward. Kostas Sloukas didn't get much guard playing time on that senior team, but in the last A1 league season, Sloukas was loaned out to Aris Thessaloniki by Olympiacos and voted as the Best Young Player of the campaign. We'll see if the 21-year-old can carry that momentum onto this year's Olympiacos roster and make an impression.

Biggest Acquisition: Kalin Lucas
He may be too short for the NBA Draft experts, but the Michigan State guard is his own firing squad. The 2009 Big Ten Player of the Year can flat out score, and would definitely be on an NBA roster if there weren't a lockout. Looking at the preseason matches, Lucas has been leading the team's offense with the absence of Vassilis Spanoulis. (Kill Bill was out a few months for picking up an injury during EuroBasket training with the Greek national team, and just played his first friendly September 23rd against Siena.)
'Too Easy' won't have the simplest of transitions from Michigan State to the international game, but Kalin is clearly a competitor. Like many American college guys, Lucas needs to commit to defense and not just point totals. As long as he continues his workhorse effort and listens to the coaches, Lucas will be a top three player on the roster. Lucas has the motivation of trying to make a living as a basketball player, and keeping the door open for his NBA dream to come true.
Biggest Loss:  Milos Teodosic
With half a team gone, there's little doubt that losing the Serbian point guard stud to CSKA Moscow will be the most challenging gap to fill. Ivkovic basically lost his pilot of a jumbo jet and will need to hand the flying duties over to a not as heralded co-captain. Lucas and Spanoulis will take over some ballhandling duties, but guys like Kostas Sloukas and the newly signed Evangelos Mantzaris will get their chance to impress. It's a fact at this point that Olympiacos has no one that can distribute the ball nearly as well as Milos could.
Did Teodosic underachieve both for club and country? Sure. However, it's not like OLY could upgrade the point guard spot with another Euro talent. Milos' 10.9 ppg, 2.7 rpg, and 3.6 assists per contest were all number drop-offs from what was expected in Euroleague, and it didn't get any better in the Greek A1: 9.6 ppg, 1.8 rpg, and 4.7 assists per game in 29 matches. No Papaloukas makes the Milos exit potentially devastating, and there's no way to ignore that. Will the glaring hole at point guard be filled eventually, or will opponents lick their chops in anticipation of exploiting the replacements? Only time will tell.
Swingman: Kyle Hines
When you lose five big men in Ioannis Bourousis, Loukas Mavrokefalidis, Matt Nielsen, Rasho Nesterovic, and Zoran Erceg, there's going to be a lot of pressure on the new guys. Hines comes in as the Mini Sofoklis Schortsianitis, who bailed in 2010 for Maccabi's pastures. Kyle's going to continue battling against guys a half foot taller than him in the paint. Hines had a more than impressive 2010-11 Euroleague 10-game group stage for German side Brose Baskets with 12.9 ppg, 5.4 rpg, 1.1 bpg, and an almost unheard of 64.3% field goal shooting. I compare Hines to Baby Shaq because of their similar style of play, their height disadvantage, and the fact they're both putrid at the free throw stripe.
So far so good for the UNC-Greensboro star though, as the jersey change to red and white hasn't hurt Hines' production. If Kyle can solidify the painted area, then OLY's ceiling for success rises substantially and the fans should expect a fun season. If Hines gets abused on both ends of the court, then expectations need to be drastically limited.
Best Drinking Buddy: Georgios Printezis
One of the few familiar faces remaining on this roster, despite a Unicaja Malaga 2-year stay that ended earlier this year, Printezis has been playing like he's been on a five-year hangover anyway. I might as well keep handing the sometimes-bearded beast alcohol. Georgios is a proclaimed ladies man, and a historically not so private hardcore clubber. Printezis being on the verge of becoming a 3rd stringer will keep him well rested for some bar and club hopping. He seems pretty calm in normal life, but a few drinks in him and I envision a madman. I've found my wingman.
Not diluted with water, but the shots version. Predictable I'm sure, yet it's the quickest way to get piss drunk. I want to hear some great party stories from Printezis and to ask him if the homeless beard was meant for the ladies or grizzly bears. When the female company shows up, well then you switch to VIP bottle service. I'm sure Printezis has mastered a foolproof morning hangover remedy.
Most Likely To Start a Styling Trend: Matt Howard
That facial hair (pictured at left)  is asking for news attention and Justin Bieber-like fandom. Howard wasn't a sex symbol (I'm trying not to laugh as I type this) at Butler, but he could become popular with the ladies in the Athens area. It doesn't take much for your average Olympiacos male fan to jump on a player's bandwagon and worship them if they're producing on the court, which I expect Matt to do no matter how much or little floor time he gets. Seriously, shave that hilariously hideous thing off. Howard's little beard looks like it should be 2-3 feet lower on his body. The peach fuzz 'stache is a dead giveaway at his lack of shaving. I'm sure teenagers will mimic him.
Prediction: Top 16
Group A is quite intimidating to view considering the current state of Olympiacos. However, OLY's got some of the best fans in the world (soccer and basketball alike). I expect that fan advantage to at least guarantee victories at home. Protecting home court should be enough to advance to the Top 16. Anything past that is a testament to Dusan Ivkovic being able to mold this roster into an actual unified team. I would be pleasantly surprised to see OLY somehow repeat its Elite Eight trip of last season.
Adam Papageorgiou writes for Orlando Magic Greek and can be followed on Twitter @adamosgp.