By Rob Scott / @robscott33
With two games a night since Tuesday, there has barely been time to think between buzzer to tip. Here are some assorted thoughts, with some additional photographic evidence, on what's been a wild ride so far.
Maccabi's Miracle in Milano
Maccabi stages a comeback for the ages to force over time and eventually steal Game One on the road. As pointed out by basketball's Yarone Arbel on Twitter: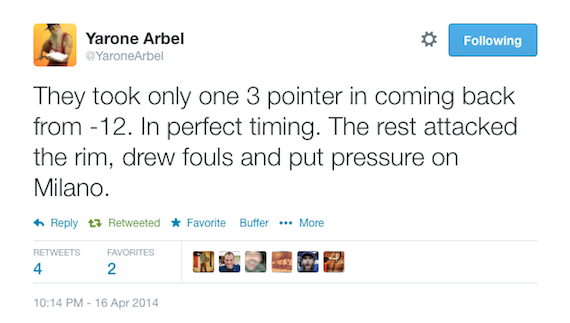 Hickman and Rice are two of the quickest guards in Europe, and both are powerful enough to finish through contact. Of course, the space afforded to them by Maccabi's four-out offense doesn't hurt either. As Yarone pointed out, outside of Hickman's three from the left corner, Maccabi forced their way back into the game not from outside, but in the paint.
It was more the sheer straight line speed of Tyrese Rice and Ricky Hickman that Milano struggled to contain. Rice cut the gap to 10 with 1:54 to go, with an easy layup over Samuels, as wing defenders stuck to their assignments leaving Samuels on island between a driving Rice and the lob pass to Tyus.
Maccabi were still down 84-74 with 90 seconds left when Hickman went to work, blowing past Samuels for the 'and-1'. Perhaps Keith Langford could have done a better job in showing Hickman away from the screen, but once he turned the corner, Samuels has an incredibly difficult job in beating him to the rim. Hickman took the contact and converted the bonus. There isn't much Melli could do without giving up a suicidally open look to Ingles on the right wing, but that's just fundamental positioning, not anything particular to the Maccabi offense.

On the possession in which Rice gave Maccabi the lead, Milano put a lineup of Cerella, Moss, Hackett, Langford and Jerrells. Could Luca Banchi have been wary of having to help Samuels in a pick and roll situation, trying not to give up the three that could win the game? Maybe. As it was, Rice didn't even use a screen, bringing the ball over halfcourt then simply beating every defender to the rim. He flew into the gap left by his man, Jerrells, and Hackett, who understandably didn't just foul him with only a two point lead.
What might not have been immediately apparent is how difficult the finish was.
Still, the heroics of Hickman and Rice would have all been for nothing if Milano could have avoided a shot clock violation, Hackett losing Hickman from an inbounds, Melli's unsportsmanlike foul allowing a four-point possession and three missed free throws in the final minute, including Langford only tying, not winning the game on the final play.
Milano essentially won this game, and there's no reason they can't win tonight. The main worry for Banchi is his side's shot selection, particularly as the game slipped away in the fourth quarter, even before the denouement. 13-for-29 from three-point range is 44.8%, a great percentage at that volume, but Jerrells and Langford settled for lazy pull-ups in the fourth quarter. The long bomb can be a winning shot for Milano as long as it doesn't become a crutch.
No devotion in Moscow
PAO mounted a comeback from behind the arc, but couldn't take care of the ball, handing CSKA a barely-deserved overtime win. Moscow's University Sports Hall is one of the most spiritless venues for high-level basketball in the world, lending a game high on drama if not quality all the sense of occasion of a pre-season exhibition.
CSKA have a frightening collection of talent, but they play with all the joie-de-vivre of a group of middle-managers sulking their way through a hastily-arranged corporate away day, secretly hoping to be fired. Ettore Messina's body language betrays his barely-concealed contempt for his €38 million roster.
It's a crying shame that a team with the money to book a Final Four ticket every year can't offer a more compelling experience than this. A team with this talent that plays with this air of indifference is begging to be eliminated, but PAO will need to do better in Game Two tonight. They have looked freer, more buoyant on the court since Fragiskos Alvertis took over from Agiris Pedoulakis, and just as successful on defense. But with all due respect to the legendary status Alvertis commands at club and national level, he lacks coaching experience. A pair of aimless Diamantidis isolations at the defining moments of regulation and overtime isn't going to cut it at this level.
Olympiacos tire Madrid, but can't tie the series
If you had told Giorgios Bartzokas that after the two games in Madrid, Sergio Rodriguez would have nine assists but 11 turnovers, he'd probably have been delighted. In Game One, the Reds sent a big man hedging hard over screens to disrupt Chacho, while in Game Two, Kostas Sloukas and Evangelous Mantzaris hassled and harassed the bearded-one into coughing the ball up on the reg.
This was Olympiacos' big chance to get the split they wanted to take back to Piraeus. The way the way they shut down the Madrid offense in the fourth quarter was more than encouraging, particularly the sight of Rudy Fernandez forced into contested 7.5m prayers.
Still, Madrid are so much more than a three or four man team. Ioannis Bourousis, supposedly one of the team's weak spots, has more than survived switching ball screens, and dropped in 19 points on 7-of-10 inside and 1-of-3 outside the arc. If Bourousis and Felipe Reyes are making threes, it's almost impossible to beat this team, but Oly would have come closer if they'd bettered their 11-of-20 mark from the line.
Game Three will be in a totally different atmosphere, with all of the bad blood that been building. Brent Petway vs Bourousis is already the personal beef of the playoffs.
Arroyo out, Barça in
A few final words on the series that no neutrals are watching. Galatasaray had a chance to at least prolong it to four games, with a full roster available, but without Carlos Arroyo, they have no chance. Cimbom fans have been all too familiar with cursing the injury gods this year, but this is the one guy who they couldn't afford to lose.
If Arroyo can come back tonight, maybe the sellout crowd at Abdi Ipekci will at least see a contest, but without him, it'll be little more than a chance to have one last cheer for a team that battled through bad luck with admirable resolve.