by Rob Scott / @robscott33
Week One in Euroleague is in the books, with few surprises, but plenty to talk about. The biggest takeaway was that it's still very early in the season and teams with new pieces, i.e. most of them, will take a while to gel and for players to find their roles.
The highlight of the week probably happened at the Fonteta in Valencia, as the home team narrowly missed out on taking down Olympiacos. Along with Crvena Zvezda's win over Galatasaray, it was the opening round's best atmosphere, with a dramatic conclusion. Valencia has returned to the continent's premier competition after three years out, and this game by itself showed what we'd been missing.
The Eurocup champions lost Justin Doellman in the summer, and if that wasn't bad enough, he crossed over to domestic rivals FC Barcelona. Luke Harangody, who lost in those Eurocup finals with UNICS Kazan, looks like a pretty decent replacement. More of a blunt instrument than Doellman, he could feature in some lineups with Bojan Dubljevic - when he returns from injury - that boast three-point shooting from all five positions. Don't be fooled by the fact that things went wrong at the end of this game for Valencia, I think once this team gets into the flow of the season, they have every chance of making a Final Four run.
Dwight Buycks came in over the summer having played for Bakersfield Jam in the D-League and 14 games for the Toronto Raptors in the NBA. He didn't shoot well at all in the big league, clocking only 31.3% overall from the field, but put up very respectable numbers for Gravelines in the French league in 2012/13. Buycks' strength is his quickness. Few teams in Europe have players who can stop him on the perimeter and send help quickly enough before he flies to the rim. He just needs to stop shooting contested mid-range jumpers long enough to stay on the floor and do some real damage.
Once he gets used to the help defense played in Europe, with teams sending help earlier than in the NBA, he could be a real scoring weapon off the bench. Think Keith Langford or Justin Dentmon. He won't get the volume of usage at an elite team that the latter did with Zalgiris, but that's the calibre of scorer this guy could be, if he willingly accepts the role. That's the big 'if'. Either way, as a cycling fanatic I can't help but root for a guy whose surname is pronounced 'Bikes'.
Spanoulis grins, Oly wins (Just about)
Olympiacos escaped with the win after a fortunate sequence of events went their way. Valencia let the chance to win this game slip through their fingers, or more accurately through Romain Sato's fingers after he fumbled away a rebound from Kostas Sloukas' missed FT with the Reds leading by one point and 6.4 seconds remaining.
The biggest talking point of a frantic final minute was Vassilis Spanoulis' 'bloqueo de rugby' as the Spanish Canal+ announcer called it. By this point, with less than three seconds left, Olympiacos were up three, and of course a foul in this situation is par for the course. Intentional fouling, that is to stop the clock, is one thing, but Spanoulis rode his luck like a rodeo champion by grabbing Sam Van Rossom across the chest. His knowing grin said it all, he knew it was a lucky escape. Not that it would be relevant to the call in this game, but imagine the reaction on Euro-basketball-twitter if  say, Rudy Fernandez, had fouled Spanoulis in the same situation?
Most players, coaches and fans would have expected a foul in that situation, but there are certain 'rules' that everyone accepts at these times, most importantly that the team with the ball has the right to evade the contact to create a shot. The referees, in not calling 'antideportiva' probably went with the point of view that a foul was coming in any case, so it didn't matter how hard it was. The footage below shows that they had every right to call two-plus-possession, and personally I think that would have been justified. Judge for yourself here: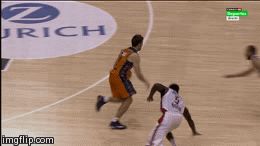 Olympiacos can take heart not just from the result, but also one of their new additions. Othello Hunter came over from Siena in the summer, and stepped right into a team, built by the departed Bartzokas, that still looks good enough to compete at elite level.
Interim coach, Bartzokas' assistant Milan Tomic, had Hunter switch on most ball screens, with promising consequences. The whole team was locked in defensively, with swift rotations, but Hunter's ability to stay in front on the perimeter was a huge part of that. Offensively, he's unsophisticated, but setting a hard screen and rolling to the rim doesn't need to be complicated.
At the centre position, Oly have taken the term 'rotation' almost to its logical conclusion over the past year, Bryant Dunston apart. I would expect Dunston's greater offensive versatility to win him back the starting job and the bulk of the minutes over the course of the season, but Hunter has shown enough early promise to be a more than capable backup. Even if his signing was just the latest throw of the dice, at least it looks like they have come up with the right numbers.
Coaching targets not playing ball
The result may have given management a little breathing room after losing their coach, but that remains the biggest issue in Piraeus. Bartzokas showed himself the door after dropping the Greek Cup quarter final to Panathinaikos, and the brass in Piraeus have been frustrated by the unwillingness of any of their targets' current clubs to just let their man walk away.
First it was Vincent Collet, who stuck with Strasbourg, and now Eurohoops.net reports PAOK maestro Soulis Markopolous is next on the list. The trouble is, PAOK doesn't see why they should just step aside when one of the big two come calling, which may come as a shock in the Greater Athens area. Both the Greek giants seem to operate in a world where nothing exists except the other, locked in a zero-sum game where if one wins, the other must be consumed by defeat. In a world where only two clubs exist, it must be difficult to understand why anyone wouldn't want to coach one of them, but it's a lot easier to comprehend from outside that bubble.
Despite winning a Euroleague championship in 2012/13 and coming close to a repeat Final Four last year, Bartzokas paid the price for multiple defeats to the only other team in that universe. His last game was played in an empty OAKA, behind sanctions for previous crowd violence. Two bullies fighting in an empty room, hands over their ears , ignoring anything coming from the outside world. Could there be any better, or worse, depiction of current domestic Greek basketball than this?
Bartzokas resigned, but only under intense pressure from a fan base and management whose only apparent measure of success is beating 'The Others'. It looks like whoever replaces him will be judged by games against one team, and one team only, no matter what else happens. At least on the strength of the win in Valencia, the new man already has a lot to work with.
CSKA rules Berlin The World, Saric Starts Steady for Efes
Elsewhere, CSKA easily swept past World Championship Belt Holders ALBA Berlin, meaning they are now the best team in the world. That's how it works, right? We'll see how that goes come Final Four time.
Dario Saric's career with Anadolu Efes began, after sitting out the first two TBL games as the odd-foreigner-out, and it was a solid if unspectacular 82-76 win over UNICS Kazan. Saric put up nine points in 22 minutes, but was feeling his way into the game.
Coach Dusan Ivkovic leant heavily on what he knows from the Serbian national team, which is feeding Nenad Krstic in the post and from mid-range. There wasn't much chance for Dario to overly impress any curious Philadelphia 76ers fans who may have caught the game, save for a smooth spin move and left hand finish. It's only a snippet of what he can do, but face-up moves like this from a 2.08m, 20 year-old kid, are why we'll be watching as many of his games as possible. At least in Euroleague, where we know he'll play.
Efes steadily accumulated points, and the most impressive aspect was how they took care of the ball, recording only seven turnovers, the last few of which came late. Dontaye Draper showed how he hadn't forgotten to shoot the ball during his time in Madrid, but there wasn't enough to recommend Efes as a real contender just yet.
Signing nomadic guard Donnie McGrath as an eighth foreigner is just bizarre - there's no way he is any better than Matt Janning. Hopefully he doesn't steal Euroleague minutes away from Cedi Osman, who is the other reason that Efes should be a team of interest this season. Under 3,000 fans saw their Euroleague opener at Abdi Ipekci, and it would be a shame if after all the promise of adding a legend in the coaching chair and the most fascinating prospect on the continent, Efes still can't get out of their own way.