Fotsis has never been an ELA favorite. With as much talent as he holds in that beard of his, we'd like to see him assert himself for more than a quarter or two at a time, and he certainly should've figured out a way to put up more than 6.7 points over the last two seasons. But this year it's been a slightly different story, and yesterday he partied like it was 2002. With 22 points, 11 boards and a trio of steals to boot, Antonis and his 40 RKG are getting things going at just the right time.
So while you're here, you should go ahead and subscribe on iTunes for FREE or check out the rest of the raps and podcasts right here.
A minute-by-minute breakdown of the show below. Holler.
0-1: Welcome to the show y'all.
1-9: Antonis Fotsis shoots his way out of the ELA doghouse with an MVP performance.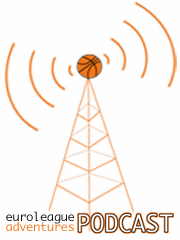 9-14: Gerald Fitch and Terrell McIntyre fail to step up as Lietuvos Rytas keeps their season alive. But at least Georgios Printezis saw some action.
14- 15: Efes Pilsen looks inebriated at home against Madrid.
15-23: Union Olimpija blows a halftime lead-and their season-against Maccabi as Jeremy Pargo goes ham. More importantly, should Samo Udrih change his name?
23-31: Has Rubio restored the world's withering faith after leading Barcelona to a comeback against Roma? Or was it just…Roma being Roma?
31-35 Nando de Colo's bedwetting has Slam seeking therapy after Valencia chokes against the Reds.
36-42: Fenerbahçe Ülker takes Zalgiris to overtime in Kaunas. Can the Turks win without Roko Ukic?
42-46: Jan Vesely dazzles the scouts against Siena and Freaknick goes on the warpath against the word 'literally'.  It's an awesome segment. Literally.
46-49: Estelle joins us for Stars and Stripes.
49-54:  With only two weeks left to make a move, the guys put a little fantasy wager on the line.
54-55: Instant reaction picks! Let's go! Loud noises!
And that's all she spoke…