By: Nick Gibson, Sam Meyerkopf and Rob Scott
As we enter this, the third week of the Turkish Airlines Euroleague Basketball Top 16, we here at Turkish Airlines Euroleague Adventures Dot Com recently wrestled with a difficult decision: hand out pointlessly contrived midseason awards now, or wait until it was a more timely, round numbered week.  Like eight, maybe.
Alas, we just couldn't wait.  So without further Tabu, I present some words that we all wrote.
All-Euroleague
Nick: Bobby Brown, Vassilis Spanoulis, Zoran Planinic, Viktor Khryapa, Shawn James
Even though he scores the most points (21 ppg) and hands out the most assists (5.9), 120 Euroleaguers have turned it over more per 40 minutes than Mr. Brown (2.4 TO/40).  With Siena 2-0, I can't keep giving the bump to the incumbents (Diamantidis, for one) who have not even approached the level of irreplaceability that Bob has obtained in Tuscany.  And with Nike Caner-Medley getting injured during his disappearing act and Giorgi Shermadini on a Blatt-chartered flight to Piraeus, nobody's taken a bigger step up than Shawn James, who has balanced out a Defensive POY-worthy performance one end with 70 percent shooting on the other.
Sam: Zoran Planinic, Vassilis Spanoulis, Rudy Fernandez, Viktor Khryapa, Shawn James
Keeping Bobby Brown off this team was hard but while he affects the game intensely one way (scoring), I felt the two backcourt members on my team have more overall roles.  When looking at CSKA Moscow it seems they and Real Madrid could combine to make a few All-Euroleague teams but the engines that keep both teams moving are Fernandez and Khryapa.  Shawn James has just been an efficient beast this year, no center is better at his craft, not even Stephane Lasme.
Rob: Vassilis Spanoulis, Zoran Planinic, Dimitris Diamantidis, Viktor Khryapa, Nenad Krstic
Spanoulis is still the keystone in Olympiacos' triumphal arch and Diamantidis has held Panathinaikos together through their boardroom turmoil and exodus of stars. Z-Plan, as nobody calls him, has led Khimki to contention despite having old man hair. As for the bigs, well there haven't been a pair of guys whose names begin with K this influential in Russia since the Brothers Karamazov.
All-Disappointment Team
Nick: Bo McCalebb, Vladimir Dasic, Dusko Savanovic, Mike Batiste, Fran Vazquez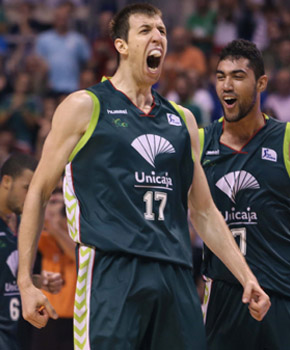 It's one of those movies where the girl repeatedly takes back her deadbeat boyfriend after issuing more than a few final warnings about growing up and proving that he's changed.  You yell at your screen and roll your eyes but to no avail; the girl can't ever let him go, instead clenching her fists tightly around the idea that he will change, and for good this time, and that they can rehabilitate their fractured dreams and live the life she's always envisioned. I am that girl, and Fran Vazquez won't stop throwing rocks at my window in the rain.
Sam: Jordan Farmar, Taylor Rochestie, Vladimir Dasic, Erazem Lorbek, Mike Batiste
Farmar because he shows flashes of MVP type performances but his giant inconsistencies reflect directly onto his team and we see the negative impact it has.  Rochestie was not much more than a warm body for Caja. Dasic with all his offensive talent and size just can't figure out how to play on the pro level. Lorbek stopped shooting threes and turns the ball over more, his mind seems elsewhere.  Batiste was an All-Euroleaguer last year but it's hard to find much evidence of productive play he's had this season in Fenerbahce.
Rob: Bo McCalebb, Taylor Rochestie, Romain Sato, Erazem Lorbek, Richard Hendrix
Tempting to just name the entire Fenerbahce starting five, but McCalebb and Sato haven't imprinted any kind of identity on this entirely disappointing team. I was impressed by Rochestie's balance of slick passing and ability to get to the rim in the summer for his beloved Montenegro, but it just didn't happen and he's been cut. Lorbek has taken 11 threes in 12 games and even his good numbers hide behind Barcelona's very easy schedule. Hendrix was a one-man paint dominator on the defensive end last year but somehow Scariolo couldn't find a use for him.
Most Dangerous 0-2 Team
Nick: While I'm tempted to call any team with a dormant McCalebb 'dangerous', I can't seem to put Fenerbahce Ulker in bold in even semi-good conscience. They don't defend, they don't rebound, and their 'big time offseason acquisitions' made up 33.3 percent of our All-Disappointing Teams. So by being the lesser of two disappointments with at least a pair of defensive bright spots—Shawn James being everywhere at once, Ricky Hickman making life Hellish for ball handlers when Blatt decides to press—Maccabi Tel Aviv earns the Command+B.
Sam: It has to be Maccabi Tel Aviv.  A tough road loss to Siena and a one point home loss to Caja paint a blurrier picture than what really is there.  This is a solid team adding in a new rotation player, Darko Planinic, and with a little bit headier late fourth quarter play will be fine.  Also, Planinic looks like a nice active big who Blatt should use better than he did Giorgi Shermandini.
Rob: Is anyone going to not choose Maccabi Tel Aviv here? In terms of points per possession, they have the fourth best offense and the fifth best defense. Ricky Hickman's ability with the ball in his hands makes up for the fact that Yogev Ohayon is still learning on the job, and Shawn James is fearsome inside. They could do with better backup for Lior Eliyahu though. That Serbian guy on Galatasaray, maybe they should get him…
Most Surprising 2-0 Team
Nick: With Maccabi limping into the Top 16 and Fenerbahce Ulker finding new reasons to doubt themselves once a week, right on schedule, maybe we shouldn't be surprised that the league's highest-scoring offense, Montepaschi Siena, feasted on Maccabi's blues, Fenerbachce's yellows.  However, for Caja Laboral to keep the train a rollin' against a red hot Olympaicos club that had taken seven straight in the Euroleague and then win at Nokia Arena?  That's a grown ass winning streak.
Sam: Montespachi Siena because Caja was cruising at the end of the Regular Season and Siena stumbled into the Top 16.  They probably will only go so far relying so much on Bobby Brown and hoping the role players all play consistently.  Daniel Hackett has been reliable at the point, Tomas Ress is on steroids (joking but think about it), and everyone else is a shooter ready to fire from deep.  It's boom or bust but right now business is good.
Rob: The obvious choice is Montepaschi Siena, who came through a weak group but have continued their momentum led by the 'presumable MVP of the Euro Basketball League'. Brown probably won't win MVP as I don't think Siena has Final Four potential, but it's not just a one-man show. Daniel Hackett is a great complement to Brown as they both switch between guard spots, David Moss is still holding it down defensively and Janning, Sanikidze, Ress and Kangur are all super intelligent players who space the floor and/or 'do the little things'. It all adds up to the number one ranked offense through twelve games. Brown is likely to cool off when he isn't enjoying the hospitality of Fenerbahce's "defense" but it sure has been fun up to now.
Favorite Player To Watch
Nick: Viktor Khryapa is as relaxed as he is effective from damn near anywhere on the court, and his old-man-game is shaping up nicely for a long run at the top.  A slow ball fake followed by one or two hard, pounding dribbles and a no-look dish/turnaround jumper/lay-up-plus-the-harm is just one of many reasons Viktor's triple threat should really be triple threat³.
Sam: Nemanja Bjelica is starting to look like the all around stud we thought he might be.  Amazing what some confidence can do. He even approached Mirza-range last week.
Rob: Kyle Hines isn't much taller than me, but there is no way round his ass in the paint, and I mean that literally.
Player You Miss The Most
Nick: European basketball is oozing with strategy and tact.  It's delightful.  Yet on a continent where too many athletes turn their noses up at hard drives to the hoop, Vladimir Lucic just put his head down and said meet me at the rim.
Sam: Leo Westermann and Nemanja Nedovic.  You can't pick when choosing between kids.
Rob: I miss Partizan's young team, but more than that I miss Jaka Blazic's red sneakers whizzing round the court. Something tells me he'll be back next year, but probably not in Ljubljana.