By: Freaknick
Last week an undefeated team fell, the champions floundered and three road teams went home with W's in their pockets. Stranger, still, was my uncharacteristic 7-1 record which brings the grand total to 88-36. Let's see if I can recapture some of that magic (see: dumb luck) of yore.
Group E
Maroussi (1-1) vs. Partizan (2-0) – Between their days as lowly qualifiers to last week's win over Panathinaikos, Maroussi has forced me to notice them. As if I needed another friendly shove in the right direction, they suited up this weekend to knock off Olympiacos in the Greek League. Well, here's what I know: against Panathinaikos, they shot 65% on 2's and 62% (11-18) on 3's. They still only won by a bucket. Partizan has held their last two opponents—Panathinaikos and Barcelona—under 40% from the field, which is unheard of. Me picking against Belgrade's bulldogs? Also unheard of.  Partizan.
Regal Barcelona (1-1) vs. Panathinaikos (0-2) – There's no way Barcelona loses a second straight EL game after starting the season 11-0. Especially at home. And Panathinaikos just doesn't drop three straight to open the Top 16. Those things just don't happen. Until now. When it comes down to it, Barcelona is head and shoulders above Panathinaikos in terms of togetherness—strange since Pana is comprised mostly of holdovers from last year's championship team while Barca was thrown together this offseason by rich people—and the Spanish side will be in the comfy confines of Palau Blaugrana. If the Greeks want a chance, Nikola Pekovic will need to conjure up a performance worthy of all the praise he receives.  Barcelona.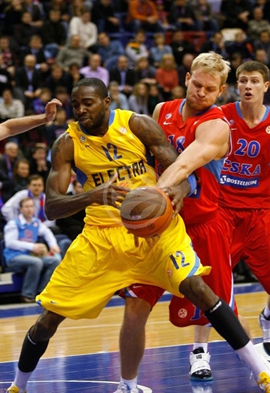 Group F
Maccabi Electra (1-1) vs. Efes Pilsen (1-1) – Efes Pilsen finally started to gel last week in their dismantling of Montepaschi, although it didn't happen quite like I imagined it would. Instead of their cavalcade of big names—Igor Rakocevic, Bostjan Nachbar, Charles Smith, Bojan Popovic—dominating the action, it was a steady dose of team play that bothered the normally stout Siena defense. Nobody played more than 26 minutes and all 12 guys pitched in. For Maccabi, the Wisniewski-Perkins combo up top worked great, with Perkins playing off the ball and finishing with 8 assists. Down low, Lasme and Fischer provided some fireworks with 22 combined points in 34 minutes, and on the wing Chuck Eidson dropped 18 while Alan Anderson—wait for it—had an old-school-Kirilenko line of 20 points, 8 rebounds, 5 assists, 4 steals and 1 block to pick up Week MVP honors. I like where both of these teams are headed, but the edge goes to the home team. Maccabi.
Montepaschi Siena (1-1) vs. Real Madrid (1-1) – Neither team looked stellar last week as they both took L's, but Montepaschi's chemistry makes them a bit more resilient when in bounce-back mode. Terrell McIntyre has averaged an embarrassingly low 0.5 index rating in two Top 16 games (14.8 in 10 regular season contests) and is poised to bust out in front of the Siena crowd. The same could be said of Ksistof Lavrinovic, whose average rating of 20 in the regular season has been cut in half the past two weeks. Plus, Ksistof will have the added motivation of playing against his twin brother and Madrid standout, Darjus Lavrinovic. Again, I like the home team. Montepaschi.
Group G
CSKA Moscow (2-0) vs. Asseco Prokom (2-0) – Looking back, maybe it's a good thing Zalgiris came out and punched CSKA in the mouth early last week. Instead of making adjustments, Evgeny Pashutin was committed to his gameplan and a 15-point deficit ended as a 15-point victory on the road. Asseco Prokom capitalized on Unicaja's dysfunctionality to grab a road win, as well. Ratko Varda can't out-tough Khryapa, Kaun and Mensah-Bonsu all by himself. CSKA Moscow.
Unicaja (0-2) vs. Zalgiris (0-2) – Zalgiris hit the ground running last week, nailing threes form every corner of the arena. As with any team that lacks a big time star (Marcus Brown is nice, but getting up there in years), they couldn't sustain it. Unicaja is the biggest mystery in the league and I don't think they'll solve any of their problems this week, but it might not much matter against a team that lost its coach only yesterday.. Unicaja.
Group H
Olympiacos (2-0) vs. Cibona (0-2) – Marko Tomas is a straight hooper. Too bad Cibona can't give him the help he needs. Olympiacos.
Caja Laboral (1-1) vs. BC Khimki (1-1) – The Splitter-less Caja team got the win—barely—against Cibona last time around, and Lior Eliyahu carried the flame as expected. He should be in line for another nice night of basketballing, but Khimki needs this win badly if they want a serious shot of advancing. Carlos Cabezas, Keith Langford: it's not against the rules to play with one another. You are on the same team, you know. BC Khimki.