By Rob Scott / @robscott33
Madrid, Spain
So here we are again, back with the same teams from London 2013. Olympiacos going for a third Euroleague title in four years. Madrid looking to win their first since 1995, in their third consecutive final.
Repeated battles at the Final Four are inevitable when the same teams reach this stage year on year, but recent history has been all over this edition. Olympiacos overcame CSKA in the most theaterical fashion (again) in the semi; now they have to do what they couldn't do in last year's playoffs and win in Madrid.
The game tips off in a few hours, but before then here are some possible pointers that both coaches might be looking at as they try to scheme to victory.
Real Madrid Early Offense
Olympiacos has to stop Madrid throwing touchdown passes. As Sam Meyerkopf said in our Final Four preview podcast, this is something they've been doing a lot lately, and it's one way to avoid the stagnation that plague their halfcourt offense in the playoffs.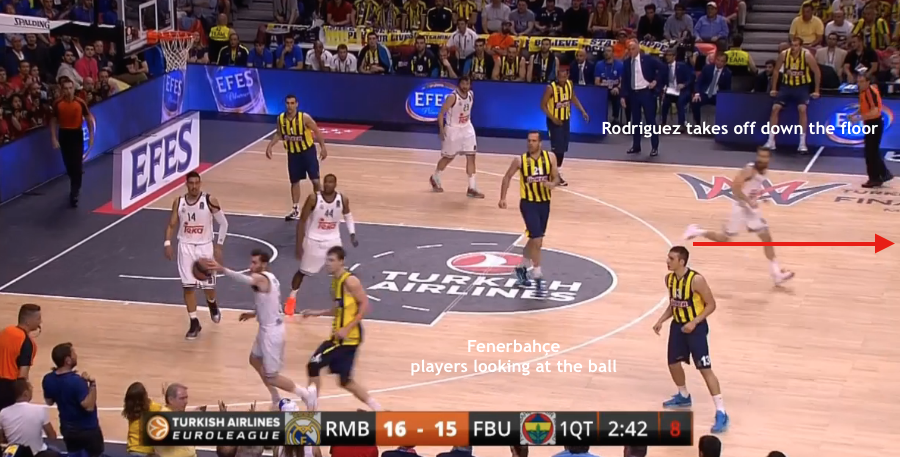 A pass gets tipped to the sideline and Rudy Fernandez chases to save it. Sergio Rodriguez is already tearing towards the opposite rim. Gustavo Ayon flings it down the floor. It's not a 'Hail Mary,' this is predetermined. It's a little risky if the ball gets saved to a Fenerbahçe player, but it got Madrid an open layup. Free points are always welcome.
High Pick and Roll - A Little Help?
This was one of the most remarked on factors in Madrid's semi-final. Jan Vesely got at least a pair of open dunks as Madrid's wing defenders offered no help on pick and roll, sticking with their man on the perimeter.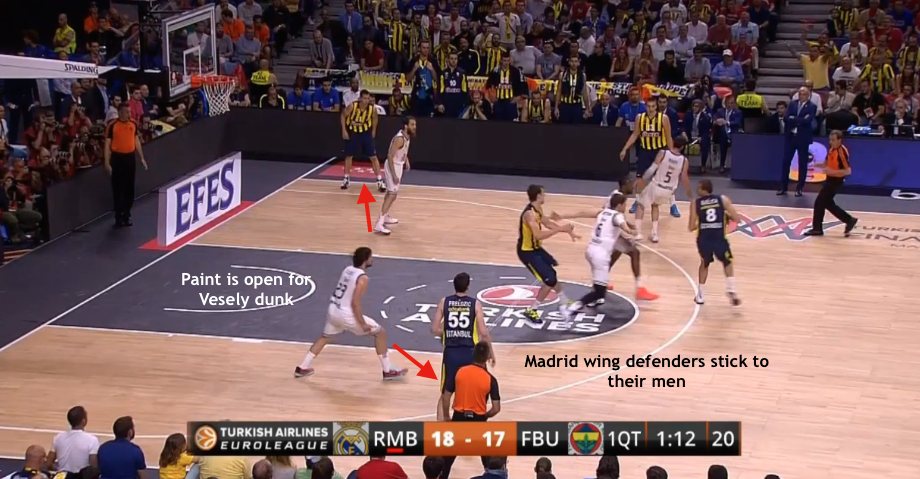 There is one big difference between this set up and the one Olympiacos will run: This is a 4/5 pick and roll, with Nemanja Bjelica handling the ball. That means both helpers from the wing are small guards, so it was probably a calculated gamble from Laso that if they couldn't stop the pass then Llull or Rodriguez helping off the corners wouldn't provide much resistance to a rolling Vesely. Fener put Jeremy Pargo in this helpless help position a fair bit in the playoffs. Laso was non-commital when asked about this in the post-game press conference, as you'd expect when asked an X's and O's question with the final still to come. Olympiacos wants you to help off the corners when Petway or Printezis are waiting, but Madrid will probably have to help more aggressively tonight.
Keep Spanoulis Quiet for 40 Minutes, Not 37
Το πλάνο του Πάμπλο Λάσο: Kill Bill http://t.co/dmaz4MddCg #F4Glory pic.twitter.com/SEUyCaCfxw

— Euroleague Greece (@EuroleagueGR) May 17, 2015
Easier said than done. CSKA switched most of everything when Spanoulis used high picks, and even the relatively slow-footed Sasha Kaun could contain him enough on the perimeter until another big body like Vorontsevich or Kirilenko came over to wall off the rim. It's possible, like Rafael Uehara suggested, that VSpan still isn't quite healthy. Either way expect Marcus Slaughter to be given the task of switching out and stopping Billy slashing to the rim. Also, it would be great for Madrid if they could avoid being tied or up by one in the final moments with Spanoulis on the ball. History says so, anyway.
Papapetrou's Physical Fight
The 1994-born forward showed zero fear in the semi-final, taking it to Kirilenko at both ends. His role may not be the same as in the semi-final where he replaced Tremmel Darden and matched up with AK47 at the small forward against an ultra-big CSKA lineup. If he subs in for Darden again then he can physically dominate Rudy Fernandez or KC Rivers, and could matchup with Felipe Reyes in a smaller lineup.
Reyes, Slaughter and Gustavo Ayon all fouled out in the semi-final, the first two combining for only 21 minutes on the floor. Beyond the young Papapetrou, the likes of Dunston, Printezis and Hunter need to give no quarter; they need to get nasty and piss them off. The game got testy in the second half on Sunday night, and Madrid didn't always handle it calmly.
Olympiacos to Keep Switching it up?
Rather than use their high-hedging approach, Sfairopoulos had his guys switch just about everything against CSKA, and it's possible they keep this approach tonight, given how Madrid took apart a hedging Fener defense in the second quarter of the semi final. It was also a tactic that Bartzokas' Oly used in the 2014 playoff series. The key is to make their guards pause after the initial action and have to read the defense, something we've been repeating ad nauseum in the build up to this weekend.
If they do switch easily and often, Gustavo Ayon can go to work again inside. Madrid does have an answer in theory for every defensive wrinkle, they just don't always recognise how to respond. I wouldn't be surprised to see a bunch of different defenses one after the other - if the game gets into a rhythm that's when Madrid is at their most dangerous.
More from Olympiacos' Role Players
Oly's semi-final win was a defensive grind that Spanoulis won for them with some insane shotmaking. They play the slowest pace in the Euroleague this year and they'll look to slow this one down. It's hard to see that happening though, and in an up-and-down game they'll need more from Lojseki, Lafayette and Petway. Not all of those guys has to score in double-digits but someone needs to score when the ball gets reversed to them. Only three Reds broke double figures against CSKA, and they will need more in the final.
ELA Predictions
Rob Scott: History can't keep repeating itself, or can it? If you're not a partisan of either team, it's easy to tie yourself up in knots here. But I have to go with Real Madrid, if only because the guy who picks against Olympiacos and turns out to be right will look pretty clever (and pretty stupid if Spanoulis hits the game winner). But Madrid looks locked in, and it looks increasingly like they struggled to focus in the weeks leading up to this because it's been on their minds all year.
Sam Meyerkopf: Olympiacos because when the game is on the line I'll take the guys with the biggest balls. Olympiacos can look across the court and know they have them right where they want them.  With the clock winding down in the biggest game you have to trust Spanoulis and Printezis.