By: Slam
While most of our attention is turned to the riveting Euroleague season, the EuroCup deserves some love too.  The season is shorter, the field of teams is bigger, and the excitement of every game means that much more.  We have 32 teams playing in 8 different groups with a 6 game regular season. Were now more than half way through the season and after looking at the whirlwind of games, Slam will try and find the true storylines.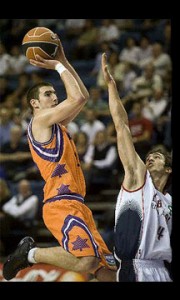 Spain = Dominance
The dominance of the Spanish teams in European competition has been quite extraordinary.  In the Euroleague the 4 Spanish teams (Unicaja, Caja Laboral, Real Madrid, FC Barcelona) are all in either 1st or 2nd place in their group.  This trend holds true in the EuroCup as Power Electronics Valencia, Gran Canaria 2014, Bizkaia Balbao, and DKV Joventut are all either undefeated at 4-0 and in 1st place in their group, or at 3-1 or 2-2 in 2nd place in their group.  A lot of this can be attributed to the defensive side of the ball where the two undefeated teams (Valencia and Balbao) are in the top 3 in points allowed on the season.  Looking even deeper to see which one these teams is a Eurocup title contender we see Valencia is tied for third in the ACB league standings at 9-3, far ahead of the other Spanish teams in Eurocup competition.  This means the young squad led by prospects Nando de Colo and Victor Claver will not only be an entertaining team but a possible championship team to watch in Eurocup action from here on out.
The jury is still out on Donatas Motiejunas
Through 4 EurCup games Donatas has found a rotation spot on one of the better EuroCup teams, Benetton Basket, who is 3-1 in EuroCup play and 5-5 in Italian League play.  In the EuroCup Donatas has put up 7.5 points and 2 rebounds a game in 21 minutes of action.  These are not the type of numbers potential top 3 picks should be accumulating.  He has stepped his game up in the Italian League with 8.8 points and 3.8 rebounds in the same amount of minutes.  Donatas has a real chance to blossom with Benetton and while their are glimpses of greatness during his games, there needs to be more sustained production.  Donatas has limited his number of 3 point shots and tried to get more established inside, but his rebound numbers are still very weak.  With the possibility of Benetton moving on in the Eurocup we will see if Donatas will be able to rise to the occasion or if the team will have to rely on more productive veterans, his draft stock rides on it.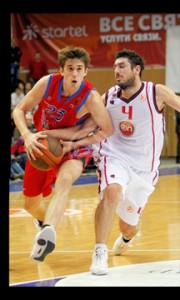 Alexey Shved just needed some playing time
The young Russian guard who has been all over NBA draft boards the past couple years has finally found a home in Dynamo Moscow.  After riding the bench for CSKA Moscow in the Euroleague the past couple years, no one was able to find out if Shved's talent was ever going to put into play on the floor.  Now the shackles have been released with a transfer to Dynamo, and after yes just one game, we can see that he is a ball player.  Trying to help revived the 0-3 Dynamo team Shved put up 16 points 8 rebounds, 2 assists, and a steal against Benetton Basket.  This is one of Shved's most impressive outputs as a pro and shows us that his talent can shine when given the chance.  Yes, in his next game Shved only put up 5 points and 6 rebounds, but he is showing us all that he can be a real contributor.  Shved is a gunner though so he will have off scoring games, but if he can get his jump shot going in consistently he could be a real force in these last couple EuroCup games.