RS: One of the biggest changes in recent years, particularly in the United States, has been the introduction of video analysis and advanced statistics, and its use in recruiting at the pro level. Synergy Sports breaks down plays, produces detailed numbers on individual players. Is this something you use, or are you more skeptical?
LG: I think it's different, in America, statistics are very important. Maybe the most important. In Europe, basketball is other things. The important thing is reading the stats, but they are numbers, only. You have to make a good analysis and not just focus on the stats.
RS: And video analysis? You use this a lot?
LG: Yes, I use this a lot, in two directions. One, for me, is my own team. I like always, when I finish the game, to analyse my team. Not only the mistakes, but what are the good things. Both are very important. I like, on the national team, to use video to analyse the whole team and the individual players. Each of my assistant coaches take six players each, and they must mentor these players. They must explain after each game, what are their mistakes and what did they do well. I talk to my assistants and each player, about their progress.
Another part in Europe which is very important is scouting. Other coaches might not but I like to scout the other team, its important that you know what the other team does, what is their principal focus, what do they do well or bad? It's not possible to give all the information to the players but I analyse this and give them the most important things, to win the game or to stop one player.
I work with the Federation and they are very important in this video programme. In the Federation we record all the players from the moment they start to play. You can look at Ricky Rubio's right hand layups from when he was 14, through to this year, and analyse his progress. It's better to look, than to read, for players and coaches. I think it's very important, this technology now available in basketball.
RS: You've had a lot of success with the junior national teams, with players like Diez, Hernangomez, Abrines, Fernandez… as the Spanish senior team with players like the Gasols and Calderon getting older, looking 5 years down the line, do you see the players you have coached going on to be one of the top teams in the world?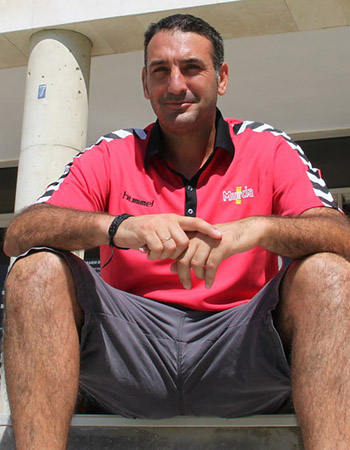 LG: Yes, I think it is very good. We have many players making the star five, MVPs, at the top level in Europe. Now, Sergio Llull has a lot of talent to contribute, Ricky Rubio, Rudy Fernandez, Marc Gasol, these players have a lot of time left. Younger players like Pau Ribas, Abrines, I look at these players and in the ACB they are progressing.
I think the 1980 generation is unique. Impossible to repeat, but this generation has two years more, in the World Cup 2014 in Spain they will be there, but in the next two years, these [younger] players can progress.
The other day I looked at Pau Ribas playing with Valencia and he played very well. Within two years, we will have a very good team to replace this generation. Not the same, that's impossible, but a lot of players, not one or two players. Say, twenty-four players who can play in the national team.
RS: Going a little bit further into the future, although they have a guy like Abrines at Barcelona, they have also recruited Mario Hezonja and Marko Todorovic. Obviously the ACB has a rule saying teams must have four or five home-trained players, but they do not have to be Spanish. Do you think there will continue to be opportunities for young Spanish players in the ACB? Or do you fear that Croatian, Serbian kids, or from other countries, stopping the opportunities for young players in Spain?
LG: Well, its true, that the EU rules are a problem for the Spanish players. The first thing is the clubs recruiting players, young players, 12, 13 years old, always in the four or five position. This is a problem for Spain, because our biggest problem is our big men. But, I think that if you are a good player, you will play. Maybe in the second or third division, but you can progress, for three or four years while you are preparing to play in the ACB.
It's difficult, it's true, but it's our law, in Europe everyone is the same, the same opportunities for all. If some players want to progress, maybe they will go out of Spain, they have the same opportunities. At the moment, because Spain is the second best league in the world, everyone wants to come to Spain.
But all players and coaches must now think about going to another team. In the last European under-20 championship, the MVP was Leo Westermann, has gone to Partizan, so the best players will always have an opportunity to play at a good club in Europe. It's a new direction, everyone must look with an open mind. It's a very important moment in Europe, with the economic crisis, and in Spain especially.
RS: Finally, where next for Luis Guil?
LG: Anything is possible, For me at the moment, it's very important for my development, to study basketball, to study more English. If I had a very good opportunity in the ACB, or outside of Spain, of course I would be interested. But it would have to be a very good opportunity. This year is very important for me, after 23 years of coaching, without a break, for me its important to look at other countries, other structures, to stop in this moment and look. My intention is to come back here in January and continue my work.
Massive thanks go out to Sam Neter of Hoopsfix for tipping us off to Luis' presence in the UK and to Lloyd Gardner at Barking Abbey for hooking us up.