We already bigged up Malcolm Delaney in our Regular Season recap, but he went above and beyond as the Top 16 got underway. Delaney said he was inspired by Alexey Shved and his 28 points the night before. He racked up 31 points and gave out eight assists for a 41 PIR as Lokomotiv Kuban eased past Cedevita Zagreb. But what can we read into this for Lokomotiv's chances? If your answer is 'calm down, we're one game into a 14-game run that doesn't finish til April' then this isn't the article for you.
The first thing noticeable thing about Loko's offense under Georgios Bartzokas is that it's pretty simple. That might not get him many plaudits from the .gif-makers and chin-strokers (that's all of us, thanks for coming) but it does mean that every one of the players is pretty clear on what their job is. It's a lot easier to do that job if it doesn't change twice a quarter.
Delaney spoke to the in-house media team early in the season about how Bartzokas has 'built the team around him' and that's immediately apparent. Making players comfortable and confident is probably an under-rated part of coaching, probably because nobody outside the locker room really knows if it's real, and it's not something you can categorically conclude from watching film. But it seems like a fair assumption that Delaney relishes the challenge. Players who know the coach has their back if they take bold shots are likely to be more settled, more plugged in, and it seems that way in Krasnodar.
It's not just Delaney - Chris Singleton, Anthony Randolph, and Victor Claver all have licence to pull the trigger. Even when closely guarded at the elbow, those guys can drive to the rim or elevate over a defender for the jumpshot.
The biggest question is, even though Delaney is really, really good at hitting these pull-ups, can offense like this really carry them past the perennial Final Four teams that are likely to qualify from the other group?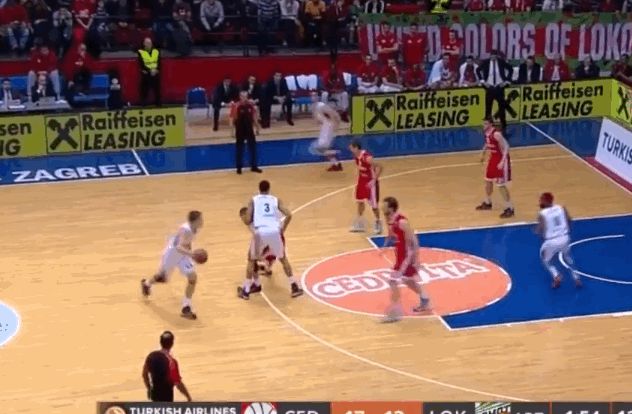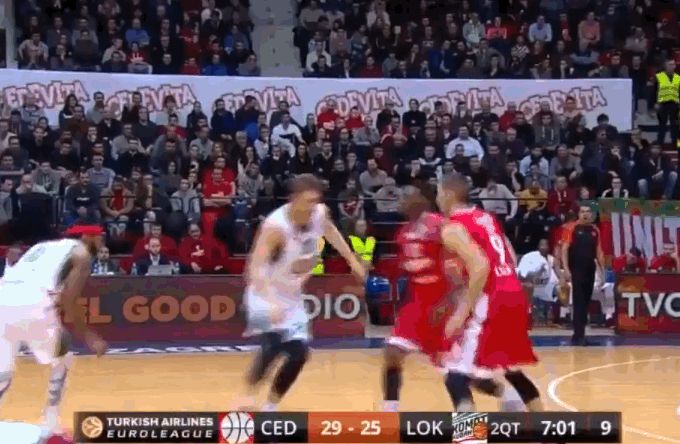 Loko's offense isn't all one-on-one stuff - Claver is a smart cutter and off-ball finisher, and Delaney's penetration will always generate kick-outs. Although Dontaye Draper, Sergey Bykov and Evgeny Voronov aren't all deadeye shooters, Ryan Broekhoff is. When you have one of the continent's elite scorers, there's not always a need to run complicated off-ball screens to free shooters, and if you can score without having to force a defensive breakdown then that's not necessarily a bad thing.
Alexey Shved and Tyrese Rice showed that the night before as they beat CSKA. These guys can score without there being some defensive mix up. The best teams screw up less often, but some players can still score, and if they do it with the ball in their hands, without having to get the defense on the move, then all the more difficult it is to stop them.
The trouble is, placing so much of the team's prospects in the hands of one player isn't always the best option - although relegated to third place on the Russian Team Rich List, Loko would argue they're playing the cards they can lay their hands on.
Foundation defense
A more reliable foundation for success might be their team defense. Like the offense, it isn't overly complicated, and Bartzokas has done a good job of minimising rotations. This is possible because their perimeter guys - Draper in particular - are great at keeping their man in front of them, and when they do get screened, everyone is disciplined at rotating and recovering out to shooters. These possessions from the Week 10 win over Barcelona are good examples:
Loko finished the Regular Season third in Defensive Rating (96.8) and it doesn't seem to me that there's much of a reason that should slip as the competition level rises.
But when the offense is perhaps teetering on the brink of being found out eventually, certainly under the intense iterative scrutiny of a playoff series, the defense will have to be progressively more impregnable. The more predictable an offense is, the easier it should be to stop, even if Delaney scores in ways that defenses know are coming.
There's just a nagging doubt that an offense where three or four guys are often standing around on the weakside can't succeed. There isn't quite enough movement, enough to get the defense scrambling. We won't really find out this week as they face a very hospitable Anadolu Efes defense. Maybe the week after when they take on Fenerbahçe?
Black Sea Swagger
The cool thing about this Loko team, dare I say it atypically for some of Russia's recent Euroleague representatives, is that it has some swagger. The white LOKO jerseys; their home crowd and that distinctive geometric arena interior.
Krasnodar, just inland from the Black Sea shores, is closer as the crow flies to Istanbul than it is to Moscow. There's something 'other' from the centre of power in Russia to this team, at least in sporting terms. Then there's their mischievous, irreverent Youtube channel. This video 'starring' their former player Mantas Kalnietis, brings to mind Russian literary madman Nikolai Gogol's short story The Nose. Surreal, and awesome.
They may be walking a tightrope by putting so much on Delaney's shoulders, even though it seems like he's stepping up more and more. But they're now 9-2 overall, and they've beaten Barcelona and Panathinaikos, two really strong teams. There's only been one aberration - Week Eight's 66-51 accident at home to Stelmet Zielona Gora - which showed the ultimate downside of when the simplified, streamlined offense goes wrong. But as long as they keep putting one foot ahead of the other without falling, you have to take them seriously as a playoff threat.
As the clock ticks down in a close playoff game, Malcolm Delaney is one of the last players an opponent wants to see with the ball in his hands. It looks like they should make it at least that far. The question is, how far can Delaney and his Loko amigos go after that?