The Euroleague Regular Season is over and it kept us on the edge of our seats til the last. The last two champions went into Week 10 knowing a win would be needed just to stay in the competition, and while Real Madrid eased into it, Maccabi Tel Aviv saw their Euroleague season, and the accepted rules of the basketball universe, disintegrate.
Crvena Zvezda showed how vital it is that an Adriatic League team has a guaranteed place in the new mostly-closed shop Euroleague. A deafening crowd at Hala Pionir saw a three-act masterpiece as the home team grabbed, then lost, then re-found the upper hand. Add that to Cedevita Zagreb's progression and there is no excuse for not including the Balkans in this new members club.
The Top 16 groups look as unbalanced as a pantomime horse made up of Boban Marjanovic and Marques Green. Olympiacos, CKSA Moscow, Real Madrid and Barcelona in one group? That may be one side of the playoff bracket, but it might not be the Final Four this season - not if the first ten games are anything to go by. And on that note, in no particular order, let's look back at the opening stage and pick out ten things that were interesting, relevant or just damn cool.
1. Zalgiris Kaunas: Chemistry Matters
Sometimes a 50/50 call goes the wrong way. Block or charge? Who touched the ball last? Have another drink or get the last train home? Predicting who will qualify for the Top 16 is sometimes just as much of a coin flip, and before the first tip off in Week One, it seemed to me at least that Pinar Karsiyaka could just about edge out Zalgiris Kaunas for that last spot in Group C.
I always thought it would be close, but in theory the insurgent Turkish champions had momentum, even with the loss of key players, whereas the Lithuanian club had put its faith in veterans and an unproven rookie as their import scorer. In ELA's defense, our honorary president Nick Gibson did make the right call on this one.
They added Mantas Kalnietis and Renaldas Seibutis to fellow core Lithuanian NT players Paulius Jankunas and Robertas Javtokas, but I though they lacked a sure-fire impact scorer like James Anderson or Sonny Weems. Also the frontline could be a little old and slow - Robertas Javtokas' body has had a strenuous 35 years on this earth, and Ian Vougioukas isn't going to hedge anyone out to halfcourt.
No two ways about it - I was wrong. Vougioukas was a let-down at Galatasaray at the beginning of last season but he popped up in Germany for ratiopharm Ulm and genuinely changed a playoff series in their favour. He's carried on that form for Zalgiris, with the full range of old man triple pump fakes, soft handed hooks and crafty passing out of the post. He still sticks his arse out when he sets a screen.
The Lietuva NT guys did what they do, but as to the other supposed weakness - a dominant scorer - Olivier Hanlan excelled himself as a rookie and performed as admirably as any fresh-off-the-plane collegiate star in recent years.
Hanlan was a second-round draft pick of the Utah Jazz, after a three-year career at Boston College where he averaged 20.8 points per game. The Eagles mainly sucked during his time there, so he was left to shoulder the load as a shot creator. One thing that has immediately translated to the Euroleague level is his off-the-dribble game, but not in a ball-hogging, drive-to-the-rim at all costs way. He takes a lot of pull up jumpers but they're mostly all 'good shots' in the flow of the offense when his man goes under a screen. Even when contested its not a bad look because he elevate well and shoots over the defense. He can get to the rim too, and his three-point shot went in at a 34.3% clip in 3.5 attempts per game. Not stellar, but hopefully enough to keep defenders from sagging way under or helping off of him.
Defensively he was focussed and showed the ability to keep top Euroleague slashing guards like Pau Ribas in front of him, no mean feat for a player in his first professional season.
It has probably helped that the team has so many experienced, high-quality veterans to take the load, but he has played starters minutes across both guard spots. If that deepball could just nudge up towards 40% the upgrade in quality of defense in the Top 16 might not be as much of an obstacle. Then again he bagged 19 points against Panathinaikos and 14 in a win over Barcelona, so he's already delivered against that level of competition.
But the most impressive thing about his Regular Season is that he already appears to knows who he is and what he has to do to win games, something that can take years to figure out, especially for guys who had an outside chance at making the Association. At 22 he's an 'old' rookie, but he hasn't tried to gun his way onto the Jazz roster. Nor has he been overwhelmed by the transition to a new country, language and way of playing. It looks like he's been here a while, which is one of the biggest compliments a young player could receive at this level.
Zalgiris is in the Gruppo del Morte so a playoff spot is probably out of the question, but they won't be an easy out for anyone.
2. Trust in Youth
Crvena Zvezda depends on making the Top 16, financially. That's what ELA has been told in the past - it's make or break, and they left it til the fourth quarter of Week 10 to seal the deal. Their squad last year was heavily centered around Boban Marjanovic, and since he got the NBA deal he deserved in the summer, they tried to replicate that size in the paint by signing Big Sofo. That experiment lasted barely long enough to finish saying his full name, and after they got waxed 91-53 in Week Three at Khimki things were looking bleak.
When other summer additions Gal Mekel and Ryan Thompson were struggling to have any positive impact, the keys to the team were tossed to mercurial talent Stevan Jovic, and two alumni of the 2013 NIJT u18 team Nikola Rebic and Marko Guduric were handed their chance to play big-boy minutes at Mekel and Thompson's positions.
That core of Serbian talent made its impact immediately in Week Five as they beat Bayern and saved their Euroleague season. Jovic was given 19 assists (let's not quibble, maybe 12 of them were legit but that's a dozen fucking assists, OK?) while Rebic floated to the corners and knocked down huge three after huge three.
Guduric took a little longer to warm up but in the win-or-go-home-and-panic-about-the-money game in Week 10? He saved his team not once but twice with ludicrously  deep threes, including one for a four-point play. CZ was heading towards an elimination loss, dribbling into traps and coughing the ball up, before Guduric shook his head and cocked back his shooting arm. "A guy that was looking for scoring opportunities and has real confidence in his scoring game." was Sam Meyerkopf's summary from that converted soccer field in London back in 2013. Two and a half years later, that confidence saved Crvena Zvezda's season.
That 2013 team also featured Dusan Ristic, now progressing nicely at Arizona in the Pac-12, and Marko Tejic who has contributed to the big team here and there. Don't get me wrong, Quincy Miller had the biggest impact of all the guys who came into the team mid-season, but the lesson here is that Serbian players are never too young to step up.
3. Spanish Big Two Still With Work To Do
The duopoly at the top of Spanish hoops will meet each other in the Top 16, but there hasn't been nearly enough from either to suggest another rendezvous in Berlin. Real Madrid left it til Week 10 to qualify, and it was a sign of how far they've fallen than a Week Eight home win over Fenerbahçe was seen not as a victory over a close peer but as a genuine upset.
The root of their problem is pick and roll defense, as we discussed at length recently, but several aspects of their play have improved since then. Gustavo Ayon has begun tipping the balance of his contributions back into the positive recently with Kirilenko-like stat lines.
The biggest story though had to be the accelerated rise of Luka Doncic. This kid is still 16 years old, and he's been doing things like this. Poor Cedi Osman's run as the go-to Star Wars Reference Euro Prospect was over so quickly.
Doncic is the 1.98m playmaker that people in the NBA picture when they say young Europeans are more skilled and will eventually take over. He will be a lottery pick and then he'll be an NBA star, but just be glad that he's not even Draft eligible until 2018.
So if things don't appear as bleak as they did at 2-5, there is still a suspicion that the roster is too crowded - Maurice N'Dour arrived from the DLeague to offer shotblocking at the four spot, but is there really any room with Thompkins, Ayon, Felipe Reyes, Willy Hernangomez and Andres Nocioni around? It doesn't hurt to have another option but it also doesn't hurt for guys to know when and where they'll be playing.
Similarly on the wing, KC Rivers is exactly the player they missed, literally and figuratively, and his knockdown shooting from the corner could be much more useful than Jeff Taylor's trying-too-hard gunning, although the Swede has settled down somewhat and was even pretty useful in recent weeks. What happens when Rudy comes back? What happens if they add Augusto Lima from Murcia as they have the option to do (He would be eligible from Week 8)?
Pablo Laso is an expert manager of people and egos - it's an underrated skill, and for example he managed to make Marcus Slaughter still feel part of the team even when he barely played for the first three months last season. Maybe El Chapu needs extended rest and he can just be deployed at F4-MVP level form when needed? But if the luxury of options turns into the paralysis of choice, this team loses its ability to just out-talent everyone.
One of their biggest strengths that finally paid off last season was the unity and the togetherness of being in a foxhole with each other. They can still run out crunch time lineups with all of that intact, but one of Laso's biggest challenges will be working in everyone else around that, and I don't think he's worked it out yet.
Barcelona, on the other hand, qualified in second place in their group, but stumbled through some laboured victories along the way. Never did they ever look very 'Barcelona-y' in the way that Xavi Pascual's teams of the 2010 - 2013 period could appear - malevolent, dominant, stifling and often downright boring in their suffocation of lesser opponents. This Barcelona gives you a chance. It doesn't scare anybody. The aura that they had where you could pretty much write them in for 78-54 Regular Season scores is gone.
They botch switches, they let guys take them off the dribble… this isn't the Barcelona of three or four years ago. They go into the Top 16 on a three-game losing streak, all of which were close games, but that's more or less the point. In previous years they didn't have close games at this time of the year.
Shane Lawal can erase a lot of these mistakes, but when he's not on the floor, they look as mortal as I can remember, particularly with Arroyo on the floor, but they need him to provide some offensive spark. Pau Ribas was one of the best guards in Europe last year but he's been lost in the rotation, never really impacting the game. Pascual might work this out over the next few months but he's got a lot of work to do.
Offensively they're slow - in more ways than one. They played at the third-slowest pace in the Regular Season and they don't have anyone to really attack a defense before it sets up. Juan Carlos Navarro is still playing 18 minutes per game shooting 33.3% on 2FGs, 35.9% on 3FGs, which is killing their offense. To earn Pascual's trust is difficult, but he might have to let go of his favourite soldier at some point, no matter how many medals he has in a long and legendary career. Ante Tomic finished the Regular Season shooting 67.1% from the field, but it might not be enough to hang a Final Four campaign around him.
They may have the second-best offensive rating in the competition but that includes a pair of blowouts against Karsiyaka and Zielona Gora. I would put money on that rating going down in the Top 16, but then I never have been particularly great at predictions.
When Real Madrid really needs a bucket, Sergio Rodriguez can just conjure stuff out of thin air. CSKA hasn't really got into that situation yet, but similarly Teodosic and De Colo - to name but two - can create shots. Olympiacos? Fitness permitting you already know its Spanoulis and there's not much you can do about it. I'm not sure what this Barcelona team's get-out-of-jail move is. There's only so much you can do by committee.
4. Malcolm No Longer in the Middle
One guy who can definitely pull his team out of a hole is Malcolm Delaney. This year he is maturing into the most difficult to handle scorer in Europe, a guy who can be relied upon rather than a high-stakes gamble that could blow up in his own team's face as much as the opponent's.
Delaney's 16.1 points per game was third overall, and he combined that with 5.3 assists per, not bad for someone who isn't a 'true' point guard. He plays both on and off the ball for Loko, either as point guard or with Dontaye Draper handling, but the ball usually finds its way to his hands at crunch time. Loko won a bunch of close games, going 5-1 as the clock ticked past 35 minutes and the score within five points. Delaney wasn't always fantastic - seven turnovers in Week Two vs Zalgiris - but he can always get a shot off, he can get to the rim, his burst of speed in the first step is a killer, he's the full package when it comes to scoring. He even has a sneaky little post game.
He's become a more willing passer too, something that has emerged with maturity and experience. This is now his fifth season in Europe and it looks like he's settled into his role with Loko, better than last season where he tried to do too much at times. Andrew Goudelock showed last year how far a truly dominant shot creator and scorer can help a team into the Final Four, and Delaney appears so far to be a more harmonious locker room presence.
Lokomotiv Kuban should be a playoff team, particularly on the easier side of the Top 16, but they still have work to do to show they can take that step. Even though Delaney himself wasn't necessarily a ballhog, they could be uncreative as a team in offense, with minimal off-ball movement and only one or two actions in a possession - if the first pick and roll fails, they have to do more than go one-on-one, whether that's Delaney from the top or Chris Singleton or Anthony Randolph from the elbow. They also racked up the second highest number of turnovers in the Regular Season, something that will be punished at the next stage.
More encouragingly, they had a solid defense - third in defensive rating. They're generally conservative in their coverages and have guys with long arms for days like Singleton, Randolph, Fesenko and Claver to disrupt passing lanes and contest shots. That, plus Delaney's coolness under pressure at crunch time, should be a solid basis on which to build.
5. Bigfoot is Back
The bigger, 'less mobile' (i.e. slow) centre was supposed to be an endangered species in Europe. In fact, around Peak Hines (2013) you could even say its continued existence was a myth. A look at the leading PIR getters in Euroleague this season has swung the pendulum firmly back towards the more traditional, lumbering giant of the paint.
I've already hailed The Bouroussance enough this year, but suffice it to say our cult hero led the competition in Index Rating, at 23.6 per game, and did while proving that you don't have to be able to sprint up and down the floor to play this game. Grabbing rebounds like a hungry bear hunts salmon, dishing out assists like Father Christmas distributing toys, there's been nothing he hasn't done to make Baskonia one of the most watchable teams in Europe.
Maik Zirbes (or ZURBZ, if you're an ELTV commentator) is an absolute beast of a human being, but nimble on his feet rather than quick, and with such a wide target to aim at in pick and roll he just swallows up the ball around the hoop and drops it through.
Kyrylo Fesenko is another butt-out, mountain in the middle and he's been a huge part of Loko's success, along with a pair of more finesse-based pivots from Croatia - Ante Tomic is who he always is, and Miro Bilan has pirouetted Cedevita into the Top 16. Miroslav Raduljica and Ognjen Kuzmic at Panathinaikos are a huge and damaging duo, the list goes on.
Of course the 2.10m+ five man never really went away, and the players mentioned above have a diverse range of skills and ways to operate between them. But it's nice to see that you don't have to be smaller to play big.
6. Last of The December Do or Die Games
There's been such a consensus negative reaction to the new Euroleague format - 16 teams, 30 game Regular Season, 11 reserved spots for current A-licenses - that it's almost tempting to play devil's advocate. The best that could be said in that scenario is that a 16 team league will mean that the likes of Stelmet Zielona Gora and Dinamo Sassari will no longer be present. Is that a good thing? No, not in and of itself, although how much could anyone (except the deep nerds of European hoops, i.e. the majority of people who read this site) say they remember from those teams' campaigns? I suspect this is what the marketing men would love to say in public if they had the chance.
But for every Sassari there's a Limoges or a Strasbourg - they may not have qualified, but they certainly added to the rich variety of the competition, and came away with decent wins. Try telling the fans in those places that they're no longer welcome - if Euroleague only ever comes to 16 cities, it won't suck in support from elsewhere, it'll just narrow its audience. People in Berlin are not going to get behind Bayern Munich if they're the sole German team. Euroleague as a brand is not the NBA and Europe is not North America.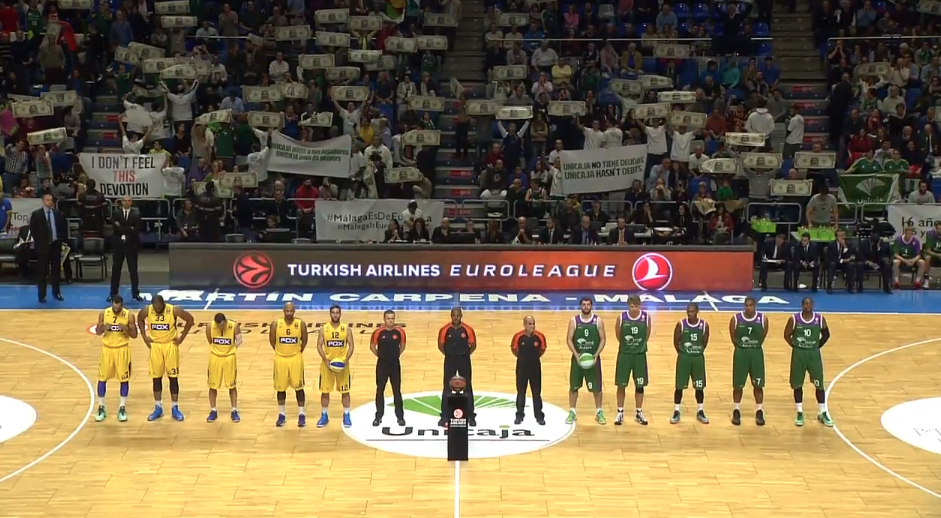 With no elimination before the playoffs, the kind of games we saw with Crvena Zvezda and Darussafaka Dogus in Week 10 will be sorely missed. Even though Anadolu Efes and Real Madrid both snuck in on three game winning streaks with a minimum of drama in the end, just the possibility that they could go crashing out was highly intriguing. It's really difficult to imagine the same kind of attention being paid to 'Madrid start season 2-5′ if the stakes are so much lower.
Of course, the other huge issue is that the identity of 11 of the 16 teams will remain the same year after year. To return to the devil's advocate point - who would miss Sassari? Who would really miss EA7 Emporio Milano? or Maccabi Tel Aviv this time round? With three A-licenses for Spain, it seems improbable that there will ever be a place for Valencia, currently 22-0 across Eurocup and the second-best professional league in the world, the ACB. That is, unless they win Eurocup, but that backdoor route shouldn't be the only way in.
We haven't yet seen the consequences of the new Euroleague world, but we're already seeing proposals to reduce the number of teams in the ACB to accommodate the new schedule. Similar moves will surely result in other leagues around Europe. Hoarding resources and opportunity at the very top of the game will only shrink the sport as a whole across the continent, and I remain to be convinced that higher TV revenue and gate receipts will result from the monotony and repetition of playing the same teams year after year.
7. Sort out the Tiebreakers
As our colleague Savas Birdal said at the time:
Let's not talk about this ever again.

— Savaş Birdal (@savasbdl) December 17, 2015
We can abide by this request, but the kind of Shaqtin' a Fool-level 'look at these silly Euros' attention isn't a great look for a credible competition, even though I can't deny the experience of watching it live was as enthralling as it was appalling. As Finnish hoops broadcaster Kristian Palotie suggested, just make points difference in OT count for 0 and this whole thing would go away.
To give Euroleague credit, they put out a statement in the aftermath that hinted at a change.
8. Parity… of a Sort
There is a kind of parity emerging amongst the not-quite red-hot-favourites-for-the-F4 level. CSKA Moscow, Fenerbahçe and Olympiacos are above everyone else in the power rankings, but the latter two aren't so dominant that its impossible to see them losing a playoff series, particularly in the light of the Greeks' injury issues - Pat Young out for the season, Spanoulis showing more signs of wear and tear.
Behind them, has anybody really separated themselves? I wouldn't say so. As discussed, Barcelona and Real Madrid are fooling nobody. Anadolu Efes looks like a team more likely to win a playoff series than actually get into one, if that makes sense. Could Panathinaikos, Lokomotiv Kuban or Unicaja make the playoffs? Absolutely. Once they're there, a lot can happen in five games. We may well end up with a 'traditional' F4 with no surprises, but at least it doesn't appear to be inevitable this year.
9. KC Rivers is a G
So happy that certified gangster KC Rivers is returning to Real Madrid. He joins the team next Monday. https://t.co/jNNGy3J8yE

— Austin Green (@LosCrossovers) December 23, 2015
Is there anyone in Europe with a smoother stroke? Anyone more softly spoken but more deadly on the perimeter? Rivers shot a cool 43.1% from beyond the arc for Bayern Munich, and it barely seems fair that Real Madrid get to re-add him for the rest of the season. There's no analysis here, just admiration. Soft eyes, feet set, can't lose.
10. The Efes Mystery
Finally, a few scattered thoughts about one of my pre-season F4 picks. Let's examine some facts first:
Thomas Heurtel leads Euroleague in assists at 7.7 per game.
Jon Diebler is shooting 51% from three-point range, and also leads the league in 3FGs made. Volume and accuracy in one.
Efes' is fourth in offensive rating (112.1).
So what's the problem? Well it begins with a D. They just can't get stops when they need them, despite having players like Derrick Brown, Alex Tyus and two-time Euroleague Defensive Player of the Year Bryant Dunston. Irony? You don't say….
They just barely made the playoffs last season, but then really should have knocked Real Madrid out. So maybe this is a team that can turn it on when it's really necessary, but that's not a blueprint for success. The defensive lapses appear to be more mental than anything, but so much of playing defense is about focussing and giving a crap, so the more reps you can get as a team, the better.
Heurtel is a bit of a revolving door on the perimeter but their offense is so much better with him on the floor that it's tough to sit him for long - Jayson Granger is a much better defender but is shooting 39% on 2FGs. Efes just doesn't really have a defensive identity yet - they've employed the full range of strategies, from switching to sitting deep to hedging out, depending on personnel.
Dusan Ivkovic has forgotten more about basketball in the time it's taken you to read this than most people will ever know, but he can't be happy about the way they don't run back hard on defense, and the way they allow dribble penetration.  They need to get more physical and more aggressive - rarely do they bump screeners or hit guys cutting across the lane.
Duda can have those tips for free - it's Christmas after all. So happy holidays to him, and anyone who is still reading. The Top 16 starts in five days.