By: Sam Meyerkopf / @HoopLikeDrazen 
After having traveled to Gran Canaria, Barcelona, and Madrid so far for games at the 2014 FIBA Basketball World Cup, here are some recent thoughts, notes, and observations.
USA on the Run
Graphic below via @sjacas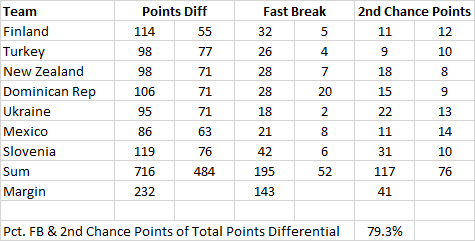 The United States don't run much offense and a big reason why is because they don't have to.  Everyone is so athletic in positions one through five and everyone can get out on the fast break in a second.  Look at the graphic above, the US can beat you by just getting out on the break and jumping over you on the offensive glass.
Beyond using their natural talents, they also put extreme effort into these parts of the game, perfected by Kenneth "Manimal" Faried.  Even though Faried is no where close to most modern and international power forwards in terms of shooting and perimeter game, he is so active rim running on the fast break and getting on the offensive glass that he gets 20 points basically just by hustling and jumping all over the place.  He creates a mis-match with less physical four-men.  The only way to beat the US is to slow down their fast breaking and offensive rebounding, good luck.
In an all-time shocker, France beat Spain in the quarterfinal in Madrid to knock out the favorites and hosts of the tournament. Spain scored a ridiculously low 52 points and were 2 of 22 on three-pointers.  All tournament this team breezed through most games letting their individual offensive games shine and flow together.  But when there were tactical changes needed, plays to counter the French defenses, and different lineups were a must, Spain and Coach Orenga were not prepared.  The beauty of Spain's offense has been it's free-flowing-ness.  Pull-up three-pointers on the fast break, step back jump shots from anywhere on the court, and isolation drives whenever the opportunity was there. But when the game tightened and those became bad shots or unnecessary plays, Spain had no where to turn.
Two lineup changes that were desperately needed were more play from Felipe Reyes and Sergio Rodriguez. Reyes didn't even see the floor and El Cacho played just 12 minutes in the game versus France.
Reyes is the eldest statesman on the team but the guy knows how to play tough defense, go get a rebound when his team needs one, and can draw a foul.  Spain was out-rebounded 50-28.  France had almost as many offensive rebounds (16) as Spain had defensive rebounds (20). Reyes might not have been able to change the course of the game entirely but he would have been able to do some dirty work and pushed Rudy Gobert and Joffrey Lauvergne around enough were they couldn't jump around and grab every rebound.
Playing Rodriguez 12 minutes and Ricky Rubio 27 minutes is pretty close to a fireable move.  Rubio hasn't show much at all this tournament to warrant being on the court for more than a few minutes and yet Orenga still refused to change his lineups.  Euroleague MVP Rodriguez hasn't been shooting the ball as well from three as he did during the club season but still his jump shot is miles ahead of Rubio's. Yes Rubio's defense is better but it is not worth the tradeoff at this point.
Down eight with about a minute left and a sliver of Spanish hope left, Rubio came down and took an open pull-up elbow jumper that clanked off the rim and missed.  France got the rebound, Spain fouled, and the game was close to over.  There's a highly likelihood that Rodriguez makes that shot, as he's one of the best pull-up jump shooters in the world and hits that shot with regularity. He was shooting o-3 in that game but hadn't gotten warm yet.  Down six with under a minute left is still an up hill climb but a slightly doable one and not having Chacho in there was a colossal mistake.
Gran Canaria vs Barcelona vs Madrid
Best Arena: Gran Canaria - The brand new gym is a beautiful arena that's easy to walk around, has a great capacity number, and the fans are close enough to the court to make for a fantastic atmosphere.  The group stage also had a great flow to it.  Teams got comfortable playing and being in Las Palmas and the games really picked up as the week went on.  In a lot of the round of 16 games, especially in Barcelona, there was no flow or rhythm to the game like the group stage had.
Best Games: Madrid - While the Slovenia vs Lithuania Group D finale in Gran Canaria was amazing and has enabled Lithuania to contend for a medal, the games in Madrid had a slightly different tone to them competitively and talent wise. Serbia blew out Brazil in the second half of their quarterfinal match but the talent that came together for that Serbia group was breathtaking to watch.  And as I talked before, the France vs. Spain game was amazing from all angles, even with Spain's horrific shooting performance.
Best Post-Game: Barcelona - The games in Barcelona really weren't that interesting but the city has great culture and nightlife. If you want to read more on that front, Emmet Ryan of BallinEurope.com did a wonderful Barcelona look-in.