By: Freaknick/@euro_adventures
I've loved every moment of my stay in Turkey so far, but two still stand out as my unequivocal favorite: The National Anthem. No matter how much I travel and how far I may stray from Georgia, that song still gives me goosebumps. I know that the Brasilians sitting in front of me felt the same way as they stood and paid respects to their country's flag. That's why international competition is so special. Competition without sustained animosity. Pride without anger. I'm looking forward to this and win or lose, at the end of the day everyone in this arena loves their country. And that's a beautiful thing.
FIRST QUARTER
-Failure to (properly) launch on the first jumpball so we do it again. Tiago wins it and Huertas Tony Parkers one home in the paint for a 2-0 Brasil lead.
-Andre Iguodala swats away Huertas' alley attempt but makes the mistake of saving it right back in bounds to Brasil. Marcus Vinicius drops it in.
-Marcus Vinicius hits a trey and USA's down early, 13-10.
-Is there any doubt at all who this tournament's best player is? NBA style, FIBA style, whatever. Put him on sand and Kevin Durant would still reign. He hits a three on the wing and he's got 9 of USA's 18.
-USA's coming at it with their team rebounding approach. All this "they don't have a center" talk needs to end. Has anyone watched this tournament at all? What about Uros Slokar and Miha Zupan hitting threes earlier today for Slovenia? Are they not "true" bigs? It's fun to talk about, but its validity is limited.
-And our untrue big man Kevin Love shows us his best Slokar impersonation. Three me, big fella. USA's got a lead, 22-20.
-And then Barbosa spoils the fun with a three of his own. He was cut out for this kind of game and it shows. Aaaannd make that another long one for Barbosa. He's got 8 on 3/4 shooting.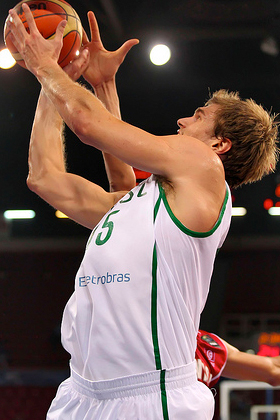 -Tiago rams one home thanks to a nice dish by Leandro and it's 28-22 Brasil at the end of the first quarter. Uh-oh. Are we going to have to see this Team USA compete? I think so, and thank the Lord for it.
SECOND QUARTER
-Kevin Durant. Might've heard about him. 25-30 Brasil's way.
-Splitter with two fouls early in the 2nd and Magnano's staying with him. Interesting call. USA needs to recognize and pack it in.
-Huertas getting a little aggressive with the alleys, no oop this time. J.P. Batista can't do anything with it but throw it back out of bounds. Smart move, though. If he saves it then it's two points the other way.
-Why I love Derrick Rose: takes an ill-advise jumper early in the shot clock, runs back on D and rips Barbosa. Now he's at the line with two freebies.
-Having athletic, physical guards like Westbrook's a great luxury, but when they get to the rim uncontested they sometimes having a tough time dropping it in. Expecting contact. Could be worse, though. Westbrook the latest perpetrator of this heinous over-anticipation.
-Anyone who thinks those in awe of Kevin Love's outlet pass ability are gawking for no reason obviously have not seen Lamar Odom try to replicate his proficiency this week. Just turned it over for—I would guess—the fourth time trying to ignite the break. Maybe three times, maybe five.
-Tiago rockin' the black kicks. Never a good look for a white guy. Check that: Sacramento J-Will pulled it off. But White Chocolate can do what he wants.
-Arena on full tilt explosion alert for Barbosa's halfcourt try as time expires. But it goes wanting. Team USA trails 46-43 at the half and my wish is their command, though it's a little scarier when it actually comes true.
HALFTIME
USA: Durant 19 (4 turnovers), Billups 7, Rose 5, Odom 4. Not too much help for KD. Only forcing it because nobody else is playing worth a darn.
BRASIL: Vinicius 11, Splitter 9, Barbosa 8, Huertas 6 (5 assists), Alex Garcia/Guilherme Giovanonni 5
THIRD QUARTER
-The half is shaping up to be much sloppier than the first—even though the first had its ugly moments. It started with literally three straight turnovers on poor passes. Splitter then Durant then Vinicius again. Rose capped it off by letting Barbosa pick his pocket and then Odom—who also has USA's only bucket in the half—was called for the offensive foul.
-Both teams still look lazy.
-Splitter uses that turnaround bank shot that he taught Tim Duncan.
-Every time a USA player pivots the crowd erupts with displeasure.
-Durant three. Tied at 50.
-Rose with a floater that actually traveled downward since he jumped 13 feet in the air before letting it go. Brasil's lost their lead. It's 52-50.
-Russell Westbrook and Russell Westbrook's faux hawk checking back in for Andre Iguodala. Six men on the floor legal in FIBA play.
-Splitter needs to be careful not to pick up his 4th foul here. It might be by-bye Brasil if he does.
-Weak foul called on Kevin Durant. He and Chandler banging down low and KD just reaches in as Splitter's passing it off. You can do better than that Mr. Ref. These guys are pros, let 'em play.
-Chauncey Billups knows how to lead. Bucket. Assist. USA back up four.
-Splitter gets his fourth foul on a questionable charge call. Huertas already on the bench with four. It'll be impossible to win without those two. Impossible. They'll need to last at least six or seven minutes apiece in the fourth. Down six now as it is.
-Barbosa gives them hope with a  three and then makes one at the line with 7.8 to go in the quarter. Brasil's down two. Fourth.
FOURTH QUARTER
-According to the scoreboard at Abdi Ipekci Arena we're only playing 9:59 in the fourth. Anti-stoppage time for the lack of yelloaw cards in this one.
-If David Guetta tells me he thinks I'm a sexy bitch one more time I'm swingin'.
-Scoreboard issue resolved. Let's do this thing.
-Andre Iguodala has fallen victim to the ELA coverboy curse. Three points on 0/1 shooting in 20 minutes of play with 3 turnovers.
-Marcus Vinicius keeping Brasil in this one with another three to tie it at 62's. He's 4/5 on the night.
-The first U-S-A chant of the night is drowned out by the voice of every single other fan in the entire arena. Props to the six or seven up top repping the States. We love you.
-Lamar Odom felt like he was fouled, might've been. By the time he picks himself off the floor he's alone under the hoop and the ball finds its way back to him. Ball don't lie.
-Rose tries to toss it up to our most reliable OOPtion, Iguodala. Failed.
-Iuodala repenting for his offensive sins. First a steal and now a terrific O-board tiped out back up top. Unfortunately Lamar steps on the baseline and wastes it.
-Derrick Rose is in fourth quarter kill mode. Heading to the rim like it's giving out free money. Fouled on the drive and converts on both free throws.
-USA is up 68-64 with 2:41 to go.
-Durant called for the traveling violation (big surprise there). Displeased, he takes out his frustration on Tiago Splitter's weak ass lay-up. Get it outta here. You gotta go stronger than that, Tiago.
-A minute left. Where boys are weeded out and mancrushes are made. USA leads by two.
-Billups bucket. Barbosa [breaks Iggy's ankles] bucket. Huertas to the line for two with 3.5 to go and a chance to tie.
-First one hung on the rim for 43 seconds before falling out. Second missed intentionally. Huertas grabs his own long rebound and gets it to Barbosa who lsings it over his shoulder and……no good. Those 3.5 seconds lasted an eternity. I need a beverage of some kind. USA holds on 70-68.
USA: Durant 27 points, 10 boards, 3 steals and 7 turnovers; Billups 15 points, 3 assists; Rose 11 points, 5 rebounds, Odom 9 points and 8 rebounds.
BRASIL: Marcus Vinicius 16 points and 3 rebounds, Splitter 13 points and 10 rebounds, Barbosa 14 points, 4 assists and 4 boards, Huertas 8 points, 5 assists and 4 boards.
Best game I've seen thus far. Not the prettiest, but I'll take it. Now it's interview time. The teams have a day off tomorrow, but that doesn't mean ELA is doing the same. Make sure you come on back for tomorrow for some FIBA goodies.
Thanks.
-Freaknick