For the next week my home is on the island of Gran Canaria, the host of the Basketball World Cup's Group D. I will post notes, stories, and insight from my time at the games in Las Palmas.  If you want more information about anything specific please hit me up on Twitter, I'll be on there all week.
In case you missed my dairies from earlier this week:
1st Diario - Gogi, Lithuania's Point Guards, and the Angola System
2nd Diario - Mexican Momentum, Ingles, and Dragic on Playing for their Countries
3rd Diario - Breaking Down the Green and Yellow War
Star Role Players
In the Star Role Player Rankings I'm looking for the players that contribute in a supporting role for their teams.  There will be no Goran Dragic, Jonas Valanciunas, Joe Ingles, or other heavy usage players on their teams in these rankings.  This is supposed to take a look at the players who are not always given the love they deserve for playing a specific role on their team, providing plays that aren't necessarily flashy, and being the flexible player that will contribute in a lot of potentially overlooked facets of the game.
You'll notice a theme among the rankings that the better the team, usually the better and more defined are their role players.  Slovenia has played the best of anybody in the group and could arguably take up these entire rankings themselves.  But we are here to spread the wealth and without further ado, the rankings.
Rankings
1. Domen Lorbek, G/F, Slovenia
Lorbek gets the top spot not because he is my favorite star role player but because it seems like he never makes a bad play.  He's always the smartest guy on the court for Slovenia and constantly makes high IQ decisions.  Domen makes crisp entry passes, easy drive and kick plays, and always knocks down open shots.  He is not the most exciting player but he is so damn consistent and sticks to his role so well that it got him the star role player crown.  Congrats!
2. Marty Pocius, G/F, Lithuania
Every summer whether you think he will or not, Pocius becomes a key player for Lithuania.  With the Mantas Kalnietis injury everyone has to pitch in a little bit more with the guard workload and that includes Marty.  He has been great per usual at attacking the basket and has adapted to the larger ball handling and play making role.  Ask something of him and he will do it.
3. Jaka Klobucar, G, Slovenia
A personal favorite of mine from the group, Klobucar has been impressive playing point guard, off-guard, and on the wing for Slovenia.  His main duty is as Goran Dragic's backup and to come in and harass the other teams starting point guard while running the offense on the other end.  Klobucar is always disruptive.  Making it hard for the other team in-bound the ball, bring the ball up court, and make any type of pass.  He has an effect on almost every facet of the game and his versatility is what gets him into the medal section of the rankings.
4. Reggie Moore, PF, Angola
Another player that most in Gran Canaria came away really liking was Moore.  The Angolan Pero Antic not only in looks but also in style of play to a degree too.  From his behind the back passes in the post to his dagger three's, Moore is that undersized, wide-bodied big with court vision that you can't help but root for.
5. Alen Omic, C, Slovenia
Playing possibly the best basketball of his life, Omic has a very simple but important job.  Run, catch, and dunk.  Slovenia space the floor so well they need at least one big man to set hard screens, roll to the basket, and finish.  Omic has been a stud at doing that all week long.
6. Yannick Moreria, C, Angola
The 23 year old is averaging just under 13 points a game in just over 18 minutes a game.  He's long, athletic, can handle the ball a little bit, and loves to attack the hoop.  He's also one of the leaders in and-1′s this week.  Angola has been a fairly inconsistent team but they can always count on Morreira's activity and energy around the hoop.  For those asking why he's not higher, the defense isn't quite there yet.  But in the final game versus Australia he scored 38 points and had 15 rebounds. Seriously.
7. Ryan Broekhoff, SG, Australia
I've gone back and forth on Broekhoff all week long but whenever Australia need him to make a three-pointer, he buries one. Or two. Or three.  He's 12/20 on three's this week (60%) and teams still seem to leave him open.  Broekhoff is also a fairly pesky defender, making life more difficult for opposing wings.  Don't ask him to dribble much or make a great pass but if you need a clutch shot, Broekhoff is waiting and ready.
8. Brad Newley, SG, Australia
The player I tend to prefer over Broekhoff isn't quite the shooter Ryan is and shooting is what Australia needs more than anything so Newley slides just behind his teammate.  Newley always brings energy and hustle to the court, getting deflections upon checking in.  His role is to just bring the thunder and Newley never disappoints.
9. Darjus Lavrinovic, C, Lithuania
I didn't necessarily want to put Darjus here but he earned it.  His ability to stretch the floor and draw fouls has been essential to keeping Lithuania's offense afloat in the tight games they've been in.  Jonas Valanciunas and Donatas Motiejunas have the youthful energy and talent but Darjus' shooting ability and veteran knowhow are the constituent forces Lithuania really needs when their younger post players aren't getting the job done.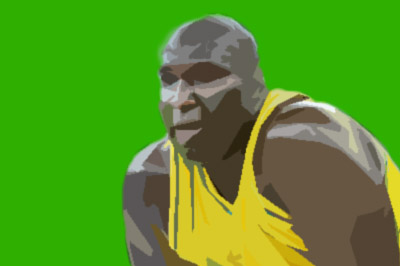 10. Nate Jawai, C, Australia
Really though, is there anything better than Big Nate charging down the floor, grabbing an offensive rebound, and throwing right back down in someone's face?
11. Jaka Blazic, SG, Slovenia
We are getting closer to the bottom of the rankings, somewhere Blazic should not be.  He wasn't himself at all in the friendly games leading up to the World Cup but has turned it on some in Gran Canaria.  He has stretches where he shows off his intensity and great driving ability but they come inconsistently.  You never know when Blazic might breakout and that's why he stays in the rankings.
12.Valdelicio Joaqium, C, Angola
The other Angolan center has been impressive with his ability to protect the rim and rebound.  Moreira has been really good but there are stretches where he is just not strong enough and Joaqium has to come in and body up the likes of Valanciunas and Aron Baynes.  If only Joagium could finish a damn shot near the hoop.
13. Hector Hernandez, PF, Mexico
Mexico's stretch big has had spells of brilliance and parts of the game where he totally disappears.  Mexico's biggest problem this tournament is getting their role players to step up.  In Mexico's only win versus Angola Hernandez hit six three-pointers. Coincidence?  I think not.
14. Sungmin Cho, SG, Korea
GUNNER ALERT!  When open, will shoot.  Cho is 7-of-26 on three's for the tournament.  That equals a horrible percentage but at least he always keeps the threat of scoring alive, something Korea doesn't always have.  #ShootersGottaShoot
15. Paul Stoll, PG, Mexico and Sekeun Oh, F/C, Korea
The last spot gets divided into two because both of these players are like half star role players.  Stoll is Mexico's undersized shot-happy point guard.  When all he has to do is come in and score he is great but when he has to shoulder the offensive playmaking responsibilities too, it can be too much.  Let a role player play a role please.
Oh is Korea's undersized (6'7″) big man.  He works all game to fight off taller, bigger players from getting post position.  Someone has to do the dirty work in the paint and for Korea, that responsibility falls on Oh.