by Nick Gibson / @euro_adventures
Read the full piece on SLAM Online.
The schedule smiles on us again as two of the league's three undefeateds square off when Montepaschi travels to Istanbul to knock off one of this year's revelations, Fenerbahçe Ülker. Eleven more games plus a young Greek who took an opportunity and sprinted with it in this week's preview:
Weekly Whippersnapper
Kostas Papanikolaou, F Olympiacos | 20 | 6-8 | 221 pounds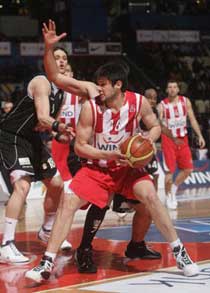 When tracking the development of international prospects on major European clubs, a boxscore only takes you so far. Playing time is sporadic if existent, and even the rare statistical outburst is seldom indicative of the actual talent and potential of the subject. So as I witnessed Kostas Papanikolaou put up 17 points on 6/7 FG (2/3 from outside) along with 6 boards, a steal and an assist, I crossed my fingers rather than clapping my hands. As pumped as I was to see this 20-year-old deliver such a scintillating performance for one of Europe's most successful clubs under legendary teacher Dusan Ivkovic, I know that these moments can be fleeting if the youngsters rely on seven lonely flicks of their wrist to earn them long careers on either continent.
But Kostas won't let that happen. On the eve of Olympiacos' exhibition against the Cavaliers last October, I was instructed by both an NBA and a Euroleague official to take a peek at this kid that had impressed them in limited time vs. the San Antonio Spurs. I showed up at their practice and did as I was told. It didn't take long for Kostas to make an impression; he dove for loose balls, grabbed boards, and what struck me most was the way he cut fearlessly across the middle, hands up and ready to receive. In a few minutes against LeBron and Co. the following day, same story. If he expands his already diversified offensive game and keeps the attitude on track, we could see him reach Carlos Delfino levels in just a few years.
Two weeks into these and I've proved consistency, if nothing else. But yeah, probably nothing else. Last week: 8-4. Overall: 16-8.
GROUP A
Asseco Prokom (0-3) vs. Partizan (1-2)
Not that Prokom cares, but they have played much better than their winless record would imply. In fact, had a Tomas Delininkaitis leaning triple not found bottoms last week in Kaunas, Prokom would've beaten Zalgiris for a huge road win and locked up the inside track to advancement. But with two losses by six and one by seven, Prokom needs to dust off the disappointments and find somebody to challenge JR Giddens for the team lead in rebounding. It's nice to see your wing yanking down 7.3 per game, but when that's more than your starters combine for down low, there will be issues (Ratko Varda's 2.7 + Jan Jagla's 3 = 5.7). On the other side, Partizan head man Vlade Jovanovic has the unenviable task of mixing the old (Petar Bozic) with the young (Vladimir Lucic) with the new (James Gist), all while on the road against a pissed off Prokom. Asseco Prokom.
Caja Laboral (2-1) vs. Zalgiris (2-1)
Caja Laboral lost a tough 4-pointer in Moscow against a very underrated BC Khimki team while their top scorer, David Logan, visited his newborn baby in the states. The baby's healthy, Logan's back, and Fernando Buesa Arena will be filled with rowdy Basque-etball fans anxious to see their boys veer back on to the championship route. Zalgiris plays hard, fast and reckless, a style which has led to an EL-best 82 fouls drawn but also an EL-worst 65 turnovers. Sometimes the difference between assertive and forceful is… Read full article on SLAM