by Nick Gibson / @euro_adventures
Read the entire article on SLAM Online

Once you've come down from your college basketball high, take a moment and peer into those Division I athletes' possible futures: European basketball. With over 1,000 alums—or at least one-time attendees—getting pay for play, European squads collectively represent one of the most likely employers for college ballers who can't cut it in the NBA or don't have the stomach for the D-League. One of those guys is a man named Sarunas Jasikevicius who played for Gary Williams at Maryland before returning to Europe and making himself a legend. Now at age 34, he has an opportunity to return to his original team, Lietuvos Rytas of Vilnius, Lithuania, and turn their season around.
Last week I continued my streak of 8-4 finishes, so let's see if I can finally bump up to double digits as we approach the halfway mark of the regular season.
Group A
Partizan (2-2) vs. Caja Laboral (2-2)
Either Partizan loses a second home game in three weeks or Caja Laboral runs its losing streak to three. Both sound equally far fetched, but one of them will have come true by week's end. Caja's missing Tiago Splitter more than they might let on, but their -22 rebounding margin last week against Zalgiris leaves them no more room to hide behind those lies. James Gist, Nathan Jawai and the Partizan front court might have a field day against Caja's porous interior, but Vitoria will prevail in Pionir for the same reasons Maccabi succeed a couple of weeks ago: superior playmaking and shotmaking ability. Caja Laboral.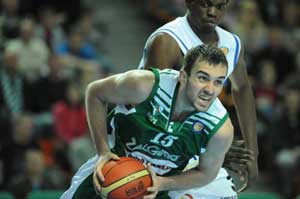 Zalgiris Kaunas (3-1) vs. BC Khimki (2-2)
Mirza Begic is leading the league in blocks, Paulius Jankunas is second in rebounding and Martynas Pocius is living at the free throw line (8 FTAs per game is the highest in the EL). Zalgiris has out rebounded all four of their opponents and are coming off one of the season's least likely upsets, a win at Caja Laboral. Khimki can challenge Zalgiris for depth and are surely more consistent, but they'll need to… Read full article