By: Nick Gibson / @euro_adventures
Last summer, Turkey turned the world on its ear with a long-armed defense that made the court seem narrower every trip down. On the wings of that defense was Sinan Guler, his active hands swiping at any leather which dared bounce in front of him. In Turkey's game against China, Sinan set the tournament high for single-game steals with a ridiculous total of eight. Now that he's signed a brand new deal with Anadolu Efes, Sinan's doing everything he can to get right and get Turkey on the medal stand in Lithuania. After a short hiatus, he's back with ELA, speaking his mind.
Euroleague Adventures: Efes just re-signed you for two more seasons. How does it feel to have the confidence of the coaches and management?
Sinan Guler: Well to be honest, the club and I have mutual happiness. It's obvious that we have not been successful over the last year, but in the past three years I think I have become a valuable part of the team and I am happy with the support I get in return. What's more important now is to use the experience in these last three years to establish a good season in the Euroleague with Anadolu Efes.
ELA: The club also retained the old reliable, Kerem Tunceri, but the other Kerem (Gonlum) might miss the whole year. You've now played with Gonlum both on the club and international level. How tough is it to replace a guy like that?
SG: I think the guy needs to be cloned to be replaced. I haven't seen many players that have his dedication to hard work. He sure was the backbone of the team last year.  I think it's very important for the club to keep the important national team level players. And I believe the duo that you named were the Turkish players that were getting the most playing time in the club.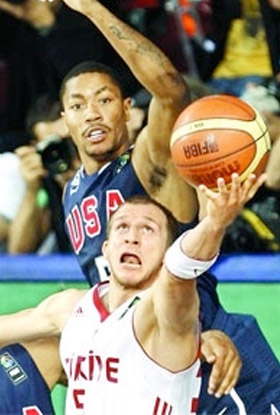 ELA: A rough year for Efes in the Turkish League. What went wrong?
SG: Basically, everything. I think you can only be successful with a good team chemistry, and we seemed to lack that at times during the season.
ELA: You have a history with Besiktas, so what do you think of all the talk surrounding Deron Williams and Kobe Bryant? Does it make any sense to you?
SG: How can it make sense? It's like a weird dream for a fan. It's obviously great exposure for Besiktas and Turkish Basketball, first with Allen Iverson and now two of the elite players that are active in the NBA, it is going to be interesting. Two things that bother me are, first, what's gonna happen when the lockout is over? And the second thing is, Besiktas is a club that's known for its financial problems and of course Kobe and D-Will will get guaranteed contracts, but what will happen to the Turkish players on the team?
ELA: How would you feel if a big time NBA superstar arrived at Efes, especially if it were only a half season? Could the team ever embrace a guy who can't legally commit to an entire year?
SG: I think at our level it would not be helpful. First you bring in a player that's going to be a vital part of the team, then you will watch the guy leave with the whole chemistry and the system. It will be awkward from the beginning. So far we've signed players that will commit for the full year, except for Ersan, and I am hoping that he will be with the team for the full season.
ELA: Have you spoken with Ersan Ilyasova about the coming year with Efes? How about Sasha Vujacic?
SG: Ersan's announcement was made yesterday, and I must say I am extremely happy with this signing. He will bring so much to the table. And I am excited to meet Sasha. This year our team is already making a lot of hype with the signings, and it seems like it's going to be an exciting year.
ELA: Shifting to Eurobasket now: It will be tough to put up as solid a showing as you did in the World Championships last season. How do you keep from getting complacent?
SG: We are focused on the target. We are aware of what we accomplished and how we did it. We are definitely gonna use the good things we did on the court to succeed again. Our goal is to get to the finals, and reach for the Olympic berth.
ELA: Quite simply, should Turkey be the favorites?
SG: I don't see a reason why we shouldn't be favorites. In Poland, we lost to Greece in a nail biter to be knocked out in the quarters, if not we had chance at the medal again. At the Worlds, we dominated against the teams we played, maybe except for the Serbia game in the semis. If we show up with the same mentality and attitude, we can repeat that success.  I don't want to leave out the fact that this year's EuroBasket is more like a Gladiator match. It's going to be a bloodbath from beginning to the end. My role is obvious, bringing spark and energy to the team. If I am able to play in Eurobasket, I will try to do the same both on offense and defense as much as I can.
ELA: Replacing Bogdan Tanjevic ain't easy. Talk about Orhun Ene. How's he doing so far? Is he the right guy for the job?
SG: Orhun Ene is a legendary player. He was a great example when he was playing, and he is an inspiration to observe as a coach. He has great communication with the players, and players respect him. It's true replacing Tanjevic is not easy but Orhun Ene was working in his program for 6 years. I think this is a great advantage for him.
Sinan Guler is a shooting guard with Anadolu Efes and the Turkish National Team. And he's an OG.