By: Freaknick/@euro_adventures
Almost there folks. After the first and second installments of my catch-up editions of The Dotted Line Up, we looked at 27 free agency signings that I neglected in Istanbul. Just these lucky 13 and we're all caught up. Well, almost. See the next big task is to rank all of these guys on The Dotted Line Up, which will be released Friday. To the finish line we go:
Carlos Suarez, Forward, Real Madrid from Asefa Estudiantes
Suarez was a member of the ACB's Ideal Quintet and if Scariolo had some sense, he would have been on the Spanish national team as well (Ditch Jorge Garbajosa, ditch Alex Mumbru, ditch San Emeterio since he hardly played anyways). What earned him his ACB honor and would've been his best asset in Turkey is his bottomless supply of energy. This guy never stops. Offense, defense, small forward, power forward. You name it, he does it. He joins a cast of characters that seems lithe and ready to zig and zag their way deep into the Euroleague season if Messina loosens his leash, and the Suarez/Velickovic combo at forward is one of the more versatile and definitely the most intense in all of Spain.
Bogdan Bogdanovic, Forward, Partizan from FMP (Juniors)
Saw this kid in Paris as well, and he was clearly a talent to keep tabs on. But therein lies the problem: he was playing in the juniors tournament only five months ago. In other words, he's 18 years old. Will he have much of an impact this season? I think not. More of the youthful wing minutes should get handed out to Branislav Djekic and Aleksander Mitrovic. Then again, Partizan's roster is an absolute mystery to me right now, and this time last year Zarko Rakocevic was the starting small forward. Good ol' Zarko didn't make it to the start of the regular season and a couple guys named Bo McCalebb and Lawrence Roberts weren't even on the roster yet. So anything can happen. One thing that needs to happen either way is the thickening of Bogdan's arms. He's pencil thin.
Marcus Haislip, Power Forward, Caja Laboral from Panathinaikos
It's tough for me to approach this objectively because I'm still so saddened by the swift departure of Pops Mensah-Bonsu, who failed a physical and left Vitoria before playing a game. But let's talk about Marcus, shall we? He never really fit in with Panathinaikos in limited time last season, arriving halfway through and leaving right before the Greek League Finals, but we all know he's a capable scorer and a hell of an athlete as evidenced by his 15 points and 7 rebounds per contest with Efes Pilsen in the 2006-07 EL. I am determined to turn at least a pair of these Spanish teams into up-and-downers, and Caja is built for that uptempo style. Marcelo Huuertas and David Logan can heat things up, Mirza Teletovic can avoid contact and shot threes, Lior can use the driving lanes to his advantage, and it will be on Haislip to provide more of an inside presence than he's comfortable providing. Just jump, jam, board, and block big fella.
Courtney Eldridge, Point Guard, Asseco Prokom from Associazone Basket Latina
I profiled five Asseco Prokommers yesterday, one the day before and have another left on this list tonight. Nobody told me they'd be playing with 23 players this season. Well, this is Courtney's fourth stop in Poland alone so he should be ready to fill up on pierogis and help Mike Wilks handle the point guard duties. He averaged 16 points, 3 assists and 2 steals in the Italian Second Division last season but the numbers shouldn't be quite so wild this time around as he'll have some hungry hands to share the ball with. Two of those hands belong to one of the nine remaining free agents.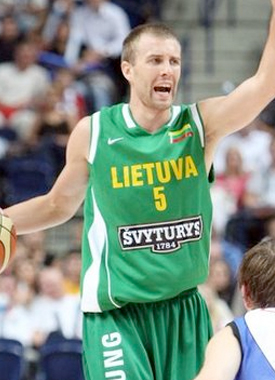 Tomas Delininkaitis, Shooting Guard, Zalgiris from PAOK
Gone are the days of leaning on the singularly skilled Arturas Milaknis for threes. Gone are Aleksander Capin's excuses for chucking up triples with :21 on the shot clock. There's a shooter in Kaunas. His name, Delininkaitis. Tomas Delininkaitis.
Djordje Drenovac, Small Forward, Lottomatica Roma from Arkadia Traiskirchen
Weird. Another Serbian teenager signs with a Euroleague team. They really have some kinks to work out in their developmental system. Anyways, Djordje has spent the last two seasons in Austria, averaging 9 points last year. The Austrian League isn't one of the stronger competitions in Europe, to say the least, but putting up near double digits as a 17-year-old is pretty awesome wherever you are. Roma has some high-end talent, but they lack depth and Djordje could use that to his advantage. But temper your expectations. Contributions are still a year or two away.
Vladimir Dasic, Power Forward, Lottomatica Roma from Gran Canaria
For now Dasic is just "training with the team" according to Euroleague.net, but here's a guy who should be ready to finally contribute. A lingerer in the prospect community, Vladimir hasn't gotten better as quickly as most had hoped yet is still strong and skilled enough to have a career as a starting forward on the continent for a long time. Forget the NBA draft boards; this is where he needs to be, and Roma will give him a great opportunity to bust through with Josh Heytvelt and Ali Traore alongside him. His best shot at a rotation gig is using his strength on defense and picking his spots on offense. Whenever I've seen him play, he seems to feel he's capable of more athletically than he actually is. Draft "experts" have tried to pin him as a small forward, but the farther away from the paint he is, the more out of place he looks. I'll be watching him closely this year.
Bobby Brown, Combo Guard, Asseco Prokom from the Los Angeles Clippers
I have a feeling this guy will wind up on my Euroleague fantasy team. Listed as a point guard at times, this guy has scored everywhere he's been. The all-time scoring leader at Cal State Fullerton and Big West Player of the Year thanks to his 20.2 points per game in 2007, Brown averaged 16 points and 5 assists with Alba Berlin in the Eurocup the next season. The next two seasons he played in the NBA with the Kings, Timberwolves, Hornets and most recently the Clippers. Now it's time to fill the void left by David Logan. Am I crazy to think that he can do it?
Kevin Pinkney, Union Olimpija from Hapoel Migdal Jerusalem
It's always nice to see Union Olimpija ink some outside help to go along with the young locals, and Pinkney's a guy who can give them interior toughness right away. He averaged 9 points and 5 rebounds in only 19 minutes last year during Hapoel Jerusalem's 13 Eurocup games and he's filled the statsheet when given 29 minutes per game: 13 and 7 in 34 games with Angelico Biella in 2007-08 and 14 and 7 in 30 games for NGC Cantú in 2008-09. With Goran Jagodnik as the veteran, Damir Markota as the talented, in-his-prime guy, and now Shermadini as the über prospect, Pinkney puts a check in the muscle column.
Kenny Gregory, Union Olimpija from PAOK Thessaloniki
And here's another guy who thinks experience is overrated unless you have success to go along with it. Ljubljana is quite grateful he feels that way. Gregory is 31 and well-traveled, but he put up 15 per game in the Greek League last season for PAOK Thessaloniki and has scored in double figures in each of his past two Euroleague trial runs: 15 with Le Mans in 2006-07 and 11 for Efes Pilsen in 2007-08. After an incredibly slow start to the EL offseason, Union Olimpija has added some nice pieces as they hope to regain the Slovenian crown and avoid the unthinkable: relegation from the Euroleague.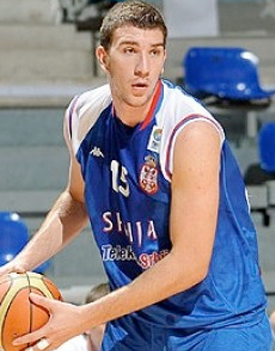 Mamoutou Diarra, Cholet Basket from Maroussi
Diarra got a bronze medal at the European Championships in 2005 and played the next year in 2006, so he's faimiliar with French hoops and has plenty to pull from in the experience department. Cholet's a team that might need a local, vocal leader to step up. One of three 30 year olds on the team, the duties might fall to Mamoutou.
Dejan Musli, Center, Caja Laboral from FMP Belgrade
This might be my favorite center prospect in Europe. Not crazy athletic but wise with his footwork and positioning, he knows his strengths better than most 2.12m or 7′ guys. I am thrilled to see him lock on with a Euroleague team, yet at the same time sad that he won't get a free run at playing time in Vitoria. The positive here is that Stanko Barac is the only player listed at 'center' on the Caja Laboral roster, so Dejan should make sure his shorts are on underneath his warm-ups. Wouldn't want to cast a full moon over Vitoria.
Giorgi Shermadini, Center, Union Olimpija from Panathinaikos
You tell me if Jure Zdovc plans on planting Giorgi on the bench:
"Giorgi is still a young center, but we expect a lot from him, " Union Olimpija head coach Jure Zdovc said. "We are pleased that we agreed with Panathinaikos on this deal, and that our roster selection is slowly getting finished. Giorgi already joined us at practices and is expected to fit in our system, because we lacked players under the basket."
Think about this, also: the deal is for one year. Why would Union Olimpija shell out money they don't have for a benchwarmer? They wouldn't. Coach Zdovc has made a savvy move and I suspect it will pay off. We've seen the Georgian dominate the junior circuit, now finally we get to see this kid bang with the big guys.
Coming tomorrow: I find a spot for them all on The Dotted Line Up. That's right, the list will top 100. Exciting stuff.
Related posts: