By: Freaknick/@euro_adventures
So apparently, they've decided to play out this Euroleague season as planned. That means I have work to do. While I was away in Turkey I seemed to have misplaced my obsession with this site's namesake, and I've only recently dug back to unearth what I missed for those three wonderful weeks. What I found were 39 new signings since I last updated The Dotted Line-Up. I was apparently even gone long enough for contracts to be signed and voided before I could even get to them (what happened, Kennedy Winston?). The next list will also reflect some of the signings that have soured since initialing on the dotted line: Pops Mensah-Bonsu, Krzysztof Szubarga, Denham Brown and a couple of others whose cases warrant further investigation.
So over the next three days I will cover every single one of those signings, analyzing them and giving my two cents before placing them on the board. Here's the schedule for the four-day free agency bonanza:
Today: The thirteen players you see below.
Wednesday: Jeremy Pargo, Bojan Popovic, Sasu Salin, Charles Smith, Lior Eliyahu, Damir Markota, Nihad Djedovic, Jeremy Richardson, Marcus Johnson, Iwo Kitzinger, Robert Witka, Dawid Przybyszewski, Pawel Kowalczuk, Sebastian Balceerzak
Thursday: Carlos Suarez, Bogdan Bogdanovic, Marcus Haislip, Courtney Eldridge, Tomas Delininkaitis, Djordje Drenovac, Vladimir Dasic, Bobby Brown, Kevinn Pinkney, Kenny Gregory, Mamoutou Diarra, Dejan Musli, anyone else who signs in the next two days
Friday: I find a home for all 39 players on The Dotted Line Up. That means our list will creep over 100 just in time for the start of the season.
Let us dilly dally no longer and bring this embarrassing two-week hiatus to an end. Starting with the man who looked like the best prospect in all of Turkey this August and September. Even if it was only because Enes Kanter was busy in Kentucky.
Marko Keselj, Forward, Olympiacos from Crvena Zvezda
While everyone was going crazy about Milos Teodosic's shot to sink the Spaniards for a trip to the medal games, it was Marko Keselj's double-clutch three from the wing that put Serbia up 89-84 with 1:39 left, providing the cushion the Serbs would need to hold off Spain's last-minute charge. Dusan Ivkovic's confidence in Marko during FIBA 2010 paid off in the form of 11.1 points (16 in the final three games) and 3.1 rebounds in 19 minutes per game. Only 22 years old, what impressed me most was his impeccable offensive efficiency: 14/20 on 2-pointers (70%) and 21/35 on 3-pointers (60%) with only 4 turnovers in 168 minutes (.59 TO/25 minutes.). Despite limited blocks and steals, his speed and length makes him far from a liability, and while technically a downgrade from both Childress and Kleiza, he's clearly ready to contribute for a coach he trusts.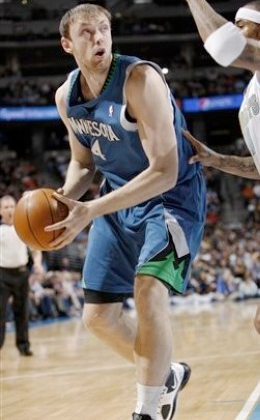 Oleksiy Pecherov, Center, AJ Milano from Minnesota Timberwolves
After several seasons on NBA benches—two in Washington, the last in Minnesota—Pecherov is still just 25 and is instantly ready to become one of the best bigs in the Euroleague. Not that I'm looking too deeply into AJ Milano's 125-113 loss to the Knicks this past Sunday, but Pecherov dropped in 23 points, including 3-5 from deep, along with 5 rebounds in just 21 minutes. That's Eurofficiency.
Reyshawn Terry, Forward, Brose Baskets from Xacobeo Blu:Sens
A physical defender who can score in a multitude of ways. This describes Reyshawn Terry, not Casey Jacobsen. In other words, the two complement each other well.
Dovydas Redikas, Combo Guard, Lietuvos Rytas from KK Akademija Vilnius
I've never been much of a teenage prospect buff, but at the Nike International Juniors Tournament in Paris, this kid clearly stood out along with a few others—Rafa Freire of Unicaja, Nenad Miljenovic of FMP among them. Dovydas was all 0ver the floor on both ends, hounding his man from the moment he stepped across the time line, if  not sooner; charging the paint when he saw even an inch of daylight. And while Zalgiris, for whom he played in Paris, could use some help at point a year or two down the road, Lietuvos Rytas is lucky to have him. He'll be loaned out to Perlas Vilnius this season in all likelihood, but I'd look for the 18-year-old to make an impact for the big club no later than 2012 and perhaps sooner.
Marc Fernandez, Forward, Power Electronics Valencia from ViveMenorca
The 23-year-old helped ViveMenorca make it to the ACB last season with averages of 8.5 points and 2.5 boards, but I wouldn't expect quite as much success this season with ACB, especially not in the Euroleague. He did hit 2 3-pointers in Valencia's first ACB game against Granada though, so maybe he'll be a nice understudy for Savanovic.
Nathan Jawai, Center, Partizan from Minnesota Timberwolves
The Aussies just love it in Belgrade, don't they? Not a month after Aleks Maric skips town for Panathinaikos, Jawai fills his void in the Partizan paint. Good thing the Timberwolves signed Nikola Pekovic and re-signed Darko, otherwise Jawai and Pecherov would've depleted their foreign base.
Suad Sehovic, Swingman, Union Olimpija from Bosna Sarajevo
I'm always a fan of signing national team players, and Sehovic represents his native Montenegro in the summertime. Union Olimpija is making a late push to fill out their roster, but they'll need to do slightly better if they hope to avoid relegation from the EL this year. All things considered, Sehovic is a nice fit who will see plenty of floor time and, even at 23, could provide some leadership.
Vule Avdalovic, Point Guard, Cholet Basket from Lucentum Alicante
He has played for Partizan, the Serbian NT in Japan 2006, and this past season he was serviceable (7.2 points, 3 assists) in the ACB this past season. A year shy of 30, Avdalovic will fit in seamlessly as he usually does, giving Cholet a second ballhandler alongside Fabian Causeur. With DeMarcus Nelson and Sammy Mejia as the slashers, Coach Erman Kunter will need a distributor. The role is Vule's for the taking.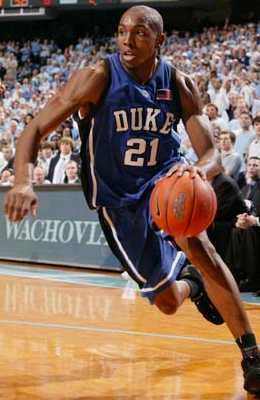 DeMarcus Nelson, Shooting Guard, Cholet from Air Avellino
Let this guy loose, Erman. Given the typically faster, freer style of the French sides, Cholet is an outstanding fit for a team that recently lost Mickael Gelabale to rivals Asvel. You won't find more rebounding-per-centimeter than DeMarcus, who put up 5.7 per game in his senior year at Duke University and is third all-time in California State High School History with 1,552 in four years at only 1.93 or 6′3″. He's also the highest scorer and ninth all-time assist leader in Cali, which is a very large and very talented state. DeMarcus is a very strong and very skilled individual, so a jump to France should leave him with some pretty gaudy numbers. He's been shaky beyond the arc since coming to Europe—23% last year in Italy—but his game's largest deficiency used to come at the free throw line, where averages in the 50's plagued two of his four years at Duke. Realizing getting to the rim was his forte, he wisely fixed that: 77% last season. His energy will mix nicely with Sammy Mejia's relaxed-but-deadly approach.
Mike Wilks, Point Guard, Asseco Prokom from the Oklahoma City Thunder
The master of the 10-day contract, Wilks has bounced around nine NBA teams—three in the 2007-08 season alone—for seven seasons. As a result, I've become quite familiar with the little point gurad from Rice University and think he'll mesh nicely with fellow American Daniel Ewing in the backcourt. Wilks' presence allows Daniel Ewing to play off the ball more often, something Daniel couldn't do as often with David Logan in the same backcourt. Wilks hasn't been the man in many years so adjusting to the Euroleague's more selfless philosophy shouldn't be an issue (not that Asseco Prokom has traditionally been a grind-it-out team anyways).
Jamon Lucas, Olympiacos from Maroussi BC
With Scoonie Penn out of town and Pat Beverley dealing with LeBron's ego on a daily basis in Miami, Lucas has been called on to be the token American defensive stopper up top. After a very solid year with Maroussi during which he averaged 11 points in the Euroleague and nearly 2 steals in both the EL and the Greek League, Jamon knows the Greek League well and made it out of Maroussi at just the right time, as financial issues forced them to forfeit their spot in the Euroleague qualifier. Lucas shouldn't be asked to do much more on offense than keep the ball moving quickly and knock down shots when they're available. If his attitude's in the right place—and I do think it is—he'll be a wonderful add for Dusan Ivkovic.
Goran Jagodnik, Union Olimpija from KK Hemofarm
Good ol' Goran comes home for the first time in more than a decade, but the Slovenians won't be expecting him to lead them to the promised land. Instead, the veteran who's averaged over 14 points in seven Eurocup/Euroleague seasons will be asked to score when needed, defend always and show the youngsters how it's done. Union Olimpija might not have the muscle to compete with the big time markets, but they've shown their wits in signing a proven veteran to return to the motherland and lead by example.
DeJuan Collins, Zalgiris from Kavala
One is 33, averaged 12 points, 3 assists and 2 steals last season. One is 36, also averaged 12 points per game to go along with 2 assists and half a steal. Hint: the second is the Euroleague's all-time scoring leader. Give up? Marcus Brown is the older of the old guys, and when those two are on the court they just might be the oldest backcourt in the EL (I'll check on that for you). While Brown might lose minutes to Collins indirectly (either by positional shifts or just because…well…Marcus is a few games from his breaking point), Aleksander Capin is the guy whose stock takes a hit with this addition. Especially after his bronze medal showing in Istanbul, Mantas Kalnietis has restored everyone's faith in his play and the Kaunas homeboy will keep getting his chances. Considering Kalnietis' erratic play and (at times very) questionable decision making, Collins should be a nice little stabilizer for a team that can be too quick for their own good at times.
Coming Wednesday: Jeremy Pargo, Bojan Popovic, Sasu Salin, Charles Smith, Lior Eliyahu, Damir Markota, Nihad Djedovic, Jeremy Richardson, Marcus Johnson, Iwo Kitzinger, Robert Witka, Dawid Przybyszewski, Pawel Kowalczuk, Sebastian Balceerzak
Related posts: