By: Freaknick/@euro_adventures
After taking care of 13 signings yesterday, ELA goes after the next 14 here tonight. That means thirteen more tomorrow and we'll finally be caught up with the free agency fiasco. Let's get it.
Jeremy Pargo, Point Guard, Maccabi Electra from Hapoel Galil
If you can't beat 'em, ask 'em to join you. Or something like that. After Hapoel Galil stole the Israeli League title from Maccabi, David Blatt has requested his services this season to make sure that it won't happen a second time. Jeremy Pargo is basically the anti-Andrew Wisniewski in that he's a thick  bodied bruiser who wants to blow by you and finish at the rim. If that sounds familiar, you must have been watching Doron Perkins take charge for Maccabi late in the season where he used his physicality to haul down over 6 rebounds per game in the Top 16 and Playoffs combined. Jeremy's slightly more adept in the passing game and his penetration should make for some easy Sofoklis Schortsanitis and Richard Hendrix dunks. With Alan Henderson out of town, Chuck Eidson is the clear go-to guy on the wing with Lior Eliyahu making moves from the elbow, but it will all start with Perkins and Pargo.
Bojan Popovic, Point Guard, Partizan from Efes Pilsen
Normal Bojan Popovic is a decent point guard. Lietuvos Rytas Bojan Popovic is a terrific point guard. If he can channel the latter version, which led the Euroleague in regular season steals (2.4) and ranked third in assists (5.4) en route to being October's MVP, then Partizan won't miss Bo McCalebb as much as they thought they would. If he's the Bojan Popovic who was loaned out to Efes Pilsen after Rytas' elimination—you know, the one who averaged 3.3 points, less than 1 steal, just over 1 assist in 6 games—Partizan could be in for a long season. Given the fact he's the clear-cut starter from day one, I imagine he'll get minutes comparable to the 33 minutes given him in Vilnius and put up similar numbers. We should count ourselves lucky here, as the lack of talent behind him will let us see if last October was just a fluke. I think not.
UPDATE: This from Euroleague.net: "Only 26 days after signing a deal with Bojan Popovic, Partizan mt:s released the point guard. The club announced on Monday that based on preseason games played and practices, both sides realized that role of Popovic (27, 190) does not fit the concept for the upcoming season. The news comes two days after Partizan allowed another point guard, Aleksandar Rasic, to leave the club. Rasic, who spent two seasons with the team and won tow Serbian League crowns, two Serbian Cups, two Adriatic Leagues and helped the team reach the 2010 Euroleague Final Four 2010, was preparing to join another team."
His concept does not fit the concept for the upcoming season? Is this concept to play without a proven point guard? That sure is a lot of pressure on Jaka Klobucar's shoulders. And those are some narrow shoulders.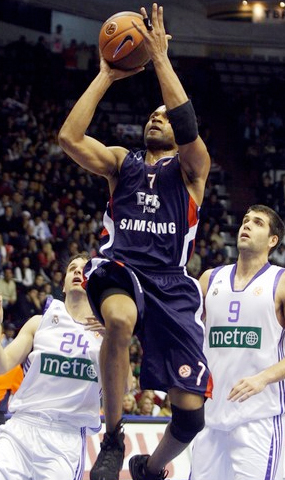 Sasu Salin, Combo Guard, Union Olimpija from Honka Espoo Playboys in Finland
One of the uglier teams last season has added themselves a Playboy model. Though he's barely legal at 18, Salin continues to fire up the ranks and the Euroleague is a huge step for his career. Perhaps the brightest Finnish prospect of all—not that the competition is the stiffest—Salin hopped on with the national team this summer and averaged 13 points in 18 minutes over six European qualifying matches. His 16/25 shooting from deep has to make Ljubljana fans giddy, especially considering the deal is for three years. Whether he'll see the end of that deal in Slovenia will be determined both by his development and Union Olimpija's current financial troubles. Jure Zdovc thinks this kid is ready to play at the highest level and he might as well be given a fair shot at a starting gig.
Charles Smith, Lottomatica Roma from Efes Pilsen
It appears that Charles Smith will score his 1,000th Euroleague point in red and yellow. Only 64 points shy, the 35-year-old former scoring champ (2005) can still put the ball where it's supposed to go. Barring an unforeseen breakout year from another Roman wing, Charles Smith should see plenty of the 11.5 shots per game enjoyed by Kennedy Winston last season for Lottomatica. I'll go ahead and put a date on his 1,000th point celebration: November 25th in Bamberg. Start cutting the confetti.
Lior Eliyahu, Maccabi Electra from Caja Laboral
Hallelujah! Let me be frank: Lior's lone season with the ACB champs made everyone uncomfortable. He wasn't himself, and I personally spent every second of his floor minutes begging for him to do…something. He's a player who won't fit into just any old offense. He needs touches, space, and patience from the guys around him. When Tiago Splitter was hurt in last year's Top 16, Lior eclipsed 30 minutes for the first and only time of the season, dropping 22 points and 9 rebounds along the way. That's the sort of stuff that earned him December MVP a couple of seasons ago with the club he was meant for, Maccabi Electra.
Damir Markota, Union Olimpija from Bizkaia Bilbao Basket
I don't know about the rest of the world's talent evaluators, but I still have plenty of faith in the guy who was once considered one of Europe's top prospects. Though he strikes me as a guy who's been around for a while, he only has 24 years on him and in Ljubljana he's guaranteed more than the 18 minutes per game he saw in Bilbao. I can't wait to see what he can do with a full load, and Goran Jagodnik should be a pretty decent mentor. Jure Zdovc has given him his seal of approval and there's no reason for him not to be in the starting line up.
Nihad Djedovic, Lottomatica Roma from Xacobeo Blusens
Remember when I mentioned that "unforeseen breakout year from another Roman wing" in Charles Smith's write-up? Well, this might just be that guy. After all, they got him on loan from Regal FC Barcelona, and one would think Coach Bogdan Tenjevic wouldn't pull strings for a benchwarmer. Even though the Bosnian is only 20 years old, he put down 12 points and 2.2 steals this summer with Bosnia and Herzegovina in Eurocup qualifiers this August and he averaged 7 points per game as a 19-year-old in last year's ACB, a feat not to be taken for granted. There's no way he'll unseat Charles Smith as the team's premiere wing guy, but averaging 8 or 9 wouldn't be out of the question.
Jeremy Richardson, Power Electronics Valencia from Aris
Jeremy Richardson likes to shoot the basketball, and Valencia probably won't mind if he chucks up a storm. With Omar Cook and Nando de Colo up top, Rafa Martinez more a fan of penetrating, Victor Claver using his athleticism to finish around the rim and a nice ensemble of bigs with Javtokas, Augustine and Savanovic, Richardson should fill the role vacated by Thomas Kelati: jumper specialist. This spot was initially reserved for Kennedy Winston, but once his contract was voided Valencia needed to find somebody who could hit it from deep. After putting up 14.4 and 4.4 boards in 12 Eurocup games with Aris last year, Jeremy's ready to kick it up a notch and help Valencia make a final four push. Yeah, I said it.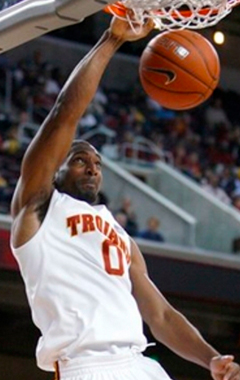 Marcus Johnson, Cibona from University of Southern California
I don't have a huge problem with the pick-up here, but it sure seems as though they could have found a more dynamic offensive player if they were willing to snatch somebody right out of college. Johnson has decent length at 6′6″ (1.98) but isn't particularly big at only 190 pounds. He's a decent scorer but averaged only 9.6 points on 39% 2-pointers, 29% 3-pointers and an ugly 51% from the free throw line. For a guy who wasn't counted on to create offense, his 2.9 turnovers are far too high versus only 1.5 assists. All things considered, the fact that Cibona went out and grabbed someone is encouraging; I just wish they had grabbed somebody with a higher NCAA pedigree.
——
OK. Here's the part where I tell you that analyzing all five of these Asseco Prokom pick-ups is too tall and too redundant a task. They were announced as a package deal to begin with under the headline 'Asseco Prokom rounds out its roster' and that's how I feel about this. The management simply asked themselves: "OK, who are some guys we can plug in to get this thing filled up?" and the results are what you see before you. Rapid fire style:
Iwo Kitznger, Asseco Prokom from Trefl Sopot
Listed first because he's the best of the bunch and at 25 he still has room to grow. After averaging 11 points in the Polish League with Sopot last season, he was rewarded by getting bumped up to the big boy club, but the positional competition will be too much for him to overcome if he had any expectations of matching those numbers. Playing behind Daniel Ewing, Mike Wilks and Bobby Brown should just leave him offensive table scraps, but he could end up being a key reserve for Prokom's backcourt.
Robert Witka, Asseco Prokom from PGE Turow
I have news for everyone: Robert Witka is not Qyntel Woods. Sorry. He'll do his best to make up a third of the offense lost with Woods' departure and if he wants to see the floor, defense will be his calling card.
Dawid Przybyszewski, Asseco Prokom from Energa Czarni Slupsk
He has made stops in Hungary, Austria and four teams in Poland since leaving Vanderbilt University in 2005. Make it five teams in Poland. At 2.15 meters, he's tall. Which is good. Moving on…
Pawel Kowalczuk, Asseco Prokom from Trefl Sopot
I like saying his name for some reason. If he's kind, he'll make sure he gets some playing time so I can say it more often. His 2.4 points and 2.3 rebounds last year dampen my confidence.
Sebastian Balcerzak, Asseco Prokom from AZS Koszalin
I am Asseco Prokommed out right now. Too many Z's, too many W'z, and too many consonant clusters including K's. It's nothing personal, Sebastian; I just don't know too much about you. If there's anyone out there who caught all the AZS Koszalin games last year, your presence is requested in the 'Comments' section.
Coming tomorrow: Carlos Suarez, Bogdan Bogdanovic, Marcus Haislip, Courtney Eldridge, Tomas Delininkaitis, Djordje Drenovac, Vladimir Dasic, Bobby Brown, Kevinn Pinkney, Kenny Gregory, Mamoutou Diarra, Dejan Musli, Giorgi Shermadini.
Related posts: