By: Freaknick/@euro_adventures
Click here to read full article on SLAM Online and leave comments.
However young, imbalanced or redundant this Team USA may seem, nobody can argue against the individual credentials we'll trot out against Croatia on Saturday night. Odom and Billups are NBA champions, Rose has a ROY trophy on his mantle piece, and Durant's had to slide his over to make room for the hardware that came with his scoring title. The other eight guys didn't make it to Turkey by accident, either. But in the 16 years since we've won a FIBA World Championship, talent has never been the issue—save the 1998 lockout team which included collegiate guys like Mateen Cleaves and Trajan Langdon along with veteran non-NBAers like Wendell Alexis and Jimmy Oliver.
Where we've stumbled is in our approach; this is a basketball team, not a batting order. Taking turns dribble-driving a zone is a method not once diagrammed on a whiteboard nor featured in an instructional video, yet we've stayed at it for years and foolishly expected different results. This year's team puts me more at ease as an American. Maybe it's the way we're using defense to spark breaks, maybe it's the pleasant absence of egos and third person references. Can't decide. And while I believe this is the year the drought ends, it's not because we won't face the deepest competition in World Championship history. Make no mistake that we're no longer at the point where Dirk's absence leaves Germany impotent or where guys like Andrew Bogut can't afford to heal for a summer. The world has gone into reload mode. Ignore these names at your own peril:
1. Juan Carlos Navarro, Spain: He has more shots in his bag than John Daly at the liquor store.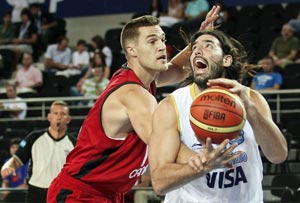 2. Luis Scola, Argentina: Jordan had his tongue thing. Luis has his jet black hair neatly tucked behind his ears.
3. Tiago Splitter, Brazil: Antagonist of upcoming Stallone joint, Rocky VII: Rumble in Rio. He must split you.
4. Linas Kleiza, Lithuania: The Keanu of the court. You know he's The One, but sometimes he disappears like Shane Falco. Exactly why Kestutis Kemzura brought along Laurence Fishburne and Gene Hackman as special assistants.
5. Ricky Rubio, Spain: A bell rings over the Target Center's PA system every three hours. Moments later, you'll find David Kahn facing Barcelona and praying on a bamboo mat.
6. Nicolas Batum, France: He's done some serious work on the biceps, triceps and shoulders this offseason. That NBA Most Improved Player Trophy is heavier than it looks.
7. Goran Dragic, Slovenia: Derek Fisher just collapsed with dizzy spells.
8. Hedo Turkoglu, Turkey: Just received word that Hedo has asked Turkey to trade or release him. He could not be reached for comment, however, as he was being treated for flu-like symptoms at a Toronto nightclub.
9. Dimitris Diamantidis, Greece: The recurrence of Ds in his name is no coincidence. It would be the equivalent of Woolt Choomberlain or Karoom Abdool-Jaboor… Read Full Article
Related posts: