By: Freaknick/@euro_adventures
LIVE video preview coming momentarily via the Euroleague Adventures UStream page!
Or so I thought…
I recorded a 4-minute video but this crowd is just too damn loud right now. They've been chanting since the teams took the court 20 minutes ago and haven't let up, leaving my voice muffled beyond comprehension. Maybe I'll grab a microphone on my day off tomorrow and make it happen.
But for now it's time to focus on what should be the most hotly contested game in Group B. It gets under way here shortly and it's time for predictions, so here we go: Slovenia 78-74 Croatia. It's coming down to the last few minutes, and beating these Slovenian fans in crunch time will be no walk in the park.
Croatian Starters: Roko-Leni Ukic, Davor Kus, Marko Tomas, Luka Zoric, Ante Tomic
Slovenian Starters: Goran Dragic, Samo Udrih, Bostjan Nachbar, Miha Zupan, Primoz Brezec
FIRST QUARTER
-Croatia gets the tip. The first small victory in a battle where neither team will even consider the slightest victory 'small.'
-Primoz Brezec is a beast today. Offensive board then tips in his own miss. Padding his stats already.
-Luka Zoric answers with another quick deuce down low. These teams ain't settling for jumpers, and that's just how it should be.
-Any three you can drain I can drain faster. Ukic first, Dragic next. It's 6-5 Croatia and these have already been the most entertaining 3:01 in Group B history.
-Team leader Davor Kus goes 94-feet all by himself and puts it in. Nobody stops ball. Though clearly outclassed by Tomas and Bogdanovic at this point, Kus sure does justify his spot in the starting lineup. He holds this team together.
-I've watched hoops critically in America for 14 or 15 years. Not once have I considered traveling calls to be a significant statistic. At this tournament alone, my world has been turned upside down.
-Samo hits a three to restore honor to the Udrih clan. Croatia's still up by one and Uros Slokar for Miha Zupan has been the game' only substitution thus far. All Croatian starters still out there.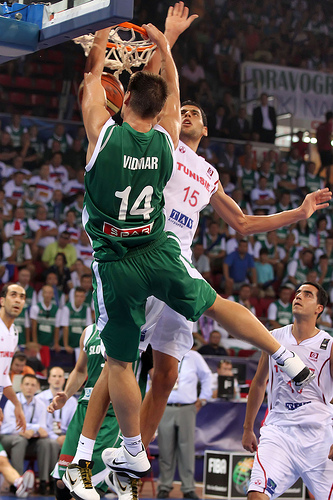 -Brezec loses it down low and fouls Tomic on the other end. And here comes the man of the hour, Mr. Gasper Vidmar. He's about to give Ante Tomic fits. Just watch.
-Marko Tomas is cooler than everyone ever. Baseline lay with the contact. Manly. Croatia leads 18-16. I am not at all disappointed with the heart I've seen these first ten minutes, and from the sound of it, neither are their fans.
SECOND QUARTER
-Marko triples one in to get it going and Slokar answers back after a couple silly illegal screens by either side. Tomas has 8, Slokar has 10 and it's 23-19 Croatia.
-And Gasper Vidmar confirms my take on him as a serviceable NBA back-up. Leaps up through two Croatians, grabs the board and throws it down plus the foul.
-Croatia has gotten out to a game-high 8-point lead (32-24) but Becirovic and Nachbar come right on back and cut it to 4. Hell of a move by Nachbar. That ankle is looking just fine.
-Dragic finally gets loose and Sani Boy finds him like it's nothing. Those coach's son, boy I tell ya…
-Don't know if it was planned or not, but Bogdanovic switches over to Dragic and plays him smart. Not too much room, not so close that makes you look silly. Turnover.
-Oh yes he did. Tomas maneuvers his way in, spins and finishes lefty. Anybody knows if eBay sells his jersey?
-Four Slovenian offensive boards lead to a Jaka Flocka Flame three. Crucial possession in this game.
-Luka Zoric on one end. Vidmar on the other. Then it's Zoric again. Then Lakovic. Damn. Can't even keep up, but I'm sure as hell trying. Timeouts and occasional defense can be a blogger's best friend.
-Marko Tomas making me question my sexuality. I don't care who knows it. Three-pointer as time expires in the first half. He has 13 already and Croatia leads 44-39.
HALFTIME
Croatia: Tomas 13, Luka Zoric 8, Marko Banic 6, Roko Ukic 6
Slovenia: Uros Slokar 12, Vidmar 5, Dragic 5, Lakovic 5
THIRD QUARTER
-Uros Slokar rips it and sends it up to Lakovic whose lay-in is goaltended by Zoric and this arena is the liudest it's been all day. Tie ballgame, 44-44.
-And there we have it. Gasper the friendly ghost drops it in for Slovenia's first lead. But Ante Tomic remembers he's supposed to be the best young center in this one. Jumper. Splash. Croatia back on top.
-Jaka Flocka puts Slovenia back on top…for a second. Roko nails his third try in three attempts and Croatia has the lead…again. It's 52-50. Did anyone really think Croatia would pull away that easily? Hell no.
-My Slovenian sure ain't what it used to be, but after a controversial call on the baseline, I don't think the Slovenians are chanting very nice things about the referees.
-Kresimir Loncar misses a jumper and Marko Popovic throws it away for Croatia. I know international ball is about having nine or ten guys contribute, but this one's for the big dogs. And now a backcourt violation after a Goran Dragic three puts Slovenia up by three. Coach Josip Vrankovic needs to get a handle on this game.
-Aahhh! Let's do it. Bostjan Nachbar lights one up from the wing and grabs his jersey. I'm not a talented enough writer to describe the atmosphere in here right now. Insanity doesn't come close. And then a three by Slokar. Now one by Zupan. This unreal. Slovenia is 4-out-of-their-last-5 from deep and the folks to my left want all of Istanbul to know it.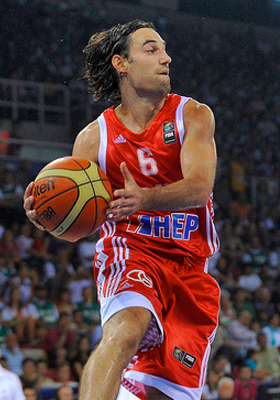 -Marko Popovic called for the foul fronting Nachbar in the post. Exactly. Why in the world is Marko on Boki? This quarter cannot end soon enough for Croatia.
-Roko's got that look in his eyes that lets you know whose team this is. Takes it himself, bodies up and double clutches before smacking it off the glass and in as time expires. Didn't put a smile on his face though. Work to be done still. His country's down by six after three quarters, 65-59.
FOURTH QUARTER
-You can tell who wants this more by looking at the benches. Slovenia rising off of theirs at every hint of a positive while half of the Croatians look disinterested. A Marko Popovic three gets them all out of their seats now. 67-62.
-Unfathomably brilliant. The only way I can describe Roko Ukic's play here today. He just hit his another three to bring Croatia to within two. He's hit 6/11 today including all four long ones he's taken to go along with a game-high six assists.
-I hate it when people bank in threes, but Marko Tomas just did it. So now I think it's pretty cool. Miha Zupan disagrees though and strokes a three to put Slovenia back up 72-71.
-Dragic hasn't done much offensively tonight, but his steal sparks a break that ends with a Samo Udrih lay-up for a 74-71 lead. My prediction is looking somewhat possible, though at this rate the score will be a little bit higher. We have five scintillating minutes of hoop ahead of us.
-Jaka! Flocka! Flocka! 77-71 Slovenia courtesy of Lakovic's face job on Marko Popovic. Show him how to do it, pops.
-Remember how Goran Dragic is pretty deadly when he gets in the lane? Me too. Now Croatia will, too. 80-71.
-Marko Popovic makes it 80-73. Rebounded strongly after an ugly start for him.
-Ukic might've just hit the shot of the game: flips it over his head after the foul. Sinks the free throw to bring it to 4.
-Udrih brings it back to six. Just over two minutes left and Slovenia has the rock.
-A Roko Ukic miss from 8 feet out with 38 seconds remaining and that might be their last gasp. Wait a minute though: Jaka Lakovic inexplicably misses both free throws and then Slovenia fouls Marko Tomas…as he shoots a three pointer. What has this world come to?
-Marko misses two out of three and I'm left speechless. Croatia has shot themselves in the foot tonight. Eleven times. They've racked up a paltry 13/24 (54%) from the free throw line tonight. Slovenia not much better at 18/28 (64%).
-Miha Zupan ices the cakes with a jam in transition right as the backboard lights up. Remember, margin of victory matters. But not nearly as much a victory over your archrivals.
Final score: Slovenia 91. Croatia 84.