By: Freaknick/@euro_adventures
You shouldn't trust this list. You shouldn't place bets on account of what I say in this list. In all honesty, you should probably just click elsewhere to preserve the clarity and conviction of your own opinions. But here's one thing I know: you will read this list, because that is the natural human reaction to lists. I could offer up 1,000 words on Australia's ability to cope this summer without Andrew Bogut and you wouldn't blink. Why? Because it's an abstraction, and we as humans don't deal too well with those. Now say I place the Boomers on a numbered list, ranking them immediately above and immediately below two other teams. Now I've got your attention. You're now free to glance up and down, skim the words and then move along to Tweet your heart out, update your Facebook status or indulge in some other bitesized internet candy.
Hence, descriptions are second class citizens here today and you have the power to scroll, survey and then voice your displeasure at the bottom. Did I slight your team? If you're Greek or Argentian then probably, so fire away. And since your list addiction has now been uncovered, hop on over to BallinEurope's version of FIBA Power Rankings to compare notes and decide which of us is more insane. Or just look at FIBA'S official rankings which are…interesting:
1. United States: Light on ego, heavy on talent. People seem to mixing the two up these days. LeBron can stay his ass in South Beach, for all I care. Kevin Durant is everyone's new favorite player anyways.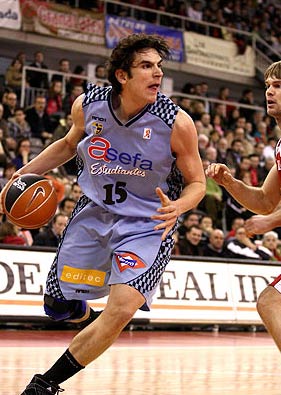 2. Spain: Spain's 15 is now down to 14 with the recent snippage of Pablo Aguilar—who should crack this roster in time for London, if not Lithuania's EB11—leaving two cuts remaining. Forget Pau's absence. Spain will be fine down low with his brother Marc for offense, Fran Vazquez for (better) defense, and Felipe Reyes for some awkwardly effective Felipe Reyes-ness.  Sergio Scariolo's largest obstacle is the presumed "lock" status given to Jorge Garbajosa every year. If either Carlos Suarez or Fernando San Emeterio gets left off to make room for Garbage-josa I'll be writing very strongly-worded, Google-translated letters to…well, to someone. So there.
3. Brazil: Pau's gone for Spain and America's frontline is no Russell-Chamberlain, so I'm putting Brazil here because they'll have the most efficient set of bigs in Turkey this summer. Dunks, lay-ups and offensive rebounding don't go into slumps, which bodes well for Nene, Tiago and Varejao in a 40-minute ballgame. Plus, it's time for Marcelo Huertas' close-up.
4. Serbia: Everyone still hung up on their 85-63 Eurobasket destruction at the hands of Spain seem to have forgotten their meeting on day one. It's not like Milos Teodosic or Novica Velickovic have gotten any worse. Or Nenad Krstic, or Milan Macvan, or…
5. Turkey: Being the home team helps, but they'd be top five even if this thing were played on the moon. They'd actually have the edge because Oguz Savas would be the only player still anchored to the ground. But yeah, even the casual NBA fan will know the name Ersan Ilyasova when this thing wraps up.
6. Argentina: Perennially mentioned among the elite, and with good reason. I just see five teams that are better this year. Sue me. Actually don't though, 'cause ELA's funding has dried out ever since Lindsay Lohan went to jail. Say what you want, but she sure do love her some international hoops.
7. Greece: Sofo and Bourousis play well off each other down low. Spanoulis scores, Diamantidis defends and the backcourt is set. But they can't keep entering tournaments without a single wing worth a damn. Seventh best ain't bad, but try telling that to the Greeks who'll be aiming their roadflares in my direction.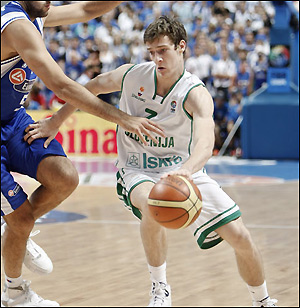 8.
Russia:
Two words:
Mozgov Cocktail
. OK, now a few more: Viktor Khryapa is the sh*t. BOOM.
9.
Slovenia:
Beno Udrih is an idiot but that's fine. We didn't need him hogging Goran Dragic's touches anyways.
10. Australia: They won the battle with Serbia for Aleks Maric's services. Now it appears it may have been a battle over an empty roster spot. No matter; Matt Nielsen, David Andersen, Andrew Ogilvy and Nathan Jawai should make life pretty easy on Patty Mills, one of ELA's favorite guards in this tournament the world.
11. Lithuania: Still think they should've given Motiejunas a chance to run with the big guns, but at least this shows a commitment to winning and not development. Besides, I'm excited to see which haircolor former NBA superstar Martynas Andriuskevicius goes with on the red carpet.
12. France: If Tony Parker is healthy and Joakim Noah's not shopping for bongs, they're right up there with Spain and USA.
13. Canada: Nash is too easily forgiven for not being a part of this team. Andy Rautins will not be so kind to defenders who refuse to put a hand in his face. Wet.
14. Puerto Rico: Breakout alert: A.D. Vasallo. Imagine the looks he'll get with JJ Barea and Arroyo gettin' jiggy up top.
15. Croatia: This the one team that shoot up this list if they catch their stride. Marko Tomas and Bojan Bogdanovic are easily two of my favorite Euroleaguers (ELA's free agent rankings should be solid evidence of my Markomania). Ante Tomic needs to come back healthy.
16. Germany: Watch this team play and then multiply its output by 1.5. That's what you'll get in Eurobasket next season once Elias Harris, Tibor Pleiss and Robin Benzing have had a summer to get to know one another. Now take that top-5 quality team and add Dirk Nowitzki. Final step: pray that Lucca Steiger turns into an elite guard by the time London 2012 rolls around. Now add water, stir and refrigerate until you feel that Olympic medal around your neck.
17. China: Hate to break it to everyone: China just isn't that good. Yi Jianlian will put up some of the best stats in this tournament because they're not going scoreless for 40 minutes and let's be honest, China isn't oozing with talent outside of Yi. Wang Zhizhi was a cool video game player back in 2004 but that's really as close to a positive as I can find at the moment. Turkey, Russia, Greece and leave Ankara happy. China does not, because Puerto Rico will use them like Swiffer Wetjets (you know, wipe the floor…).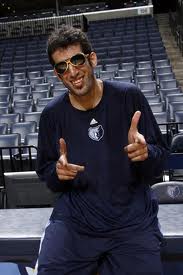 18. New Zealand: Brace yourselves for the season premiere of 'The Kirk Penney Show' starring Kirk Penney, with special guest appearances from Sean Marks and a bunch of other white guys who are marginally gifted athletes. Spoiler alert: Lithuania beats them in the first episode. Tragic.
19. Iran: If only Obama and Ahmadinijad could get along like me and my good pal Hamed Haddadi…
20. Cote d'Ivoire: The Coast with the Most (Ivory) also has five players from the French League, so the competition shouldn't stun them entirely. Allez Les Éléphants!
21. Angola: Once a hobby of mine, Fantasy Angolan Basketball has made its way down my list ever since Sudoku arrived on the scene.
22. Jordan: Breaking news: Due to a strange loophole in FIBA regulations, the nation of Jordan has been given the go-ahead on a piece of legislation allowing Michael Jordan—for whom the basketball team is named—to suit up and play for them this summer, despite his previous appearances with the USA National Team. "I'm very honored," said Jordan of Jordan's decision to include Jordan on their preliminary roster. "However," he added,"I'll have to decline because of how bad they suck at basketball." Head Coach Mario Palma could not be reached for comment.
23. Lebanon: I think the tree on their flag is very cool. Very 'green' of them, ahead of the times.
24. Tunisia: Oh buddy. How do I write multiple sentences about Tunisian basketball? It'll be tough, that's for sure. Maybe I could….no, that won't work. How about I…that's no good, either. I've got it! I'll stall by writing a bunch of words that have nothing at all to do with Tunisian basketball! It's foolproof.