By: Freaknick
Three minutes, one awesomely frightening video, and everything you need to know about Kristof Ongenaet.  The 6'8″ (2.03 m), 220 pound (100 kg) Belgian forward from Syracuse University is heading to Italy to continue his career, and if I can assure his new club Sutor Basket Montegranaro of three things, here they are: He will adjust.  He will adapt.  He will do whatever he can to help the team.
Here's the video.  Interpretation-and some overdue respect from the author-follows.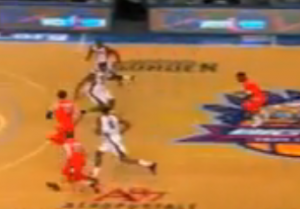 0:26- From 2005 to 2007, Ongenaet was always a step ahead of the rest at Cuesta Community College in California, averaging 11 points and 12 rebounds in his first two years with the Cougars.  He shot 60% from the field and was named to his All-Conference team.
He turns this stellar play into Division 1 offers from Kansas State, Colorado, Cal-Irvine, Northwestern and of course, the Syracuse Orange.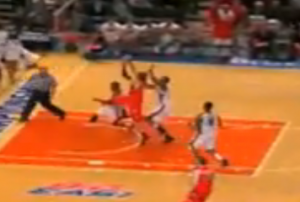 0:27- After rounding out Syracuse's stellar 2007 recruiting class that included Donte Greene, Jonny Flynn, Rick Jackson and Scoop Jardine, Ongenaet's career seems ready to take off.  An impressive dunking exhibition alongside Greene and Paul Harris at Syracuse's "Midnight Madness" only did more to stoke the fire.  Ongenaet's two years of college experience leads one to believe he might take up a heightened role on such a young and shallow roster.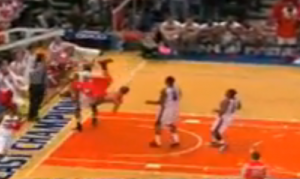 0:28- Ongenaet logs two DNP's and only four points and eight rebounds in his first nine games with the team.  In the picture, he hasn't quite hit the floor.  This is a conscious decision.  Thus far, his lack of early performance hasn't really hurt the team, which is growing together despite a couple of early losses at the hands of Ohio State and UMass. Such struggles are to be expected from a bunch of underclassmen.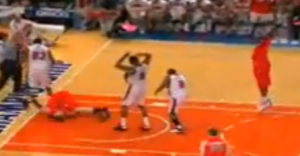 0:29- After leading scorer Eric Devendorf goes down for the season against Eastern Tennessee State, Syracuse needs to share his 35 minutes per game with the bench players.  Syracuse wins its next five games as Ongenaet chips in with a 10 point game against Northeastern and a 10 rebound game against Cornell.  Then Syracuse loses four of its next five games and Ongenaet doesn't do much with his newfound playing time.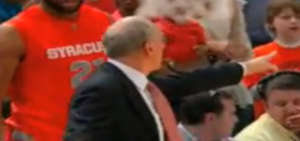 0:40- After a February collapse, Coach Jim Boeheim looks to the bench, only to find that there is nobody there.  Though Ongenaet is still lifeless on the proverbial floor, he regularly sees 25+ minutes in ball games.  He can't seem to stay on his feet on defense and Syracuse's famed 2-3 zone collapses because of his (and Donte Greene's) failure to rotate properly.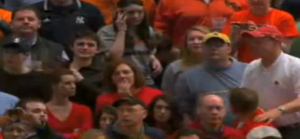 0:59- Syracuse misses the NCAA tournament for a second straight year.  The young team crashes and burns toward the end of the season and the fans are dumbstruck at the thought of another March Madness devoid of their beloved Orange.  Rookie mistakes and a lack of depth are to blame. Ongenaet does not respond well to his audition for an expanded role on next season's team.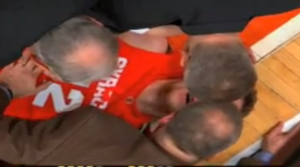 1:25- Are you still alive Kristof?  Fans and coaches alike try to gauge the success of the Kristof Ongenaet project after the 2007-08 season, and resolve to replace him with a platoon of players in 2009: freshman Kris Joseph and sophomore Rick Jackson.  Joseph doesn't make the most of it.  Jackson does.  Ongenaet's playing time is up and down from game to game and his play is underwhelming.  Again.  Syracuse has a history of winning, and fans are getting restless.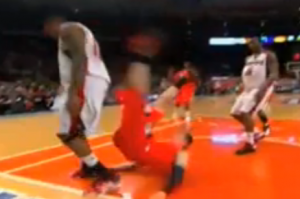 1:35- The slo-mo replay rolls and it's déjávu all over again.  Team starts hot (17-1), then hits a brick wall in its next 10 (3-7), Ongenaet's struggles continue, and he nearly falls completely out of the rotation in the month of January.  He plays tentatively and still doesn't look convinced of his own talent.  If Syracuse is going to avoid missing the tourney for a third straight year, it doesn't look like Kristof's going to be the one to keep their heads above water.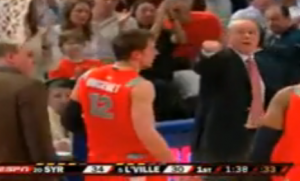 2:00- And then, he stands up.  After a tumultuous season and a half with the Orange, he steadies himself, masters his role, and walks away a winner.  Playing with the bounce and brio of a man with something to lose, Kristof delivers a month of superb basketball.  He plays smarter defense, attacks every loose ball with fervor, and finishes around the rim when the situation calls for it.  He even pulls down 9 rebounds with 2 blocks and 2 steals against UConn in the best college basketball game in history.
So for all those in Italy who are asking, "Who is this Kristof Ongenaet?" I say again:  He will adapt.  He will adjust.  He will do whatever he can to help the team.
If you ask me, that's a damn good start.