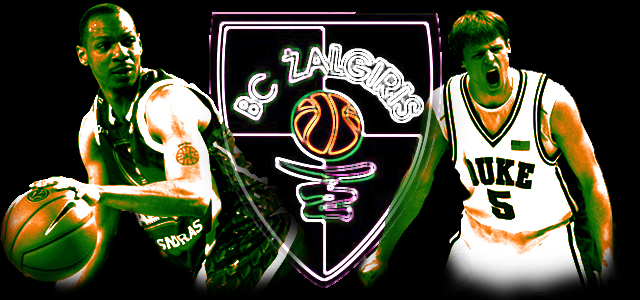 By: Freaknick
In English, the dictionary definition of "mar" reads:
"–verb (used with object), marred, mar⋅ring.to damage or spoil to a certain extent; render less perfect, attractive, useful, etc.; impair or spoil: That billboard mars the view. The holiday was marred by bad weather."
In Lithuanian, the dictionary definition reads:……well, it reads like a blank page, because apparently "mar" is not a word in Lithuanian (I am very receptive to outside help so please correct me if I am mistaken).
For Zalgiris Kaunas, "mar" symbolizes the first three letters of its past, present and future, and if the old pro Marcus Brown can turn rookie Martynas Pocius into an instant force, Zalgiris could "damage or spoil to a certain extent" the party for Lithuanian and Euroleague foes alike.
You see, after Zalgiris signed Brown, the All-Time leading Euroleague scorer, they decided to ink Lithuanian countryman and hopeful protege, Pocius.  I've got to say I'm impressed with the logic, and despite riding the bench for a majority of his Duke career, Pocius has played enough international ball to know what to expect back in the homeland (and there are worse things for your basketball IQ than listening to Coach K every day for four years).  But alas, I have said plenty.  My last note before deferring to YouTube: the Lithuanian word "marus" (which is Marcus minus the letter "c"means "deadly or fatal." Just check out the video of him dropping 31 on Bologna below and you'll see the parallel.
Meet Martynas Pocius
Four Fun Factoids about Pocius:
Played four years collegiately at Duke University
Averaged

13.5 points

and

5.8 rebounds

in the 2009 World University games and

20 points per game

in the 2006 U-20 Euro championships
Originally from

Vilnius, Lithuania

but played final two seasons of high school ball at Holderness High School in Plymouth, New Hampshire.  You know who else played high school basketball in New Hampshire?  You guessed it:  my esteemed co-host, Slam.
He fancies his girlfriend quite the soup chef.  This, a la Twitter:

"

Asked if my gf could make me a she crab soup tonight…Man, I'm excited and hungry! Hope it's as good as the one at the U-club! 

5:52 PM Jul 23rd

from

TwitterFon

"
Meet Marcus Brown
Four Fun Factoids About Brown:
Played four seasons at Murray State University, averaging

26.4 points per game

his senior year on 42 percent 3-point shooting

Passed Luis Scola

in 2008 as the Euroleague's highest scorer and became the only player to surpass the

2,500 point plateau

on March 11, 2009 while with Maccabi (only counting games played since the inception of the new Euroleague in 2000.  But who are you to tell Mr. Brown that it's not just as impressive?).  He is also tops in fouls drawn (807) and in the all-time top 10 of steals, assists, and 3-pointers made.  Yup.  He's pretty good.
Want experience?  Brown has played in three Euroleague Final Fours and won national titles in

France

(Limoges and Pau Orthez),

Russia

(CSKA),

Spain

(Unicaja), 

Turkey

(Efes Pilsen),

Israel

(Maccabi) and

Lithuania

(Zalgiris).
He has seven league MVP trophies on his bookshelf:

two from France, two from Russia, two from Turkey

.  He might have one from the Euroleague in 2003-04 when he was an

All-Euroleague First Teamer with CSKA

, but they didn't start handing out the award until 2004-05.