By: Nick Gibson / @euro_adventures
Today's tapas include trepidant pterodactyl, a winless Belarussian squad, and Matt Bonner's sister. Well, probably not.
Eat up.
Kirilenko: Four or Five Teams Could Knock Us Off
With the lockout lifted, droves of NBAers descended upon the States in search of their old jobs or new deals elsewhere. In the ultra condensed free agency period, names and dollar signs hopped around Twitter like horny jack rabbits.
But pterodactyls eat jack rabbits, so Andrei Kirilenko rose above the feeding frenzy and decided to dance with his date, hanging around Moscow until season's end. With a combined record of 24-2 in CSKA Moscow's three leagues (10-0 Euroleague; 8-1 VTB United; 6-1 Russian), you wouldn't encounter much argument if you went ahead and dubbed Moscow as Europe's best team.
However, AK-47 went out of his way to reassure us all that a Euroleague title is far from a sure thing in an interview with Sovsports (and reposted on ACB.com).
(Disclaimer: this thing is a translation of a translation. Tread carefully.)
I think before signing for CSKA, they were already a favorite to win the tournament. There are four or five teams in Europe that are not inferior to us. Barcelona, ​​Real Madrid, the Turkish team, Maccabi, with David Blatt is quite capable of giving a surprise.
For my picks' sake, let's hope "the Turkish team" is Fenerbahçe Ülker.
Of Mice And Minsk
The largest city in Belarus has played host to one of the worst teams in intercontinental competition this season, and a 105-63 loss to Nymburk in a VTB United showdown last night left Minsk with an 0-9 record for the season.
Ever wondered what 34% shooting looks like on a shot chart? You've come to the right place.
Valanciuans Notches Double Double In Loss to CSKA
Remember that Andrei Kirlenko fella we talked about a couple hundred words back? He's pretty good. His CSKA teammates are no slouch, either.
But up against a defensive frontcourt as long, if not longer, than any other Jonas Valanciunas will face in what should be a long NBA career, the Lietuvos Rytas big man grabbed a game-high 11 boards and scored 10 points on 4/10 shooting, including a pair of big jams off pump fakes and putbacks.
Still, Lietuvos Rytas lost 67-84 to the Russian monsters, who received double digit scoring outputs from Kirilenko (13), Viktor Khryapa (12), Nenad Krstic (12) and Milos Teodosic  (11).
The highlights:
Brad and Valencia are Newley Weds
The Aussie forward has left Lietuvos Rytas to sign with Valencia and fellow Boomer, AJ Ogilvy. The deal will run through the end of the season and should provide some mortar for Valencia's sturdy wall of forwards including the ACB's eighth-leading scorer Nik Caner-Medley and the aforementioned Ogilvy.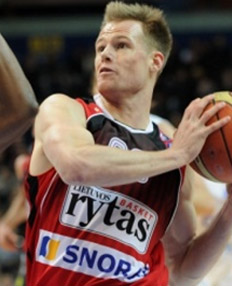 He was racking up nothing but DNPs in the EuroCup, hardly playing in the VTB United League and doing his best work in the LKL, where he still only managed 4.5 points and 3.4 rebounds in 14 minutes per game.
Last year ELA had him rated as a top 20 Euroleague signing. To say he's been anything but a disappointment would be an embellishment. Here's hoping the warmer weather makes him feel at home.
Tapas Variadas
-In the third and final VTB United contest last night, our old EL buddies Asseco Prokom fell to Jeremiah Massey and Lokomotiv Kuban 72-81. Massey had 23 and Donatas Motiejunas had 14 and 11 for the losers, who fall to 4-6 in VTB play. Lokomotiv improves to 5-4 and fourth place in their division.
-Danilo Gallinari likes being a Nugget, and told Chris Tomasson that he'd like to extend his Nuggetness this offseason. The Italian forward will be a restricted free agent this summer with a qualifying offer of $5,589,703.
"I'd like to be here," Gallinari said Wednesday. "If I can play here, it'd be great…If they give me an extension (before next summer), it's good. If not, I will wait until after the season."
Gallinari is leading the 7-4 Nuggets with 17.2 points per game. And as always, he looks super stylish doing it.
-Apparently there's a women's team in Spain called Perfumerias Avenida. Yes, that's how you dispel myths about women's basketball being soft: name your team after perfume. Come on, girls.
-In related Euroleague Women news, Dewanna Bonner of Perfumerias Avenida is second in scoring at 19.4 ppg (Diana Taurasi is tops with 20.9). Trying to figure out if she's related to Matt "The Red Rocket" Bonner. What do y'all think? 
Toss up.
-Lastly, if you missed yesterday's podcast about Team USA, Antoine Wright, Joey Dorsey and Ricky Rubio, we've got you covered. Redemption is just a click away:
Canción Del Dia (Song of the Day)
Big Boi feat. Vonnegut - Follow Us
Hasta mañana, folks.