By: Sam Meyerkopf / @euro_adventures
Adam Hanga, G/F, Assignia Manresa
Points: 7.2 Rebounds: 2.8 Assists: 1.8
The San Antonio Spurs have done it again, they've found another diamond in the European rough.  The 59th overall pick of this year's NBA Draft was Hungarian and current Manresa player Adam Hanga.  This is his first year playing in the ACB League and I had the pleasure of focusing in on him at the latest Barcelona game.
The first thing that strikes you about Hanga is that he is really lanky and looks athletic.  With a couple summers dedicated to the weight room the frame he has now will look more and more like an "NBA body".
Hanga doesn't start for Manresa, but he plays a key role for them.  Throughout the night he rotated through both wing positions, including some time running the point.  He seemed unfazed going toe to toe with one of Europe's best teams and Manresa actually gave the boys from Barcelona a game, but still lost 74-61.
As you watch Hanga on the court and then look over his stats afterwards, they usually confirm what your eyes saw.  He plays a good amount of minutes and he looks like one of the better guys on the court, but the production isn't there yet.  On this particular night Hanga put in eight points, snagged four boards, and dished out two assists.  Not too shabby, but it left something to be desired.
On offense Hanga starts almost everything from outside the three point arc.  Even though he stands 6 feet 7 inches (1.99 meters), he doesn't move off the ball very much.  Hanga is easily one of the most athletic guys on the court and needs to be doing some more back cuts for lobs or quick paint cuts, where he can catch and go up quickly.  Some of this blame could be put on the coach for not creating more off-ball movement, but Hanga needs to initiate this too.
When Hanga does have the ball, he sees the floor a little like a point guard.  He catches it at the top of the key or brings the ball up court and surveys the defense, looking for the best possible option.  His driving game was pretty superb and he picked his spots fairly decisively.  Almost every time Hanga got in the lane he made something productive happen.  He pretty evenly looked to score and pass on his drives, which were usually right towards the middle of the paint.  About a step in from the free throw line he likes to pick up his dribble and either put up a floater or try and slice right between two people to get to the other side of the rim.
When Hanga goes in the lane to pass, he looks pretty special.  A few times he went in to the paint and delivered some beautiful kickout passes, unfortunately his teammates couldn't always convert.  His best plays of the night were when he decided to launch up from his usual spot in the lane, but only to dump off to a cutter or try a unsuspecting lob pass to a big man crashing the rim.
Hanga didn't seem to be in love with contact and even though he drew six fouls, almost all of them were from being able to draw hand checks on the perimeter. He actually draws almost three fouls a game and it comes from the defender respecting his driving ability so much and Hanga's quick ball moves.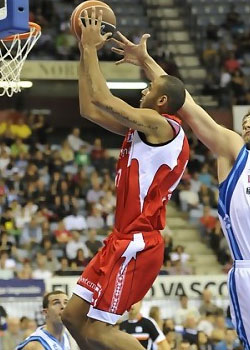 Hanga only took three shots in the game, but after looking at some tape, his jumper is fairly decent, but I don't expect it to be the high point of his game.  He uses a lot of arms and needs to generate more power from his legs.  On one possession Hanga was running the point, the offense was never able to set up a good play, so as the shot clock winded down Hanga took control and swished a three right over his defender's grill.  He could of run a better offensive set, but it shows us that at least sometimes Hanga can stay cool under pressure and doesn't mind being "the man" on offense when his team needs him to be.
On the break is where Hanga should thrive.  There weren't a whole lot of chances to do this against the stingy Barcelona defense, but in an NBA setting with a point guard he can run with, Hanga will be a great candidate to finish off alley-oops or catch the ball anytime over halfcourt and make a run at the basket.
Defensively Hanga looked like he had a great deal of potential.  His long frame is ideal for defense and it will be especially ideal if he stays as more of a backcourt player for his career.  He'll be able to frustrate a lot of shooting and point guards.  While he isn't super intense or active, Hanga instead kind of glides around the court and doesn't have much trouble staying in front of his man.
Going against Barcelona where he had to man up Chuck Eidson, Marcelinho Heurtas, Victor Sada, and others all night, Hanga held his own.  Once he decides to crash the boards a little harder and help out more on the weak side, he'll improve into an elite class.  While he's had some highlight reel blocks this season, Hanga needs to become more consistent with rejecting opponents layup attempts.
As Hanga develops, he has the ability to play in the Spurs rotation or succeed at a high level in ACB play.  His position is still a bit of a question mark as he doesn't really bang or board well enough right now to play the forward spot and he doesn't really shoot or play well enough without the ball to play as an off-ball guard.  An interesting scenario for me would be if he tried to make a go of it at point guard.
Hanga is a good ball handler, a terrific driver, and plays very under control.  He likes to start all of his offense well outside the three point line, and he's really developing the ability to pass off the drive.  These are skills and traits of a point guard, he just needs more time to refine them.
With his size and athletic ability, many teams will be too tempted to throw him on the wing and let him run.  Either way the 22 year old Hanga is one of the most fluent athletes I've seen play this year and if the Spurs do decide to bring him over, his development should skyrocket.
There is a highlight video for almost every game Hanga has played this year in the ACB on YouTube.  Here is one so you can get a taste of the Hooping Hungarian.