By: Nick Gibson, Sam Meyerkopf and Rob Scott
CSKA spotted Panathinaikos a 14-point lead in the first quarter but muscled their way into Sunday's Euroleague final by a final score of 66-64 over the reigning champions, Panathinaikos, in an all-time classic that was as physically punishing and emotionally draining as any game in recent history.

A game this compelling deserved a more iconic finish than Dimitris Diamantidis passing the ball off Andrei Kirilenko's leg but that final 8.3 seconds followed 39:51.7 of bruising, frequently sublime basketball. Alexey Shved and Andrei Kirilenko were the keys for CSKA. Shved brought out his full repetoire and was virtually unguardable in isolation. While CSKA relied too much on isos and three point shots in the first half, Shved going one-on-one was the most effective way for CSKA to score. They couldn't buy a jumper in the first half, but after the third quarter it was Shved breaking down the defence, relentless offensive rebounding and the red brick wall around the basket did the rest.
Kirilenko scored 17 points but it was his defence that put PAO on the back foot after a 29-15 first quarter in which CSKA's defensive effort was entirely absent. Aleks Maric scored the first six points for PAO as he and Saras hooked up on a pick roll dream date. Kirilenko slowly but forcefully exerted imposed his will on this game, switching out on guards, blocking 4 shots, none bigger than a Mike Batiste effort with just over 2 minutes on the clock. It was the first play of a frantic finish that had refereeing controversy, missed free throws, big money jumpshots and that surreal anti-climax at the death.
Nenad Krstic had only eight points and two rebounds, but his line betrays a tremendous defensive effort that saw him regularly switch onto Diamantidis, managing to keep the wily Greek in front of him. Diamantidis was unwilling or unable to attack off the dribble, faced with a wall of huge red bodies behind Krstic should he make it past the Serbian giant. When he did, Kirilenko or Krstic himself came forcefully from the weak side with the rejection, sharing all seven of CSKA's blocks.
A vintage Saras performance, in which he made Teodosic look like the guy in his late 30s in the first half, and a gutsy, big-balled Kostas Kaimakoglu didn't deserve to be on the losing team. Diamantidis settled for the three point shot too often, making 1 of 9, but he had a sliver of an open three right off the catch on the final play. Taking the three for the win rather than going inside for the tie would have been brave, but there's not time for second thoughts when the game is on the line. Whatever Obradovic called, wasn't what happened.
Zeljko Obradovic is as close to infallible as they come in European basketball, but questions must be asked of his late game strategy. Mike Batiste was unable to do anything against the overwhelming size of Krstic, Kirilenko and Khryapa, but twice in the final minute, PAO went to him on the block. He had to kick back out the first time, and the second was a missed baby hook that gave CSKA the ball back for Teodosic to bury a baseline 15 footer and take the lead for good. Teodosic was all over the final moments, getting away with a travel but missing a pair of free throws that set us up for what should have been an eternally remembered final shot.
It was fitting that Kirilenko's length and killer instinct for the ball won the game for CSKA. PAO overcame a talent and size disadvantage, an incredible effort to take it to the last play, but in the end, it wasn't enough.
As Obradovic said after the game, "that's basketball".  And what an amazing piece of
basketball theatre this was.
Why CSKA Moscow Won
Down 14 points after the first quarter and out game-planned by Zeljko Obradovic, CSKA looked confused.  Fueled by Andrei Kirilenko seemingly being everywhere on the court at once and Alexey Shved's ability to penetrate the lane, they came back on the heels of great defense.  The long arms of CSKA shut down passing lanes in the last three quarters and flew out to contest three point shots.
Whether it was on defense or on offense, Panathinaikos' amazing first quarter put CSKA in attack mode for the rest of the game.  Whether it was an effort o-rebound, hustling off the ball on offense, or going straight to the cup when his team needed a bucket, Kirilenko was not letting CSKA lose this game.  In a game this close, played this tightly, every little thing he did mattered.
Why Panathinaikos Lost
Dominance.  Then a dud. Terrific. Then terrible.  That, in four nutshells, takes you through Panathinaikos' quarterly performance reviews.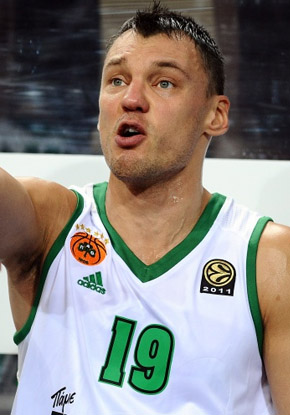 After hanging 29 on CSKA Moscow in the first period, nobody could come to grips with what had just happened.  The media section was filled with swiveling heads and raised eyebrows—"What the hell did we just witness?"—as CSKA fans put their chins in their hands and the folks in Green furiously broke into whichever chants they could agree on.
Then, something happened: things stopped happening.  Shots didn't fall, pickers didn't roll, and the rollers didn't finish.  The Sarunas Jasikevicius-to-Aleks Maric combo that blasted the doors open early inched back toward the threshold and then vacated the premises entirely.
By halftime, they'd scored only five more points.  The third largely resembled the first as the Greens put up another 21, but they retreated into single digits once more in the fourth, tallying just nine on their way to the final buzzer.
Against a team with as much defensive depth as CSKA Moscow, you cannot afford to simply send your troops in waves. It takes an aggressively persistent onslaught to knock back on its heels, and a knockout punch to finish the job.  Tonight the reigning champs had neither, and they paid dearly for it.
Kirilenko's Wings Too Wide
CSKA's even-numbered quarters of this game were as physical and relentless a display of defense, facilitated by a thankfully laissez-faire group of referees, as you are ever likely to see.
To open the game, Saras and Aleks Maric looked like they would turn the predictions of CSKA's impenetrability into nonsense, as the pick and roll started humming nicely, but first Krstic and then Kirilenko woke up and took PAO completely out of their rhythm. Only Aleks Maric really had the size and knowhow to unsettle the CSKA frontline, and to see Mike Batiste as a struggling, undersized weak link must have been completely dispiriting for PAO fans, not to mention Obradovic, who kept faith with him until the end.
The final play was pure instinct from Kirilenko, but the rest of the display was intimidating, versatile and almost perfectly executed. In the final quarter it felt like it would take a special kind of play for PAO to score at all. In the end, they came up one special play short.
The Coming of Shved
The year of Shved hit its climax tonight.  He dribbled into the paint without fear and took control of the offense whimsically, but forcefully.  Offensively he was one of the few players Panathinaikos couldn't handle, as he changed the tempo for this CSKA squad and made the Greens' guards defend.
Need numbers to back it up?  CSKA Moscow was +16 in Shved's 19 minutes on the floor, the greatest disparity of anyone on either team.
If he hadn't already, there is no doubt now that Shved has arrived.
Legend In A Heap
Even with Panathinaikos' tidal offense, Zeljko Obradaovic had an opportunity that every coach worth his salt has prepared for.  What's more: he had the perfect player to do it.
Instead of seizing what could have been a crowning achievement in an already regal career, Dimitris Diamantidis passed up a shot at a win, and at spit shining a legacy that few Euroleaguers will ever match.
It should have ended with the crowd rising to its feet simultaneously and only one half finishing the lift-off. Instead, it ended with a legend and a champion scrapping on the floor for a ball that should have been on its way to the rim.