By: Os Davis / @bie_basketball
You want question marks? SLUC Nancy's got your question marks right here. To riff on a cliché, the defending French champion enters the 2011-12 Euroleague season as a scintillating blend of old and new, a contrast in styles. Can they go deep into 'League play, particularly out of a Group A in which they might be competitive? Well, that remains to be seen, but this could be one wild ride indeed.
In the "old" category for Nancy is a nice nucleus from last season's LNB-winning squad, including their tops in rebounds in Akin Akingbala and in assists in John Linehan. Other veterans back aboard for another run with the team are Victor Samnick, Kenneth Grant, Abdel Sylla, and Moussa Badiane.
On the "new" – at least new to this team – side are Nicolas Batum, Pape-Philippe Amagou, Jamal Shuler and Adrien Moerman.
These 10 will certainly provide the base for Nancy's 2011-12 run – at least until the NBA lockout is declared dead and Batum leaves the team – with the other two spots figuring to be a dogfight among homegrown products Vincent Pourchot, Kevin Thalien, Dzenan Kurtic and the excellently-named Kingsley Pinda.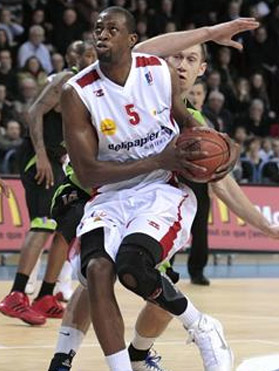 The incorporation between the old guard and the quartet of incomers could well work, at least on paper. Linehan is unquestionably the starting point guard and with four years on his CV with Nancy and head coach Jean-Luc Monschau; Grant provides the backup duty. Again, on paper, great. But the thinness Nancy has at the no. 1 spot means fans' fingers are crossed the injury bug doesn't settle into one of these guys. Yes, Amagou could cover here, but his deadly off-ball presence would be wasted in such a necessity.
Nancy would also appear to have something of a lack in height, leading BiE to believe that 222 cm (7'3-1/2") Pourchot will probably hang around to make the 12-man roster. The off-season has produced a potential kinda sorta "twin towers" scenario for Nancy, with Akingbala (209 cm/6'10") and Badiane (207 cm/6'9"), but observers have got to be already wondering if these rebound machines can body up against the Euroleague's bigger guys (we're thinking Fenerbahce Ulker's Gaspar Vidmar/Kaya Peker/Oguz Savas and Olympiacos' Pero Antic/Lazaros Papadopoulous here, just to name two examples)?
After this it's 21-year-old Sylla, who got limited playing time with Nancy last season; Sylla mostly played center with Nancy's youth squad but may spend time at power forward on this level.
But whoa, the forward spots look good and could prove to be deadly on the wings – of course, "look" and "could" are the key words there, as all the crucial players are new arrivals. Batum figures to have a big season however long he stays on The Continent, but after that the more exterior options from the backcourt include Shuler and Moerman. Shuler has never played Euroleague 'ball before, while Moerman was with Entente Orleanaise in 2009-10 and had something of a disappointing Euroleague season at just under 33% overall shooting.
What does Nancy have going for them? Well, BiE would never call any Euroleague group "easy," but the French side should certainly stay competitive for the no. 4 spot in the regular season with Bizkaia Bilbao Basket and Bennet Cantu, both shockers to even be here. However, the biggest foe of France's EL team could well be "if." Nancy could sneak into the final eight … if Batum sticks around for a while. If Linehan and Grant stay healthy. If this team can find a way to rebound against the big boys. If the outside shooting stays consistent.
If … but that's what sports-side Cinderella stories are made of, n'est-ce pas?
Os Davis is the chief editor/writer of BallinEurope.com, an ESPN TrueHoop Network blog. Currently stationed in Budapest, Hungary (FIBA's 25th best European basketball nation), Os is unabashedly a Los Angeles Lakers fan and would-be poet.