By: Freaknick / @euro_adventures
Instead of trying  to coherently weave my opinions into a paragraphed account of the Euroleague's tenth week, I give you the Tweetables. My thoughts, in 140-character clusters.
- Emir Preldzic and Oguz Savas both had 20+ RKG's in the same game? Good one, Euroleague.net.
- A -5 RKG from Marko Tomas has me thinking we should see other people. It's not me, it's him.
- Zubcic, Bogdanovic, Radosevic could be the equivalent of the 2008 Thunder. In today's Croatia, they're just the next three on the way out.
- Kenan Bajramovic is living, grunting proof that raw power still has a place in the European game.
- Jonas Valanciunas plays 3:25 against the team he dropped 15 and 9 on in week 5? There is no justice for our league's brightest greenhorns.
- Dusko Savanovic's gamewinner was terrific. More impressive is how his hair constantly defies the laws of evaporation.
- Saso Ozbolt has scored in single digits four times. 12 or more? Four times. The other two games: scoreless. Consistency: overrated.
- I love the way Milano and Cholet put up a fight in the face of elimination, losing by 31 and 32 respectively.
- All Oleksiy Pecherov had to do to get the regular season scoring title was sit his ass down. A 7 and a 5 doesn't look good on a 23.
- Kostas Kaimakoglou lives. Yeah..that's all I have to say about that.
- Andrey Vorontsevich with his requisite ultra-tease game to close the season. My, how it enrages me.
- Sergey Bykov averaged 19.5 PPG in 6 Eurocup games with Dynamo Moscow last year. Across town with CSKA: 14 total points in 5 games.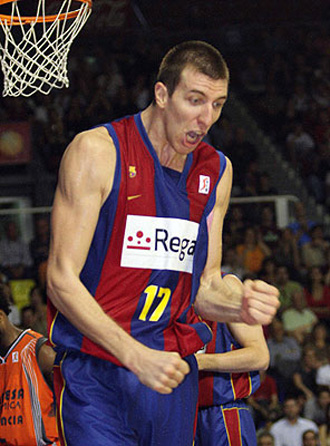 - I think everyone was poised for the comeback of Matjaz Smodis. Except for Matjaz Smodis.
- Watch this. You ready? Here we go: Fran Vazquez is the best center in Europe. Boom.
- Anyone know how to say "Stop ball!" in Italian? Luckily for Ricky Rubio, it seemed nobody on Montepaschi did.
- Who'd have thought Milovan Rakovic would've gotten his season high in boards against the tough Barca bigs? Props.
- Rasho Nesterovic slowly earning his way into my heart with one of my favorite big guy stats: zero 3PTA. Sexy.
- First pick of 2003 NBA Draft: LeBron James. Last pick: Andreas Glyniadakis. Bron would be nothing without his bookend.
- Nihad Djedovic with two consecutive solid games? Say it ain't so, Nihad.
- Nikola Mirotic points before Thursday: 19. Nikola Mirotic points on Thursday: 19. Nikola Mirotic's age: 19. Room for growth there? Yup.
-  D'Or Fischer and Novica Velickovic combined for 21 rebounds for Real Madrid. As a team, Spirou grabbed 22. Fare thee well, Belgian friends.
-Would McIntyre's return derail Saul Blanco's success? Season low in minutes, points, rebounds, assists, steals, and index rating. Well…
- Best thing about Bamberg's elimination: no more pulling my hair out when Kyle Hines spends more than a few minutes on Brose's bench.
- Welcome to the party, Pape Sow. Stanko Barac and the bruises on his torso have been waiting for your arrival.
- Caja Laboral making a sincere effort to develop their young talent, Dejan Musli, awarding him 59 seconds of playing time, shattering his previous high of 58.
- OK, I admit. That Dejan Musli "tweet" was more than 140 characters. What can I say? I'm rebelling against technology.
- We don't care about Khimki waving bye-bye, but can we just keep Keith Langford around?
- Grigas swapped out 3 of the 5 I asked for in his starting line-up. The two who didn't—Kalnietis and Pocius—led Zalgiris in scoring.
- And I know Kalnietis' 1.8 APG aren't what you look for in a starting point guard, but Collins only dishes 1.9 so…yeah.
- As far as midseason acquisition debuts go, Milan Macvan's was a doozy: 8 points and a couple boards. I like Milan. Like a cool Glen Davis.