by Nick Gibson / @euro_adventures
Read full article on SLAMOnline.

With three weeks to go before the first round of eliminations, only four teams (denoted by an *) have clinched a spot in the Top 16 and just one team — Cibona — is mathematically eliminated from advancement. Speaking of Croatia's most historic club…
Weekly Whippersnapper
Leon Radosevic, PF, Cibona Zagreb | 6-10 | 210 pounds
With Cibona at 0-7, I had already started to bid a slow farewell to Leon Radosevic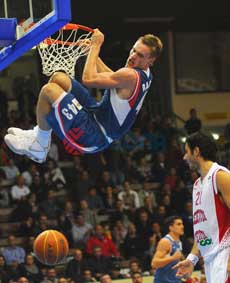 and his breakout Euroleague campaign. Sure the team had been awful, but Cibona's young, underpaid core of guys was growing like a stubborn weed. And even though Leon and his teammate Bojan Bogdanovic have combined for only 41 years on planet earth, they have amazed all season long, turning into the EL's most potent tandem with 32 points per game between them.
But thanks to a dysfunctional Cibona front office and a dried up Croatian economy, I might need to speed up my goodbye. The club is 16 million Euros in debt and the management has been tight-lipped about the club's future. The players have not been quite as discreet; Croatian prospect Mario Delas quit the team a couple weeks ago citing past-due payments and former USC Trojan Marcus Johnson quit shortly thereafter for the same reasons. The team is refusing to practice in the run-up to their Wednesday match-up with Montepaschi Siena and now Radosevic and fellow youngster Tomisalv Zubcic have threatened to walk as well.
And if there's one guy who has earned what few paychecks he's received this season, it's this 6-10 Croat. After piecing together a spotty 16-game EL campaign last year (3.8 points, 3 rebounds), he's putting up 13 points and 6 rebounds in 32 minutes this season for Croatia's proudest franchise. My favorite stat of them all has to be his sole three-point attempt through seven games; he remembers that a power forward's out there to score inside and rebound first and foremost, even though "stretching the defense" sounds very advanced. He runs the floor like someone four inches shorter and avoids the awkward finishes we're used to from large 20-year-olds. He probably can't do a 360 windmill against the grain, so he might not end up in anyone's first round mocks, but he has the size, the hands and the succinct sort of game to carve out a bench role in the NBA if he so desired. Ultimately, his best bet might be to stay in the home land and make a fine living, though it's becoming increasingly evident that Leon's future isn't with the club that raised him.
We usually preview the week's proceedings in alphabetical order, but I felt like mixing it up and giving Group D the leadoff spot. Overall record: 36-24.
Group D
CSKA Moscow (1-6) vs. Valencia (3-4)
Last year, CSKA struggled early and I wondered whether their aging roster had crested the hill and started downward. Of course, they rebounded to a record eighth straight Final Four appearance and came into this season as the favorite to challenge Barcelona's repeat bid. Their prize pick-up of the offseason — legendary coach Dusko Vujosevic — resigned after a 1-5 start and his replacement Dmitriy Shakulin has lost the two since taking over. What's even sadder is that I have picked CSKA Moscow to win every single week in my SLAMonline preview, convinced their restitution was inevitable. Why break the pattern now? Because… Continue Reading.