The fallout from Barcelona's defeat in the ACB finals to Real Madrid has been significant and far-reaching. No ACB championship, on top failure to reach the Euroleague Final Four for the second time in a row. This campaign's bum note was a drawn-out, discordant coda rather than a brief calamity. This time, for the club's top brass, the potential benefits of continuity had ceased to outweigh the downside of uncertainty.
Prior to the series, observers in Spain rued the predictability of it all. Barcelona versus Madrid. Again. Ultimately it seems that the likelihood of Barca's season playing out in pretty much the same way this time next year was not something the club could contemplate, so something had to change.
Speaking this week, club president Josep Maria Bartomeu bemoaned how the basketball section has fallen behind. If my Spanish is correct, he said "we are one of the best clubs in the world in football, and handball. But in basketball, no." Then, "it is difficult to put in as many resources as clubs from other countries" with a straight face - as supporters of every other club in Spain but one spat out their drinks.
It seems like a recognition, if taken at face value, that if Barça really can't compete with the Russian and Turkish new money, that they will need to develop their own stars of the future? Or, rather that the club is not going to continue to pour millions of euros more into the basketball project that it generates in revenue, if not to win trophies? I suspect probably the latter.
Regime change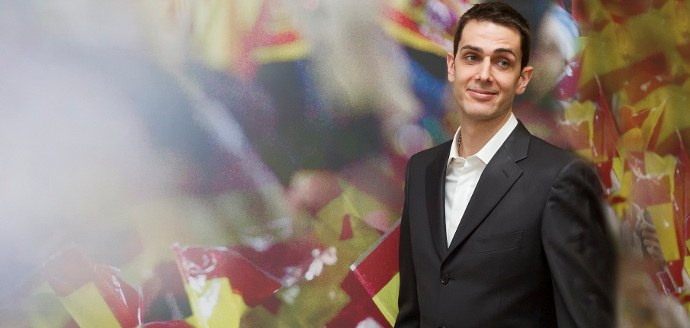 Rodrigo De La Fuente has been installed as General Manager, after only eight months in his first ever front office role. He only retired as a player in 2013, and was a Barcelona legend on the court, donning the blue and red from 1998 to 2007. The lithe, powerful wing blazed a trail to the NCAA at Washington State in the 1990s, became Barça captain, and won the Triple Crown of ACB, Copa del Rey and Euroleague in 2003. He's a household name - despite being, whisper it, from Madrid - and his appointment will give fans a boost that one of the family is taking over.
It's also worth pointing out that he may only have been in the front office since October, but he's been a consistent presence at events like the D-League Showcase and Eurocamp, and will be at NBA Summer League this year. If that sounds basic, it's not something his predecessor ever did. These occasions aren't just about watching players - in fact its arguable that they're not really about that at all - they're a crucial networking and knowledge-sharing opportunity. It's more than symbolic that this is part of the new approach in Barcelona.
With all of that said, Creus has left a tough gig for his successor, and Pascual's. Locked into a series of long-term deals, it is probably going to take more than a year to dispel the stagnation. Bartomeu announced a return to youth development and bringing through home-grown stars - something that began last year when youth scouting heavyweight Pere Capdevila joined alongside De La Fuente, in order to reopen the pipeline of talent heading to Catalunya.
The last frontline rotation player to be developed in-house was Victor Sada and the only remaining one is Juan Carlos Navarro, who came through the system a full twenty years ago.
Bartomeu: "Hay que seguir apostando por el baloncesto de formación. Es un error nuestro no haber subido a ningún canterano al 1r equipo"

— Mario Gómez (@gomezmario7) June 30, 2016
Rough translation: "We must continue to bet on a basketball of development. It is our mistake to have not a single 'canterano' (club academy product) in the first team." 
Barcelona has been a fixture at the Euroleague under-18 invitation tournament in its different incarnations, but look at their recent squads and only Mario Hezonja had any kind of impact, however fleeting, on the first team. Lude Hakansson, Marcus Eriksson and Marc Garcia have all merely dipped their toe in ACB play, mostly on loan to other teams. The only prospects to get a look in under Pascual - Ricky Rubio, Xavi Rabaseda, Marko Todorovic, Hezonja, Alex Abrines, Aleksandar Vezenkov - were all developed elsewhere.
The cupboard is stocked with talent, most notably Latvian lottery-pick talent Rodions Kurucs and promising Spanish wing Eric Vila - both Capdevila acquisitions, although Vila is going to play college ball at Texas A&M - and they won the 2016 Adidas Next Generation Tournament at the Final Four in Berlin as well as the Spanish U18 championship. They have also added Luka Samanic, one of the highest rated 2000-born prospects who starred at the Eurocamp Futures Game.
They have the resources to comb the Balkans and beyond for the top players, but one of the big problems facing a team trying to develop youngsters as well as compete at the elite level every season is that Europe's most precocious prospects are jumping from mid-level teams (see: Mega Leks is more of an NBA minor league team than any in the D-League), jumping right over the Barcelona-level without stopping. Vila has an offer from Texas A&M but it's currently unclear whether he'll take it.  (Note: see above, Vila took the offer)
So if the priority will now shift to bringing through talent, maybe it makes a certain amount of sense to bring in a coach who is adept at working with and improving young players. As our friend Austin Green has been lobbying for weeks, Bilbao coach Sito Alonso is young, bright, energetic and has a great track record over the past few years of shaping raw building blocks into something special.  Fotis Katsikaris helped Bilbao punch above their weight in the recent past and has brought along young talent in Murcia.
Bringing in their own former coach and the doyenne of youth development in his autumn years, Aito Garcia Reneses, to help De La Fuente, as has been rumoured, would be a masterstroke. In fact sign me the hell up for whatever brand of rapid-fire spread pick and roll action an Aito-assembled team coached by Alonso could bring to the party. The Satoransky / Willy Hernangomez / Porzingis Sevilla playoff team was only two years ago.
Fizzled out
Whilst the Pascual era fizzled out slowly, over the past two, arguably three seasons, there was no firm foundation for a rebuild. In perpetual win-now mode, but unable to convince the absolute best talent to join up, whilst their own superstar atrophied, they fell between two stools. The political pressure to keep up with Madrid, to bring back the biggest silverware, ultimately led to short-term thinking and a lack of strategic direction.
Bartomeu may talk about refocussing on youth development, but how long can Barça's basketball section wait before it re-joins the kind of lofty company it's football - and even handball - cousins currently enjoy?
The weakness that ultimately did for Pascual, which should be rectified, was that he could no longer build his team on its defense. The Catalan is maniacally committed to teaching defensive positioning and technique, and demands his players to learn complex schemes – not just to, say, hedge, or switch but to execute either depending on the shot clock or between middle and side actions. He was always able to put average defenders in a position to succeed, but there were just too many minuses at that end to work with. Navarro, Oleson, Arroyo, Doellman, Samuels… you can't build an elite defensive structure with these pieces.
There also never seemed to be a reliable system on offense, where Pascual also has a playbook the size of a phone directory. Make no mistake, the Catalan coach is a basketball genius in the true sense of the word, but little by little his aversion to playing new signings - perhaps they struggled with the playbook? - grew tiresome. Marcelinho Huertas kicked his heels on the bench in crunch time during his first season, and Ribas got the same treatment in his.
Of the current roster, only Carlos Arroyo, Joey Dorsey and Justin Doellman are free agents. Arroyo will be allowed to walk, with no hard feelings. Dorsey was a mid-season replacement and would crowd the centre position even further, while duplicating much of the role of Shane Lawal.
Lawal and Samardo Samuels both have one year left on their two-year deals. It's hard to say Samuels has been 'disappointing' when he's played at or around most people's rational expectations - there have been times when his physicality has been useful, and there's no way anyone can criticise how hard he works, but his defensive reactions and rotations aren't quite up to speed. Nobody likes having to break a promise but if they could find a taker for Samuels and make up any difference in salary it could be best for everyone.
The club tipped their hand on Doellman with the Kosovar passport farce, ready to offer a contract extension that didn't take up one of the two 'EXT' roster spots for non-European/Cotonou players.
By some estimation, that mishap might have done them a favour. Doellman was perhaps emblematic of the entire problem with the late-Pascual era: Looks fantastic when everything else is going well; lost when it isn't. Game one of the ACB finals and game two of the Euroleague playoffs against Lokomotiv Kuban were two of the most efficient, stylish offensive displays by any team in Europe this season, but you could never bet on them being replicated that on a regular basis. Faced with true pressure, they retreated into their shell.
ATHLETICISM
So, what to do next? If I was sat in De La Fuente's chair I would erect a banner to cover the whole of one wall with ATHLETICISM in capital letters. Barca needs to get faster, quicker and jump higher. Elite shot creation and a combination of speed and physicality upfront are essential. So you might say that's true for any team, but there has been a particular dearth of both at Palau Blaugrana. Think back to the Euroleague champion 2010 team: Rubio, a healthy and prime Navarro, Pete Mickael, young Fran Vazquez, Terrence Morris, Boniface N'Dong… slowly but surely they have morphed into an unthreatening, slowed down shadow of that squad.
Tomas Satoransky is signed til 2020 but with an NBA out every summer. Crucially this summer the Washington Wizards, who drafted him in the second round in 2011, have enough cap space to absorb the rest of his $1.5 million buyout above the $650,000 'excluded amount' the team can contribute outside of the cap, and it doesn't look like they need to worry about bringing Kevin Durant home. We won't know anything for sure until July 10 when NBA free agent deals can be signed, but there have been reports that the Czech might follow Mario Hezonja across the Atlantic. Whether he would make the leap to be a third point guard is debatable, so what the Wiz can offer in terms of minutes might be the tipping point.
If he leaves, the buyout cash heading to Catalunya can go towards a replacement. The issue is… who?
The market is bare at the very top level in Europe for lead guards. The stars of the last two seasons are Nando De Colo and Malcolm Delaney. The former re-upped with CSKA and the latter has made it abundantly clear that he wants an NBA gig. What do Tyrese Rice, Alexey Shved, Bogdan Bogdanovic, Bobby Dixon, Milos Teodosic, Brad Wanamaker and Keith Langford have in common? They all play (or will play) for Turkish or Russian teams, and none are available this summer. This is what Bartomeu appears to be talking about when he complains about resources.
On the wing, there are no vacancies. Alex Abrines is signed through 2019, and if I was in the GM's chair I'd be praying like hell that Oklahoma City want to bring him over this summer, although reports Stateside say this is unlikely. Abrines would be a lot more useful as a simple spot up shooter in OKC than being asked to create with ball in hand for Barca. Contrast him with the way that Jaycee Carroll has refined and developed his game to attack closeouts and score on the move from mid-range over the past few years. Abrines is another one who slots into a well-oiled offense but lacks the ingenuity to create in the midst of chaos. The same could be said of Stratos Perperoglou. He's fine for what he is, but isn't going to stamp his mark on a series.
So given that De La Fuente is green in the job, the options for elite-level replacements are sparse, and the club president has just announced a change in tack to re-prioritise youth development, it looks like Barcelona might be about to embark on a re-building process. The new Euroleague system offers the security of being able to take an NBA-style step back (lucky them…). But the politics of coming second (or lower) are such that it would be very surprising if this was anything more than a brief retreat, unless the money tap really has been tightened for real.
Rob Scott - @robscott33