By Rob Scott / @robscott33
The third round of the Top 16 is over, and while Partizan Belgrade pulled off the biggest win, it was the Spanish duopoly of Real Madrid and Barcelona who made the biggest noise, at least looking forward to Milano in May. Los Blancos put up 111 points in 40 minutes against a dangerous Bayern Munich team on Wednesday, while Barça used more stifling defense to overcome champions Olympiacos on the road, 81-72 the night after.
Offense on top in Madrid
What was most striking about Madrid's razing of Bayern was that the Germans didn't even play badly. Pesić's squad has the confidence and shotmaking ability to put any team under pressure, and went into the halftime break trailing only 48-47. Sergio Llull picked up three quick fouls in the first quarter, and it took an earlier-than-scheduled Sergio Rodriguez appearance to snap the offense out of a sluggish start.
So if Bayern came out for the second half with high hopes, they were soon over. 41 points in ten minutes is an ungodly offensive explosion, and it wasn't even the result of poor defense, at least not the egregious mistakes defending ball-screens that Munich were making in the Regular Season. Bourousis dominated John Bryant in the paint and on the glass, but mostly Llull, Mirotic and Rudy hit difficult shots, but crucially, mostly shots that came within the flow of the offense, save for a few moments of improvisational genius from Fernandez.
It was curious that Pesić went away from aggressive hedging on ball screens from the first half, that had at least kept Madrid at bay. Maybe there was no instruction from the sideline and staying back is just the easier option, an instinctive fallback. Either way, Bayern doesn't have the defensive drilling to do it quite well enough. To use just one example, the first play of the third quarter: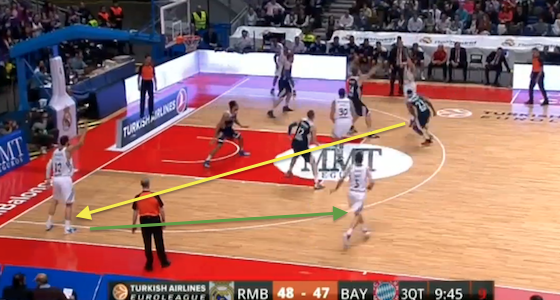 In the image above, Llull has gone over Bourousis' pick and is about to fire the ball to an open Mirotic in the corner (shown as the yellow arrow) who will then fire it to Rudy (green arrow) who will drain the three. Benzing has helped over on the roll man, Bourousis, and will eventually make it nearly back out to Rudy, a metre or so behind the three point line, but hesitates on fully closing out. Rudy drained the three anyway.
This is a fatal mistake against Madrid. The only way to stop them putting up points in a hurry is to aggressively close out, hedge hard and rotate behind, mix up the coverage perhaps, but above all, don't rely on making them hit softly contested shots. They can, and do, make threes with hands in their face. It will be brutally mentally challenging to do for 40 minutes, and you also have to hope that Rudy freestyles his team into trouble. In addition, a team has to hit them hard in transition and make it's own threes. Bayern did that part at times, and hit 14-of-28 from behind the arc. They lost by 24. Sometimes there is just no antidote.
Sada Smothers Spanoulis
The night after, in Piraeus, it was Barcelona's defense that grabbed attention. The most noteworthy player here was Victor Sada. His role has been questioned by some after Barça's run of near misses in Euroleague and the ACB (a run of 'failure' that most clubs would kill for). The team has struggled to create shots over the past two seasons as Juan Carlos Navarro has tailed off from the unstoppable force he was throughout the '10s. The ability of opposing teams to ignore Sada in their defensive schemes left many, including us, to debate whether he offers more than he takes away. Up against the reigning MVP Vassilis Spanoulis, he showed exactly why Pascual trusts and values him so much.
Sada's ability to fight over picks set for Spanoulis threw Olympiacos' whole offense off. Down 23-18 going into the second quarter, Barça were still uneasy in offense before halftime, with Navarro missing tough shots and Huertas on the bench. It was their defense, led by Sada but backed up by frantic but controlled defensive rotation, the Reds got bogged down.
Whenever Sada was on the floor, Spanoulis had to use all of his evasive probing just to get a few centimetres of space from his yellow-and-red-striped shadow. Barcelona only won the second period 14-11, but that set up the rest of the game. Sada and Tomic continually 'downed' Spanoulis pick and rolls, and when the ball was reversed to the weak side, everyone rotated over in time. Sada himself was tireless in his closeouts from the paint to the arc.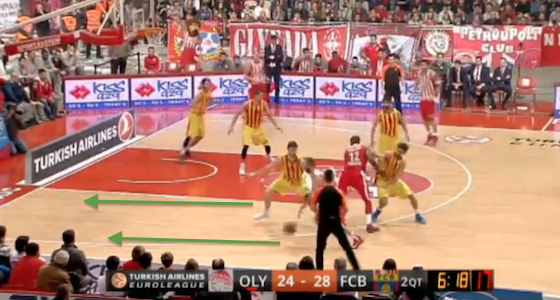 Tomic is able to show Spanoulis away from the middle and towards the baseline. Sada is quick enough to recover and trap Spanoulis in the corner, and he reverses it over to Printezis on the opposite wing, who ended up kicking it to Lojeski for a drive to the rim: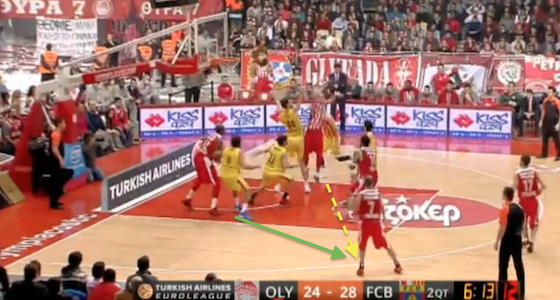 Intercepting him in the paint were three Barcelona defenders, but even though Lojeski kicks it out to an open Spanoulis (shown by the yellow arrow), Sada instantly closes out (green arrow), and even though he doesn't make it all the way there, just the fact he was on his way puts Spanoulis off and the shot rimmed out.
This happened throughout the game, constantly forcing Spanoulis away from the middle, taking away not only those darting rives to the rim but also the drive-and-kick game that the Reds have mastered in their back-to-back championships. In the fourth quarter, Spanoulis could barely even use screens, so closely stuck to him was Sada. It was a masterclass in physical perimeter defense.
When Navarro finally freed himself in the third and went on a personal 14 point scoring run, that was all Barcelona needed to control and eventually win the game. The combination of smothering defense and an invigorated JCN is not good news for anyone else.
What next?
Barça's offensive issues aren't solved, certainly not when you compare the ceiling of their point-scoring compared with Madrid's, and Navarro's relatively permanent residence in the third-age of his career. In both their meetings this season, Madrid's offense won out, but Barcelona are waking up, and that ability to shut down penetration from the outside is ominous, as it was last week in their victory at Fenerbahçe.
Can Madrid still score in such spurts when a team like Barcelona disrupt their ball movement? Forced into difficult decision-making can they still maintain the ability to drop 10-15 points in two or three minutes? It certainly seems possible, but it's worth finding out. Also worth noting is that the 41-point quarter came with Dontaye Draper, not Sergio Rodriguez at the point. Defensive role-player indeed?
It's likely that another clásico will take place in La Copa del Rey next month, and after this week in Euroleague, that prospect is getting a lot more interesting.