By Rob Scott / @robscott33
After weeks of waiting, previewing, debating and prognosticating, week one of the Euroleague season finally arrived. With all of that pent up theorising, it's no surprise that a torrent of instant reaction swept over… well, let's be honest, Twitter. A good overreaction is a lot of fun, but there's no reason to break out the jump to conclusions mat just yet. Here are a couple of reactions to under-baked insta-takes that might not stand up to scrutiny. Not yet, anyway.
Barcelona in Big Trouble?
One thing that has held true over the entire Euroleague era is that certain teams are always in and around the Final Four. You won't go far wrong with picking a selection of CSKA Moscow, Olympiacos, Panathinaikos (not lately), Maccabi Tel Aviv, Real Madrid (more lately) and Barcelona to make the Final Four. So if you're making picks and you go through your projected Regular Season and Top 16 standings and it spits out a Barcelona vs Khimki playoff series, you could be forgiven for taking the Blaugrana over a neophyte team like Moscow (Region).
So now I've given my selfish reasoning for not wanting to jump off the Barca-wagon, here are some for staying calm and realising a team can't lose its Final Four chance in Week One. Firstly, Pinar Karsiyaka is a hell of a team to play in their building. They're also the freaking Turkish champions, so even if the two teams' histories are incomparable, the reality is that losing in Karsiyaka is no disgrace. Even though KSK had to lose some of its core, when Joe Ragland pulled up for the three that made it 51-38 late in the third period, not many people in the arena were pining for Bobby Dixon. To say Barcelona 'let this get out of hand' isn't detracting from their opponents.
That said, Barça's mistakes were part mental, part structural. Everything fell apart in the third quarter in which they were outscored 25-11. Turnovers at key moments pushed a manageable deficit into an… unmanageable one, as even a fourth period comeback was too late. So maybe Justin Doellman shouldn't be running a break, maybe boxing out is a good idea and… you get the picture. Baseline help rotations were late or absent and Ante Tomic had one of those rare but not unheard of weird headspace games where he let frustration on the offensive end get the better of his defensive concentration.
At the other end, they shot 6-of-29 from three-point range. Another issue that isn't new, but also isn't unfixable. Pau Ribas shot 47% from behind the arc in ACB play, 42% in Eurocup last year with Valencia. Tomas Satoransky's figures were 45.6% ACB and 39.1% Euroleague. Brad Oleson, curiously put up 39.4% in both competitions, nothing if not consistent. The shooters are there, and it's not like they went bad overnight. Even if Justin Carter put up a case for Defensive Player of the Week with his closeouts, Barça did create good looks - it was the old cliche of just not knocking them down.
There were other occasional promising aspects to the defense, if you were really looking for them (see first paragraph). Shane Lawal is a genuine rim protector, or if you prefer to shun dry modern-day hoops jargon, he will make other large humans shit themselves at the prospect of straying into the same neighbourhood as the rim.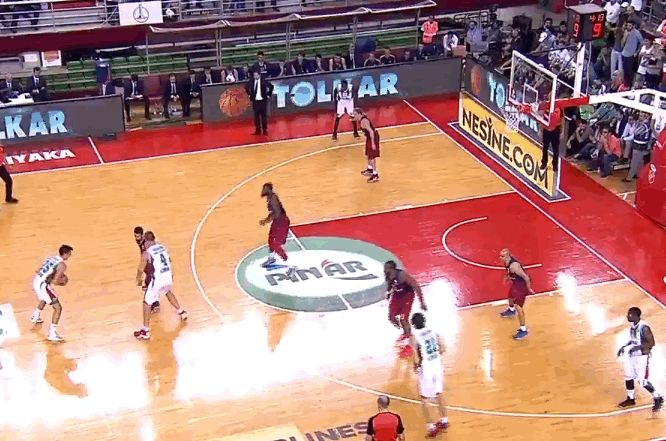 In the play shown above, Karsiyaka sets up with shooters in both corners and at the strong side FT line extended. It's a textbook pick and roll set. Lawal deters Sipahi, the ball handler, then retreats back to stuff Colton Iverson (who was otherwise dominant) at the rim. That ability to patrol the paint is a rare talent and it's why the Blaugrana gave him a big deal in the summer.
Lawal did more good work under his own rim but more often than not it was wasted as teammates fumbled loose balls or lost their man (looking at you, Samardo). But to have a guy they can throw in there and lock things down might just give Xavi Pascual the chassis on which to carry a workable defense. Lawal stepped up to the level of the screen like on other plays but KSK moved the ball quickly and beat the rotation.
Maybe a more conservative scheme with Lawal hanging back would minimise the need for Samuels, Doellman and Vezenkov to move their feet? As rodhig said in our Euroleague Preview, this wouldn't be the first time that Pascual has taken some minus defenders, kneaded them together and baked a superlative defense.
It's clear that the performance in Izmir wasn't an advert for a F4 contender. But their 80-62 victory over Unicaja in the Supercopa Final less than two weeks earlier pretty much was. They're still integrating a lot of new signings to go with some existing pieces that are capable of a lot more. Tomas Satoransky is going to be awesome. Stratos Perperoglou doesn't play for losing teams. Brad Oleson has steady hands. These might seem like truisms but Barcelona wasn't far from the Final Four last year and one loss doesn't push them any further away  than they were a month ago. Xavi Pascual might seem exasperated but give him more than 40 minutes of Euroleague gametime to get this right.
Same Old France?
The last French team to make the Top 16 was Pau Orthez in 2007. Since then ASVEL, Le Mans, Roanne, Orleans, Nancy, Cholet, Elan Chalon, Nanterre, Strasbourg and Limoges have all bowed out in the Regular Season with a combined record of 34-94 (.265 winning percentage). In the 10-game Regular Season era only Cholet in 2011 got to 4 wins, and not even #JBAM could propel Elan Chalon to better it.
This year, Strasbourg's opening night 81-59 defeat to Crvena Zvezda didn't offer any new evidence that things might have changed. A glance at the final scores and Limoges' 89-77 reverse at home to Efes might have made people write off the French challenge again. But even in defeat the reigning Pro A champion showed signs that they can reclaim some national pride.
Last season Limoges arrived back in Euroleague with cool retro jerseys and a ton of potential after grabbing the French title and a formerly promising young point guard by the name of Leo Westermann. Two wins and eight defeats later and neither club nor its fêted playmaker left with an enhanced reputation. They knuckled down and won the French title again, and this time things look a little different.
First though, just look at this, and I mean just dive into the pureness of the aesthetic.
The richness of the dark wood and the painted area in artificial green evokes every player's origin in a sweaty high school or club gym. The block colours of the yellow and blue uniforms standing for bold, unified teams, comfortable and proud in their traditions. The yellow in the stands giving off a warm, fuzzy background feel. Limoges homecourt setup is a nod to basketball history through the lens of Color Field Art. I can't get enough of it.
Turning back to the actual game, and Thomas Heurtel racked up 15 credited assists, although with stat-keeping like that even Barnett Newman might have recorded a couple.  Efes made me feel a little better about one of my other F4 picks, but equally as impressive as their shooting and creativity was Limoges' dogged determination.
Randy Culpepper isn't a pure playmaker and he shot 2-for-6 inside the arc, but he made it his business to get up in people's faces, and grabbed five steals in 20 minutes. It seems odd to pick out a perimeter defender when the other team's point guard nearly set a Euroleague assist record, but Heurtel's angles and timing were so impeccable that you could rarely blame late or lazy rotations for the buckets he created. In fact, Limoges' backline was largely on point, it's just that feeding guys like Bryant Dunston and Alex Tyus on the move in the paint with such accuracy is pretty damn hard to stop. Against lesser offensive teams, Limoges should do a pretty good job in making it tough to score.
Heiko Schaffartzik was a late addition, as he found himself out of a job in Germany, and the coin he must flip before every game came down on the good side. Good Heiko can make the right choice as he reads the defense coming off a screen and he drained four of his five threes on the way to 20 points. Bad Heiko can shoot his team out of the game but if he can just harness that Week One performance he'll make himself really useful.
So Limoges may not make it through this tough group, but it looks like they have the ingredients to put up a credible fight and entertain along the way. They remind me of Nanterre in 2014 in that regard - they may not have enough to get the Ws to progress, but they'll be worth watching every week nonetheless.
At least, that's what it looks like after the first game. But let's not overreact, shall we?