By: Nick Gibson, Sam Meyerkopf and Rob Scott
Another defensive masterclass from FC Barcelona as they crushed Caja Laboral's spirit with an 18-5 final quarter to win 66-57. Erazem Lorbek dropped 26 points including four three-pointers, but it was suffocating defense that won the game for the hosts. Maciej Lampe started for Baskonia and made an instant impact with 8 points in 7 minutes in the first quarter but sat down with two fouls and didn't return until late in the third period.
While it was a straightforward decision to sit him down for a while, his four-minute second half cameo was mystifying. Although Boniface N'Dong muscled him deep into the paint, it wasn't like either of the Bjelicas was doing any better, and Lampe's soft touch around the rim and range out to 18 feet was a potent offensive weapon on a Caja Laboral team that couldn't score when it mattered. Caja Laboral led by four going into the final period but once Lampe sat down, far too much pressure was put on Mirza Teletovic to carry the offense, with guys like Milko Bjelica and Pau Ribas just not up to the task of taking it to the Barcelona defense.
Lorbek stroked threes off the pick and pop and showed off the great interior passing and efficiency around the post that will send the San Antonio Spurs scouts home drooling. N'Dong absolutely crushed a Nemanja Bjelica dunk attempt but it was the help and recovery defense that emasculated Caja Laboral.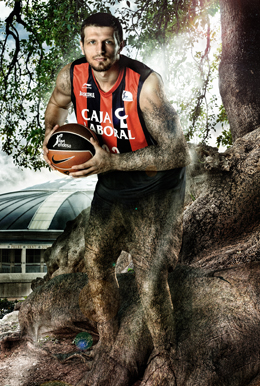 Pete Mickeal may not be the offensive force he once was, but it's easy to forget he missed most of last year. The defensive disparity between him and Alan Anderson could be crucial as the season gets to its business end. Able to guard the perimeter and switch onto post players as well, Mickeal ties this defense together and allows Barcelona to take away multiple offensive threats at the same time.
When they play defense like that, all you can do is hope they don't make shots at the other end, but with Lorbek skulking around the paint, that was never likely to happen.
Why Barcelona Won
It was a stretch that any team was going to give Barcelona a hard time at this Copa del Rey, but Caja Laboral was able to give the home squad their best punches for three quarters.  Barcelona and Caja traded baskets and both teams played such tough interior defense, that they started to rely a little too much on the long range shot.  As the fourth quarter started, Caja had a four point lead and a chance to really take control of the game.
Then Barcelona went on one of those runs.
At the start of the fourth quarter Barcelona wouldn't let you get a clean look inside, and when you kicked the ball back out, there was a man or two closing on you instantly.  If a Caja wing was able to get by the first level defender, another Barcelona player stepped in and sealed him off.  Even if you were able to trick them initially, Barcelona's recovery defense was amazing.  They outscored Caja 18-5 in the fourth quarter and relied heavily on Erazem Lorbek jumpers to keep their offense gong.
But it wasn't the scoring side of the ball that won this game for the team from Catalan, it was a team effort to work so hard on defense that by the time the last round of this game started, Caja was too gassed and unorganized to keep up.
Why Caja Laboral Lost
Before the Copa del Rey kicked off, Maciej Lampe had played excactly zero minutes of pro basketball since last year's Eurocup Finals. After playing sparingly in Caja Laboral's opening night win, Dusko Ivanovic gave the versatile Polish big man the start, and he immediately knew what to do with it.
But after Lampe's eight-point flurry in the first in which he went 4/4, Ivanovic brought him to the side, effectively shutting him down for the night.  Lampe would take—and make—only one shot the rest of the way, finishing with 12 points and a rebound in just under 12 minutes.
Whereas Lampe's Dirk Lite showing had me worried about Barcelona's chances, Caja Laboral's flatness once he checked out quickly reversed any fears I once had.  It looked like nobody on Caja Laboral believed they could win.  Stick with the reigning champs, yes; but win?
Maybe Victor Sada's smothering defense on Pablo Prigioni was just too much; maybe Mirza Teletovic needed to finish some shots in the paint; and maybe, just maybe, Lampe needed to get more burn in the final 30 minutes.
But most of all, Caja Laboral didn't win because they thought they could beat Barcelona, whereas Barcelona knew they would beat Caja Laboral.
Star Who Sucked
Here's one you probably didn't see coming. Juan Carlos Navarro: 3 points, 0/9 FGs, 2 rebounds, 2 assists, 2 turnovers, -1 valoracion. Here's another 'zero': How much it mattered.
Sucker Who Starred
Though he muffed an alley-oop, a sucker play if ever there was one, Victor Sada's airtight defense on Pablo Prigioni threw Caja Laboral out of alignment.  The offense never really got going, and for that, Xavi Pascual thanks you Victor Sada.
Prospect Watch
Xavi Rabaseda  |  G  |  Regal Barcelona
Coming off one of the best games of his career, Rabaseda still played cautiously.  While he's a fluid player and fits well in the Barcelona offense, for a role player he's mostly unwilling to get his hands dirty.  It's usually scoring or bust for Rabaseda's contributions, and he didn't have his jumper down tonight, so it was a mostly mediocre effort for the backup guard.
Thomas Heurtel |  PG  |  Caja Laboral
Huertel didn't play much, but he was active when he was in there.  He ran a few nifty pick and rolls that netted him assist and running floater opportunities.  There was a lot of activity to Huertel's game, but tonight it only ended up benefiting Caja Laboral in a limited number of instances in limited minutes.
Barca's Copa Conscious Fans
Hearing Palau Sant Jordi erupt with noise, and not just from the Baskonia fans. Too often, the Barcelona crowd either doesn't show up or keeps quiet. Not tonight.
Dumb Headline Pun(s) We Almost Used
Lorbek Shines More Brightly Than Lampe
Two Rights Don't Make N'Dong: Boniface With Eight & Eight As Barcelona Advances
Barcelona One Step Closer to Being Regal