By: Freaknick/@euro_adventures
The clock struck 12:01 EST and the winds of wheeling and dealing swept the nation, and even if you tried to shield yourself, ESPN gave you no choice but to glue your eyes to the television and act like you cared. "The most important summer in basketball history" they've been calling it. LeBron James, Dwyane Wade, Chris Bosh, Dirk Nowitzki and a slew of others either opted out o saw a contract run out all on its own and now the choice is theirs: to stay or not to stay? And though Ric Bucher and Chris Broussard would have you believe Joe Johnson and all the rest were up all night with Ari Gold using phrases like 'trade exception' and 'hard cap' to find some loophole in the collective bargaining agreement that will make them billionaires, they were probably just sleeping. A meeting here, luncheon there and in seven days they'll be eligible to sign a piece of paper and play for a new—or the same—team.
More than a handful of timezones away, the rules are less stringent and the constraints less—well, constrained—and two of the biggest names on the market this summer are Partizan's Aleks Maric and Montepaschi Siena's Terrell McIntyre. With no continental players union and no overriding omnipotent commissioner around to bicker with each other, things just happen. And when they do, verification is the name of the game. There's no iPhone App to follow the summer's progress, no Larry Coon to break down the math and the lingo, and signings aren't even a result of team need in the first place (Kosta Perovic to Barcelona? I guess they couldn't cut it inside with Morris, N'Dong, Lorbek and Vazquez).
So with this lawless unpredictability in mind, we look now to a traditional power's bid at revitalizing their deteriorating squad. I'm talking about 2009 Euroleague Champions Panathinaikos. Remember that? If you watched the Top 16 this season it might seem like a long time ago, but Panathinaikos isn't far removed from the league's tippy top. Yes they won the Greek League, but if nothing else their EL failures went a long way to expose their weaknesses. At the top of the list: complacency. While Olympiacos went and grabbed Kleiza and Barcelona signed Rubio and Mickael, Panathinaikos got Milenko Tepic and Nick Calathes, whose EL contributions were transparent. So this summer with the threat of Pekovic to the NBA and Spanoulis to Olympiacos, Panathinaikos is putting their names into the ELA Free Agency App.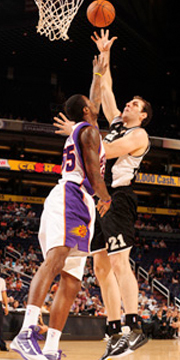 Or will it be Unicaja who signs the 33-year-old point guard of Montepaschi Siena? Here's the report(s), courtesy of the Hoops Market:
Panathinaikos is close to lose two major key players. Nikola Pekovic will play next season in the NBA, while Vassilis Spanoulis is closer to accept an offer from Olympiakos. The Greek powerhouse is working now to land the two main targets to replace them: Aleks Maric and Terrell McIntyre. The 26-year-old Australian-Serbian center is not in the trading block, according to his current club, Partizan, but Panathinaikos is willing to make a huge offer to the Serbian team. On the other hand, Montepaschi Siena considers that the 33-year-old American guard is still a member of the Italian team, despite the reports about a possible signing by Unicaja.
Or the far more fun-to-read Google translation of the original report from PrasineaNea.gr:
The "Zots" and managers of green CDE have raised the design team for next season. Like the place for Marić Pekovits if the left Montenegro. It remains open the way for McIntyre with the blessings of Siena.
Now tell me that wasn't more entertaining. We'll monitor this guy though, as the same site says McIntyre is much closer to playing in Spain than Greece, and he won't have to buy new shoes either. That Montepaschi green should go fine with that Unicaja shade of verde.
And as for All-Euroleaguer Aleks Maric, he would have to pass up a chance to improve upon Partizan's Final Four appearance with what could be a similar group of guys, albeit without head coach Dusko Vujosevic who moved up north to coach CSKA Moscow. But Maric and Vesely down low for a second straight year? Scary. Stay strong Belgrade and keep him around.