By Rob Scott / @robscott33
The first play of the game at OAKA on Thursday night was historic. Dimitris Diamantidis became the first player to record 1,000 assists in Euroleague history. He would surely get to 2,000 in pretty quick time if he had the good fortune to play against such an inviting defense every week. PAO won 91-73 in a game that was over at halftime.
The Greens also hit 18-of-26 from three-point range, which equals their own record for made threes in a Euroleague game. It must be said that some were well contested, and on another day would not have been high percentage looks. To simply blame poor defense is off the mark - it was a phenomenal shooting performance, from AJ Slaughter who connected on 7-of-10 and Antonis Fotsis and his 4-of-4 amongst others. But by using simple pindowns with perfectly executed shooting, the offense Dusko Ivanovic has installed is a joy to watch.
But it wasn't just a long-range bombardment from PAO. The middle of the lane was just as open for business as the perimeter, and that was in equal parts a result of terrible defensive communication and execution by Obradovic's Fenerbahçe, as well as almost flawless spacing from Ivanovic's newly assembled team.
The first clip shows a simple side pick and roll with Batista as the screener. Bogdan Bogdanovic is guarding Diamantidis, the ball handler. They switch on the screen, and Oğuz Savaş tries to force Diamantidis away from the rim, but Bogdanovic just floats around the elbow, guarding nobody and doing nothing to disrupt the play. That leaves Goudelock standing under the rim guarding two guys. Even though Diamantidis has to wait a beat to get the pass away, there's nothing a small guard can do to stop Batista finishing there, and Vesely's rotation is slow and ineffective. There was time for the defense to rotate, but they just didn't do it.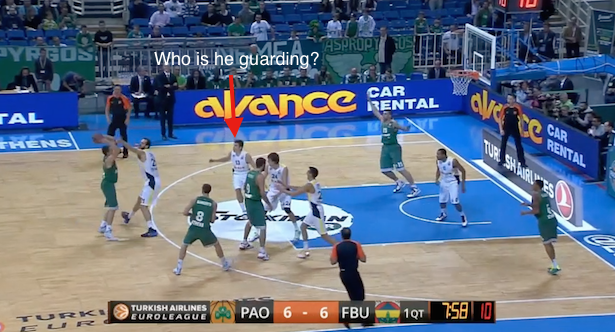 The next three clips in the video show more slow reactions, culminating in James Gist slicing through the defense like a burglar tiptoeing through a sleeping house. Vesely has both feet in the paint when Gist sets off from the three-point line, but somehow still can't challenge his layup. The Czech has the athleticism to provide rim protection, but it won't work unless he can get there in the first place.
This humble website wouldn't dream of saying Zeljko Obradovic doesn't know how to teach defense, and I suspect that the film sessions this week have picked up on dozens of other mistakes and 'learning points' that we haven't even noticed. The coach has nothing to prove, but whoever assembled this expensive roster did it without bringing in a single plus defender. We feel confident enough in saying that is going to be a problem.
On the other hand, let's not forget that Panathinaikos' offense ran like a dream. The ball moved from side to side, tons of off-ball screening and motion, and the shooting was near perfect. Batista, reunited with his coach from Baskonia, looks like a different man. Literally, in the sense that he has shed some kilos, and also that he is back to being a back-to-the-basket and pick and roll threat. Let's not forget which coach turned Batista and Stanko Barac into a dynamic centre duo. Ivanovic knows how to run a silky smooth offense, and after the Pedoulakis-era, let's celebrate that. As alien as it is to see Zoc prowling yet impotent on the sideline like a bear trying to get some sleep, it's just as satisfying to see the return of the fiery Montenegrin dragon to Euroleague nights.
Unicaja on the Rise
Another team in green off to a great start is Unicaja Malaga. The Andalusians sit at 3-0, equal top of Group B with CSKA Moscow. They beat ALBA Berlin at home in Week Two on a Kostas Vasileiadis buzzer beating three. Their deep game that night was impressive, shooting 11-for-23 from behind the arc. Guys like Jason Granger, VasKos, Jon Steffansson, Ryan Toolson and Will Thomas, their new stretch(y)' four, can punish anyone who leaves them a sliver of space to shoot. The debate is whether Joan Plaza's team can create those opportunities against the next level of competition. They outlasted CSP Limoges this week, holding off a late recovery by the French champions to win 75-69.
By and large they didn't really run plays against ALBA to get shooters open, they just pulled the trigger when a defender sagged down or otherwise gave them space. We're not talking Marcus Williams-level jacking here, the feast-or-famine approach of a couple years ago, but it will be interesting to see how they perform from downtown as the season goes on. They shot a more pedestrian 5-of-20 from downtown in the win over Limoges.  The bright point is that only with excellent spacing can you create the space to shoot, and that is something that will never be lacking in a Plaza team.
Last year in big games, like the Copa del Rey loss to CAI Zaragoza, they had too many non-threats on offense on the floor at once. Now, they are 5-0 in the ACB as well as the hot start in Euroleague. Granger looks more settled, Thomas and Caleb Green can stretch the floor upfront so they at least have more outlets, particularly if Vladimir Golubovic keeps finishing those simple high pick and rolls.
But despite all that good stuff, this team still has a lot of guys who only fire intermittently. Mindaugas Kuzminskas, Vasileiadis, Granger… they can all look elite in patches. Vasileiadis came out hot with five points in the first few minutes last week but then didn't score again. These guys just need to put it together more often, for longer.
Granger is one of the most underrated passers in the Euroleague. He can thread passes through the lane that would be picked off easily if they weren't perfectly timed. If those shooters can stay hot in enough games to give him the space to pick out Vazquez and Golubovic in the lane, the Malaga offense will be just fine.
Plaza's team also has something every team needs from its defense - Rim Protection by Fran Vazquez. Not a horrifyingly-titled fragrance out in time for Christmas, but a vital element in winning basketball games. It's long enough since he was an NBA lottery pick for most of the attention on Vazquez to have dissipated, which is a shame, since he's much more useful in Malaga than he ever was as an enigmatic reserve in Barcelona. He's averaging 12 points per game thus far and if he only has three total blocks, that doesn't account for the shots he discourages and alters at the rim.
Unicaja goes to CSKA Moscow this week. Win that, and people may really start believing.