By Nick Flynt / @JailedFlynt
We didn't have to wait long for the first overtime of the Top 16: CSKA by the unadjusted numbers came into the Top 16 a huge favorite (I'd love to see some opponent adjusted ratings, so point me in the direction of these if you've got 'em), while Fenerbahçe came into this game in Ulker Sports Arena a high-powered offensive team (with a defense that undoubtedly…is out there on the floor). And (despite my best efforts to erroneously list him with Anadolu Efes) they were breaking-in Nikos Zisis, who had been playing a sort of modified offense-initiating wing with UNICS before now, which fits nicely on a team where he's playing with Goudelock who of course loves to have the ball in his hands.
But first things first: what was happening here?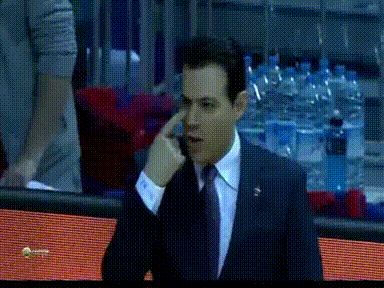 Moving along!
Both teams played nearly every possession up until the closing minutes with aggressive traps/hedges, if possible. Late game unsurprisingly saw a move toward pure switches.
Both defenses were pretty effective in this. Neither team managed to go over offensive ratings of 100 (by my math, at least). A sampling of common results in this one:
Those are, of course, a worst-of. Goudelock actually had two backcourt violations in this game, though he also managed to keep his fairly regular pace of tough threes and ridiculous floaters falling. He finished with 19 points on 22 plays, but five of those plays were turnovers, against three assists. Milos Teodosic didn't make a field goal until he hit two big bailout threes in the overtime period, and three of his seven free throws came from being hit on a ridiculous beyond-NBA-range attempt. He counteracted his three turnovers with six assists, although this isn't a highlight reel Teodosic effort to say the least.
But don't let me skip over a key point when criticizing the struggling offenses: there's a reason Sonny Weems is in the headline, and it's because he shot 5-of-23 from the field and went 2-of-4 from the foul line, alongside six assists and four turnovers (plus eight boards). Now, I try to be fair even if a player has a rough game — one of those turnovers that was credited to him was a questionable backcourt call (the ball was tipped on a handoff and went off his knee), that at the very least wasn't much his fault even if you accept the backcourt call. One of his seven missed threes (of eight attempts) was basically a halfcourt heave. But 13 points on 28 plays still isn't particularly good. But I'll give credit again — this wasn't all classic Weems contested pull-ups. He missed open corner threes, driving layups that he probably finishes nine or eight times out of 10, and of course the usual forced pull-ups.
The fact that he played 40 minutes in this overtime slugfest raises some questions in terms of CSKA Head Coach Itoudis's decision-making, sure, but Weems has value on the defensive end (although more minutes for Jackson/De Colo/Fridzon surely couldn't have hurt that much). It wasn't like he wasn't often creating or receiving good looks - he just wasn't finishing them. But with that said, sometimes a player just doesn't have it on the offensive end, and you've gotta go with another option. Itoudis chose to stick with Weems and probably made life harder on CSKA by making that decision.
But don't let me focus purely on the worst elements of the game. There were quite a few moments of solid execution (although similar to Weems's issues, they often didn't lead to completed plays). To the example gifs!
Here's one from CSKA - they go with one I often saw Maccabi run last season under David Blatt, a double hand-off into pick-and-roll play that usually leads to a good look:
As mentioned before, both defenses were extending themselves way out quite often against screens, and you see Hines get a post-catch on the swing-roll look, but Bjelica manages get there in time from the far side and Hines misses the contested layup. Plenty of times simple high or wing pick-and-rolls would result in even more difficult passes inside with guards looking to hit Sasha Kaun, who alongside Hines and Vorontsevich would still manage to work pretty well off-ball while also grabbing nine combined offensive boards - they finished with a combined 33 points on 27 plays, with six assists against two turnovers, and Hines and Vorontsevich were especially valuable on defense.
Vorontsevich's 2-of-5 three-point shooting (most of which were wide-open) gives you an indicator of how often CSKA were able to manage to get solid looks against Fenerbahce's pressure. They simply didn't manage to finish a fair amount of them. As well, you might look at the 38 free throws shot for CSKA and presume that Fenerbahce pressure was hurting a fair amount as well, but it should be noted that 45% of CSKA's free throws came in the fourth quarter and OT, a number coming from intentional fouls or a couple of bad ones on jumpshooters (and of course, as noted, overall offensive success for CSKA was kept to a minimum when we examine the offensive ratings).
Fenerbahçe looking for chemistry
On the other side, Fenerbahçe found themselves in similar situations:
You can see early in that play the ball come to the near-camera side with Vorontsevich heavily ballwatching and giving Bjelica an opportunity to cut to the backdoor, but he doesn't make the read allowing the play to continue to develop. The pick-and-roll with Bogdanovic and Savas results in an interior catch that could have resulted in either a Bjelica open three had he not made the inside cut (leading to the turnover), or if Savas had realized he'd gone inside we might have seen him hit Bjelica for the likely-contested layup or foul.
Instead, chemistry was just a bit off, if it if wasn't chemistry then it was simply open shots: Bjelica was often the recipient of the extra pass but only went 1-of-6 from three, and the one he hit happened to be an NBA-range shot with a man right in front of him. When he tried to create with the ball, Vorontsevich really locked down.
The gif earlier that showed one of Goudelock's backcourt violations illustrates how Goudelock in more than one situation could have benefited from expecting the trap (which, as mentioned, was coming early and often in many cases) and hitting the slip early, then letting the big man distribute. The wings could have helped by coming forward early for more swing-and-roll opportunities, although when wing defenders are overplaying it's a golden opportunity to hit the slip and let the big man hit a cutter backdoor. We didn't see a lot of that type of thing from Fener, clearly.
Late game toss ups
With all this criticism on both sides leveled, in a close game toss-up plays can decide things. Hot starts for Fenerbahçe from Bogdanovic and Goudelock didn't particularly pan-out down the stretch, leading to some crazy late-regulation play.
The way Fener managed to score its last two buckets first involved a Boganovic tip-in on a Luka Zoric missed free throw for a two point lead, followed by that Zisis foul (who was quite solid on defense and extra-passed his way to six assists against two turnovers, although he would eventually foul out late) on Milos's NBA-range 3 attempt.  Milos would miss the final FT after hitting the first two, resulting in an offensive rebound and eventual Weems miss. Bogdanovic would miss a tough leaner with Milos switched onto him that Zoric would manage to tip-in, returning the favor from Boganovic's tip.
CSKA would then let Milos jack a decent look at three from a pick-and-roll with Hines that led to Zoric switching onto Milos, which led to a Vorontsevich tip-out, and that led to a made Weems contested pull-up that hadn't fallen all-game and doesn't exactly fall too often when he's hot. Fener's final legitimate play of regulation (I'm not going to count their .4 second non-attempt) would be a Goudelock iso with Vorontsevich on him, it was well defended. So that takes us to overtime.
Key Overtime Offensive Plays™
Of course the overtime would lead to those ridiculous Teodosic threes that would basically key the CSKA win, if we're talking Key Overtime Offensive Plays™, but in general it continued to be a slugfest with a lot of tough attempts for both sides early, until Bogdanovic penetrated for a layup that somehow spun out late. He'd later get a decent look at 3 that would have tied the game in the final minute but didn't go. De Colo free throws sealed it for CSKA.
Somebody has to win the tough ones. Sorry Savas.
Next up for CSKA is Laboral Kutxa Vitoria, who are best described as one of the most average teams still in the competition, I think.
Fenerbahçe will go up against Nizhny Novgorod, who are coming off a big win against EA7 Emporio Armani Milan.