By Rob Scott (@robscott33), Sam Meyerkopf (@HoopLikeDrazen), Rodhig (@rodhig7) and Savaş Birdal (@savasbdl)
The deepest and most open Final Four in years is mere days away, so we we're going deeper than ever to preview what might, could and should go down in Madrid. Your semi-final matchups, to be played out on Friday night, are:
CSKA Moscow vs Olympiacos 18:00 CET
Real Madrid vs Fenerbahçe 21:00 CET
We brought in ELA's Piraeus correspondent Rodhig, and bribed Üsküdar's own Savaş Birdal into a Kirilenko-esque return. We pull up the chairs round a virtual table in the best tapas bar in Malasaña and answer some key questions. First up was CSKA Moscow vs Olympiacos and the ghosts of Final Fours past. For the nightcap, we discuss whether Real Madrid can defeat Fenerbahçe and banish some nightmares of their own.
The media (Twitter) will paint this as Zoc vs Laso, but how much will the coaches decide?
Sam Meyerkopf: For two straight years Laso has been able to get to the championship game but his team has failed to seal the deal.  On the other end, Zoc doesn't lose championship games, last getting to the Final Four in 2012 but losing in the semis and last winning a championship the year before in 2011.  So you have to think not only has Zoc been hungry to get back to a Final Four after his sabbatical year and last season but he's also probably been thinking about the teams he might face.  I'm guessing Real has been on his mind at some point.
Real really had to throw out the whole offensive and defensive book to to beat Efes in the Playoffs.  Fenerbahce got by Maccabi somewhat easily and Zoc should have more tricks up his sleeve as he didn't have to showcase much in that series to win.
But the most important coaching is not what either one will do in this game, it's what they have been putting in all season.  Zoc's team is in great form and they've been building for this moment.  Laso's group really had their best shots at a championship the past two seasons and this current Real team has been just too inconsistent and never have seemed to hit their peak
Rodhig: In every Final Four, coaches are tested on two fronts: these games are the culmination of everything they've been working on since the preseason, but specific adjustments for their opponent is also required in order to minimize risk. Striking a balance between loyalty to a team's founding principles and preparation for a one-and-done affair can be tricky. Luckily for Laso, though, winning teams are not always balanced teams.
Going into the Final Four, Fenerbahçe execute better, work harder and have a more settled rotation. However, this probably won't matter if Laso has Madrid ready to play up to their potential and makes the proper tactical decisions (much like his zone press scheme that helped Madrid get back into Game Two of the playoffs). It's safe to assume that Obradovic will reinforce the already solid framework of Fener's play with a detailed preparation that should help his players avoid any ambushes. But when Madrid are at their best, they can render such terms as 'adjustments' or 'keys to the game' pretty much meaningless.
Savaş Birdal: The narrative goes that if Real Madrid win, it's not Laso's success; but if it's a Fener win, the blame is all Laso's to take against the genius of Zoc. This is partly accurate. Madrid might have the upper hand with the virtue of having home court and the more versatile roster, but you can't make two straight final appearances and be one win away from your third if you have a dysfunctional coach on the bench. I personally am not a huge fan of Laso's in-game decision making and improvisation skills in tough situations, although that hardly suggests that Laso is in any way a bad coach.
What will make the difference here is what will happen in the coaching battle if things don't go according to Laso's pre-game plans. Obradovic likes to toy with his lineups and go out of his usual rotation a lot – you can even suggest that he doesn't even have a set rotation (Semih Erden played zero minutes against Maccabi in Game One, and started in Game Two) – and whether Laso can hit him back with a surprise of his own remains to be seen.
In the end, a lot will be decided on slimmest of the margins and the individual performances of key players will be highly influential, but when and how those key players are used might make a difference.
Rob Scott: I'm firmly in the camp that says most - but not all - of a coach's work is done before the team steps on the floor, but if in-game adjustments are necessary, you'd back Obradovic to make them first. If Madrid's offense fires up and overwhelms their opponents, not much of the credit will make its way back to the coach who oversees it all. It's more a factor of Zoc being one of the last great Cult of Personality Coaches. There's a reason why he's revered as a religious icon, power-ballad soundtracked Youtube videos offered in worship.

What will be the key matchups or strategy decisions that could decide the game?
SM: Since I've been in Madrid the past three weeks and gone to three Real games, I'll focus on them.  Real still has not figured out its big man rotations with guys being so one-sided.  Gustavo Ayon can be a killer on offense, especially as a high post passer or on the block scorer but doesn't give much defensively while Marcus Slaughter covers tons of ground on defense but can barely score.  Figuring out their center rotation against the insane length of Jan Vesely and Semih Erden will be crucial if Real is to have any chance in the game.
RH: Bjelica vs Reyes should be both quite interesting and quite crucial - a modern forward carrying much of his team's shot-creating load going up a low post behemoth who laughs at the concept of a stretch four all the way to offensive glass dominance. There's an obvious tradeoff between offense and defense that both coaches will have to consider. The team that will have to sacrifice less in this matchup will gain a significant advantage.
As far as strategy is concerned, Madrid guards often struggle to make the correct read against a switching defense. Jan Vesely happens to be one of the best switch defenders in Europe. Needless to say, Llull, Chacho and Rudy will have to do their homework.
SB: It has to be the battle under the rim. Or above, if we are talking about Jan Vesely. Fener obliterated Maccabi on the glass in their playoff series and evidence from Madrid's series against Anadolu Efes suggests that Laso's team might also be prone to the same thing. Bjelica and Vesely kept going hard on the offensive glass for three games and it was vital, as aside from the perfect first quarter of Game Three Fener played against Maccabi, it wasn't exactly their best offensive performance to date. The same could be applicable if Madrid could get it going on the defensive side. Although if they can't shut down the defensive glass like they couldn't against Efes, Vesely and Bjelica will be there to take advantage against Madrid's frontcourt which has shown to be lacking athleticism thus far.
RS: I have to throw it over to Coach Raul Jimenez here, in his comprehensive assessment of one of Fener's pet halfcourt looks: Nemanja Bjelica in the strong-side corner out of side pick-and-roll. That is bound to be crucial. On the other side of the ball, Fener had difficulty in the playoffs with Jeremy Pargo attacking the middle of the paint off high screens. Neither Goudelock or Zisis are great at keeping their man in front of them, so I would expect Vesely to play when both are on the floor. Luka Zoric is a minus in protecting the paint and shouldn't see many minutes, certainly not with Zisis.
Madrid can also have Jaycee Carroll make Goudelock chase round screens, tiring him out and taking advantage of the weakest part of his game. Fener can switch off the ball as well as on screens though, and they look well drilled in this. On the other hand, Fener's halfcourt offense is patient and unselfish, and if they can force Laso to keep Marcus Slaughter on the floor for pick and roll defense, the downside for the Madrid offense will be a huge comfort.
Were Real Madrid just complacent against Efes, or is it a bigger problem?
SM: Bigger problem, no question. And not just in a way of how is their offense or defense playing, this team lacks focus and continuity.  Games are such up and down affairs with them.  It's really hard to predict what they are going to do.  Because the offensive talent is there, Real always has an offensive switch that makes them such a dangerous scoring attack but their lineup rotations have never been quite figured out to maximize play on both sides of the ball and this 2015 version of Real is still kind of a work in progress.
Serg Rod or Rudy could drop 30 on Friday or Felipe Reyes could have a historic performance and body up Nemanja Bjelica but it's going to have to be some sort of great individual performance that carries Real this weekend.
RH: I can't think of a bigger problem than complacency for a team that hasn't won the Euroleague in twenty years.
SB: Madrid were on auto-pilot for the most of the season. In these type of playoff series when opponents prepare specific plans to stop you and if they have decent-to-good quality personnel, it could prove more effective than people could anticipate prior to the series.
I believe this is what happened in Madrid's quarter final series against Efes, but there was obviously something wrong going on with Madrid's leading trio of Rudy, SerRod and Llull. Rudy kept jacking ill-advised fade-away threes until he finally made them and won the game in Game 4 in Istanbul. Rodriguez was simply awful throughout the series except maybe a small stretch in Game Four. Llull was the best of them all but it was clear that the pressure of Cedi and Draper got to them. If Efes had someone defensively more capable in Perperoglou's place, things might have been different.
Whether Fener can emulate the same sort of pressure is a good question and a question Fener reacted well to in the road games against CSKA and Olympiacos.
RS: That was one of the strangest playoff series in memory, with the team that was outplayed for the majority of at least three games winning 3-1. To play arch-Madridista in this hostile climate, they did manage to pull those victories out of their deep reserves of talent, if not decision-making. Even so, the likelihood is that Fener will not play with the same generosity of spirit as their Istanbul neighbours. Quicker ball movement,
Palacio de Deportes is the highest venue in Euroleague at 667m above sea level. Will this be a factor?
SM: Having lived in this city before and being here for a month leading up to the Final Four, I still did not know this fact.  The air is pretty moist here, it's super hot, but I don't know if this will be a factor at all.  Everyone is coming from a southern European warm climate besides CSKA but also who knows if that matters?
RH: I get winded after climbing a couple of steps in a staircase, so I'm not suited to answer this question.
SB: I don't think so. Four teams in the Final Four have played all around the place and all performed at great levels in very different conditions on different grounds. If you make it this far, to me that suggests you are well-prepared against any kind of diversity. With regards to the Madrid-Fener game, this might be even less of an issue if Zoc's team can enforce their type of game with a low pace, which was the case in either of the quarter final series Fener and Madrid played.
RS: It's a possible explanation for Madrid's ability to overwhelm inferior opponents at home, completely absent of any statistical evidence they seem to accelerate away a lot in the last fifteen minutes. But by the time you reach this level of opponent, that probably disappears as a relevant factor.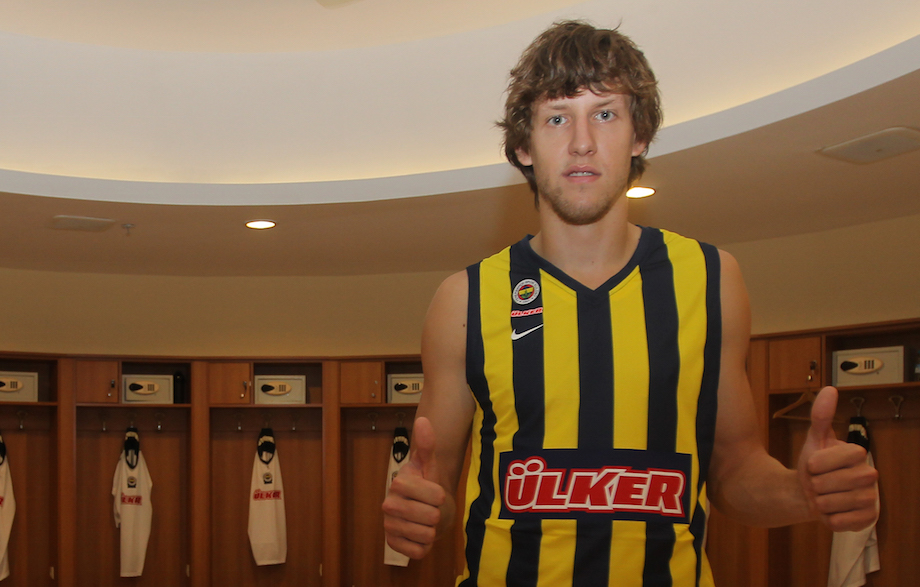 Who will win and why?
SM: Fenerbahce is the pick for now.  With talent being close, I'll take the team that is much more in form and a coach who has probably been thinking up schemes for the past two years waiting for this moment.
RH: If this game tipped off a week after the playoffs, I'd go with Fener's momentum. Now, I think that Madrid have learned their lesson and will pull off a close win in a high scoring game.
SB: Heart says Fener, logic says Real Madrid, but I'll have to go with my heart on this one and say Fener. There is no rational reason for me to suggest that Fener are going to win, but this team has come too far for me to take a stand against them. On the back of a strong performance from Bjelica and Vesely and some ridiculous shot making from Mini Mamba, Fener have it in themselves to edge a close away win in Madrid and make it a perfect season on the road after winning in Barcelona, Moscow, Piraeus and Tel Aviv.
RS: Madrid are now a strange combination of favourites (homecourt) and underdogs (form, Obradovic's Final Four record). I can't decide if being at home is a huge advantage or the source of intolerable pressure, and at the moment I'm leaning more towards the latter. Despite all of this, I think there are enough holes in the Fener defense for Madrid to overcome this and sneak it in a classic, perhaps with overtime.