By: Nick Gibson / @euro_adventures
Martynas Pocius, Real Madrid via Zalgiris
After four years at Duke marred by injuries and DNP-CD's, Marty Pocius skipped his final season of eligibility to return home and play in Kaunas.  Although he missed out on an NCAA Championship, it's tough to say he made the wrong call.
Just two seasons into his (professional) European career and he's made quite the name for himself. Two Baltic League titles, a Lithuanian championship and a bronze medal from Lithuania's unlikely 2010 World Championship team.
Now he'll head to Real Madrid where minutes should be cut and statistics shaved; but he'll win more games, in a better league, without Vladimir Romanov calling the subs from the floor seats. Most importantly, it's now safe to say: Pocius is established.
Malik Hairston, Olimpia Milano via Montepaschi Siena
We've all seen someugly basketball games. Indescribably dreadful, unwatchable basketball. Montepaschi Siena saw a rare feat of impotence this season, and they were on the losing end of it. In game one of the Euroleague playoffs, Siena squared off with Olympiacos with Final Four dreams dancing in their heads. A quarter later, it was 24-4.
The season should've been over. Everyone sure thought it was, at least, and why shouldn't they have? The score was 89-41 once everyone had collected their dead.
Then, rookie Malik Hairston, who'd only averaged 6.5 points in his first ten games, cut loose for 19 in a game two Siena victory. He quieted down with 2 in the next contest but showed up with 25 more in the deciding game four, punching Montepaschi's ticket to the F4.
Now he's seasoned, proven, and in position to knock his former team off their Italian throne.
Jaka Blazic, Union Olimpija via Geoplin Slovan
Jaka Blazic is not established. Jaka Blazic is young, 20, to be exact. But he averaged 9.7 ppg in the Slovenian League last season and Ljubljana is hoping the 1.93 m youngster will fall comfortably into a reserve role and add some  beef to his frame. Godspeed, Jaka.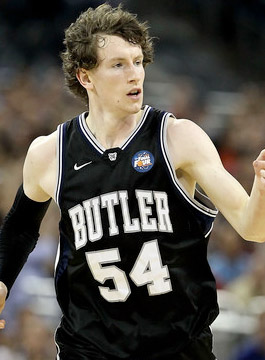 Matt Howard, Olympiacos via Butler University
It looks like Slam will be a happy man after Howard, whom he drafted in our Reject Draft, will have a European address after all. After the nationwide fire sale, it looks as if Greek teams are back in the market, albeit with smaller name, cheaper options (a la Howard and fellow NCAA alum Kalin Lucas of Michigan State who's also signed with the Reds).
Howard's game is cut out for Euro ball. Ultra tough, below-the-rim big whose range increases daily.
I'll stop just shy of  calling him a Matt Nielsen clone, but he's damn close.
But let's hope preseason training is in the Greek Isles. Dude could use some color.
Pat Calathes, Panathinaikos via AEK Athens
Two summers ago, Panathinaikos was coming off of a Euroleague championship, on top of the world. Instead of adding impact players to widen the gap between them ans the competition, the Greens loaded up with younger, less experienced players who spent most of the following year on the bench: Milenko Tepic, Giorgi Shermadini and…Nick Calathes. The only top notch signing they made was supposedly Marcus Haislip, but he proved to be a disappointment.
They didn't make it past the Top 16.
Flash forward to now. Same situation, plus Greek's belt has tightened significantly. Their first signing: Nick's brother, Pat.
Tarence Kinsey, Anadolu Efes via Fenerbahçe Ülker
Istanbul's so damn big that it might take playing for two different teams to fully explore a tenth of it. And if he's still curious after this, Besiktas is reportedly in the market for Americans.
Milko Bjelica, Caja Laboral  via Lietuvos Rytas
Got Milko? OK. It's out of my system now. Never again. I won't speak for the general public, but Milko was easily in my top ten for the EL's most underrated award. Meaning, I never gave this guy the credit he deserved. Some of it was surely borne of my desire to watch Jonas Valanciunas crash around the court for more than a few minutes at a time, or maybe it's because Bjelica's game was about as smooth as sandpaper. Either way, it took me far too long to appreciate the 2-year-old's ability to get the job done while hardly breaking a sweat. I have a good mind to presume the intelligence of Baskonia faithful superior to mine, so Milko should receive a warm reception.
Updated Dotted Line Up:
Rank #colspan#
Player #colspan#
Team #colspan#
He's here because... #colspan#
Last DLU #colspan#
1
Milos Teodosic
CSKA Moscow
The EL's most clean cut franchise adds the Shooting Stoner to a backcourt that just lost a pair of legends in Trajan Langdon and JR Holden. Good thing Milos' brain doesn't process pressure.
3
2
Ioannis Bourousis
Olimpia Milano
Can't wait to see him play extended, consistent minutes. The most efficient big in Europe is about to get a big test.
1
3
Jaycee Carroll
Real Madrid
The two-time ACB scoring champ is ready for his EL debut. He won't be able to sneak up on the Spanish teams anymore, but everyone else: hide your kids, hide your wife.
2
4
Maciej Lampe
Caja Laboral
Ever since he vanished from Maccabi's roster two seasons ago, I've been itching to see him in the EL again. He's primed to explode.
4
5
Bojan Bogdanovic
Fenerbahçe Ülker
You won't find many 26-year-olds as mature as Bojan (still just 22); now it's time to be assertive and create a role for yourself, big guy. As the star.
5
6
Nenad Krstic
CSKA Moscow
Boston's trash is CSKA's treasure, as Krstic will add to Moscow's already stellar defensive front of Khryapa, Kaun and now Darjus Lavrinovic.
6
7
Stanko Barac
Anadolu Efes
A 24-year-old center who rarely makes mistakes and still has room to grow. Yeah, OK. We'll take him.
7
8
Esteban Batista
Anadolu Efes
Indifferent to pace or pairings, Stevey Bats gets boards as well or better than the rest. If he and Barac can figure each other out, it's lights out for the rest of Turkey.
8
9
Malik Hairston
Olimpia Milano
With a frontcourt of Bourousis, Radosevic and Fotsis and Omar Cook at the point, all Milano needs to fall in with the elite is a dynamic small forward. Well, damn.
-
10
Sasha Vujacic
Anadolu Efes
"Stop telling me and show me, Sasha."

-Everyone
9
10
James Gist
Fenebahçe Ülker
His enthusiasm is neither a front nor compensation for a lack of skill. Ülker's no Partizan, fan-wise, but they're getting there. A couple oops from Gist should accelerate that process.
10
12
Dusko Savanovic
Anadolu Efes
Don't expect another All-EL season from Dusko, but be ready for some big shots in some big moments. And sweat. There will be plenty of sweat.
11
13
Ben Woodside
Union Olimpija
Put Davis Bertans on the floor with Woodside and watch the shots fly up. Neither one's what I would call bashful.
14
14
Luka Zoric
Unicaja
This Nesterovic clone was built for the index rating. Spain should be kind to him.
12
15
Martynas Pocius
Real Madrid
Excuse me, I've lost Real Madrid's weakness and was hoping you could help me find it.
-
16
Drew Nicholas
Olimpia Milano
Former EL scoring champ came to personify Panathinaikos' consistently unspectacular dominance. Italy's a different story, and we'll see if he still has some 20-point games left in the tank.
13
17
Leon Radosevic
Olimpia Milano
A bright star in a dimly lit organization last year, now he'll be a key piece in the Italian Renaissance.
15
18
Henry Domercant
Unics Kazan
The hefty hoister seems to be right at home in Russia. Now, after five Final Four-less EL seasons and in a starring role, he'll be hungrier than ever.
16
19
Sonny Weems
Zalgiris
Props to Sonny for making the leap, and props to Romanov for welcoming the Raptor with open arms. Think Weems has any idea what he's gotten himself into? Not a chance in Hell.
17
20
Nathan Jawai
Unics Kazan
I hope restaurants stay open late in Kazan. Nathan strikes me as a fourth meal fiend.
18
21
Pat Calathes
Panathinaikos
Don't be surprised to see the Calathes Bros account for 40% of the starting line up next year. Pat's a perfect complement to Batiste's bruiser mentality.
-
22
Jon Scheyer
Maccabi Electra
With his vision fully restored, the cultural adjustment is all that stands between him and an instant impact.
19
23
David Lighty
NGC Cantú
The new kids on the block get proactive and pluck one of college's most well-rounded, pro ready swingmen. Me like.
20
24
Tarence Kinsey
Anadolu Efes
An extremely reliable an oft forgotten scoring threat. He just hangs around, ends up with 12 or 13.
-
25
Robertas Javtokas
Zalgiris
He should sell his house and just move into an ice tub to be safe.
21
26
Shawn James
Maccabi Electra
Who needs Serge Ibaka when you've got Shawn James? If you think that's a stretch, check the stats. (OK, so maybe it's still a stretch.)
22
27
Matt Howard
Olympiacos
Printezis, Kyle Hines, Matt Nielsen and he make up one of the tougher forward threesomes in the EL. Interesting change for team not usually renowned for its physicality.
-
28
Milko Bjelica
Caja Laboral
The milk man delivers. Plain and simple.
-
29
Milovan Rakovic
Zalgiris
Tatted up, shaved down and ready to beat your ass.
23
30
Marcus Slaughter
Brose Baskets
If you watch this man play, his last name starts to makes sense.
24
31
Raul Lopez
Bilbao Basket
The ACB finalists finally have a new face on the bench, and it's one of experience. It's also one, however, of considerable age and injury.
25
32
Thomas Huertel
Caja Laboral
With the Marcelinho Huerta sweepstakes ongoing, the Huertel signing might carry more weight than we initially thought.
26
33
Ermal Kuqo
Anadolu Efes
You might not notice him when he's out there, but his opponents will feel him the next day. (Does that sound weird? Yeah, I think it sounds weird.)
27
34
Marko Cakarevic
Partizan
After extending super vets Bozic and Kecman (again), Partizan better hope Cakarevic can provide some bounce on the wing.
28
35
Jaka Blazic
Union Olimpija
I wish my last name were Blazic. It would make introductions more fun.
-