By: Gus Elvin / @gpelvin
Today on the Foreign Exchange, we take a look at a pair of polar opposites: one's an unfinished Senegalese seven footer from the Big East who blocks shots with the best of 'em; the other's an Australian guard from the West Coast with one of the most refined offensive games in the country.
Gorgui Dieng,  Louisville Cardinals (Senegal)
6'11  (2.11 m) |  235 lbs (107 kg)  |  Center
Like many African born big men, Gorgui Dieng was a bit of a project when he first arrived on campus at Louisville. Despite possessing impressive raw attributes like length and athleticism, Dieng was not too advanced offensively, as he lacked polish and fluidity.
In his first season of college ball, the Senegalese center was mostly known as a defensive stopper as Dieng averaged just under two blocks a game while also contributing 5.7 points and 4.4 rebounds in 15 minutes per game. This season with Terrence Jennings gone, Louisville has relied on Dieng for more production and the sophomore has not disappointed, as Dieng is averaging a double-double (10 ppg, 10 rpg) and also ranks seventh in the nation at over 3.3 blocks per game.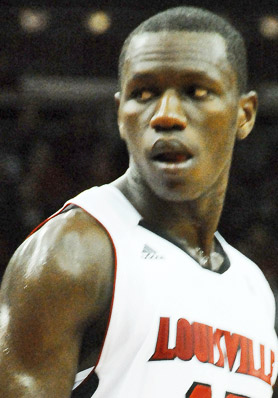 Dieng, unlike many African-born big men, had the advantage of playing some high school basketball in the states (Huntington, West Virginia) which may be a reason he has developed so quickly and transitioned almost flawlessly to the college game.
While Dieng's offense has improved (he even has shown the ability to consistently hit jumpers from the foul line down), defense remains his calling card as his length and tremendous shot blocking ability make him one of the best shot blockers in the country and maybe the most disruptive defensive interior player in the Big East.
This kid looks like a different person than the one we saw last season; he's really improved every facet of his game to the point where NBA scouts are talking about this guy as future first rounder. (DraftExpress currently projects him as an early second rounder in 2013.)
Dieng has been the biggest reason Louisville won their first twelve games and currently sit at 21 and 23 in the ESPN/USA Today and Associated Press polls, respectively. The Senegalese big man's increased offensive production has helped the Cardinals not only survive but thrive despite injuries to Wayne Blackshear, Rakeem Buckles and Mike Marra among others.
Dieng turned 22 years on January 18—a couple years older than your average sophomore—so he may decide to leave early rather than stay and risk getting stale in scouts' eyes. Ultimately, he will be better served staying in college, as he has a lot of room for improvement on offense—back-to-basket game, nailing down that elbow jumper, passing out of the post—and could definitely put on some more muscle.
If you are looking for an NBA comparison I think Oklahoma City's Serge Ibaka is a good place to start. Dieng is a proven shot blocker, a bit on the slimmer side and has tremendous length and athleticism. Here's a guy who is improving with every game played, so look out for Gorgui as the season rolls on and he continues to transform himself from a seldom used shot blocker into one of the better overall big men in the Big East.
Matthew Dellavedova, St. Mary's Gaels (Australia)
6'4″ (1.93 m)  |  190 lbs (86 kg)  |  Point Guard
Just one of a series of Australians to star under Randy Bennett in Moraga, Dellavedova is the latest Aussie garnering national attention. Dellavedova is one of five Australians on the Gaels roster this season (Matt Hodgson, Jorden Page, Mitchell Young, Clint Steindl the others) and continues an Australian pipeline started by Daniel Kickert and later Patty Mills. Dellavedova is a 6-4 junior point guard who is known both as a lethal outside jump shooter and as a great facilitator.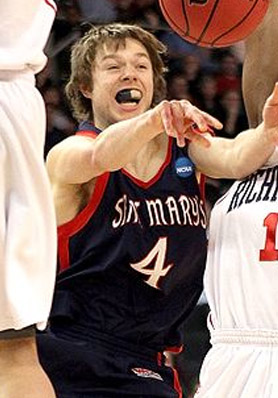 This season Dellavedova leads the 23rd/24th ranked Gaels in scoring at 15.4 points per game and also leads Saint Mary's in assists at almost seven per game. Dellavedova has been a three-year contributor for Saint Mary's as the guard has averaged at least 12 points and four assists in all three of his seasons since coming over from Australia.
While Dellavedova may not get the kind of hype some of other top point guards get because he plays in a lesser conference like the WCC where games are aired past the East Coast's bedtime, he is one of top college point guards in the country.
Period.
Quite frankly, I have not seen a player this season that has better court vision than Dellavedova as he always makes the extra pass and has that  Steve Nash-like flair and swagger to his game. Dellavedova is not just a passer though, as the lanky Australian is anything but gun shy, and is within shooting range the second he crosses half court. Dellavedova has shot 40 percent from three-point range in each of his three seasons at Saint Mary's, and if you watched his 26-point explosion against Gonzaga last week then you've got no doubt that Saint Mary's #4 jersey can stroke.
Dellavedova has helped the Gaels assert themselves as one of the top mid-major programs in the country over the last few seasons and is a major reason that Saint Mary's has gone from a little known college to a West Coast basketball power that's primed to make the NCAA tournament again this season.
If you don't think Dellavedova is a winner just pull his résumé, as he has guided the Gaels to 67 wins in the two and a half seasons he has been on campus in Moraga. In terms of a college player, there's not much to criticize in Dellavedova's game: he is a proven scorer, passer and most importantly a winner who regardless of how his game translates to the NBA, he will be a successful pro somewhere in the world.
Dellavedova is not the quickest of guards and isn't a tremendous athlete by NBA standards, but his court vision, outside shooting prowess and basketball smarts should give him a chance at sniffing a roster in the States someday. Dellavedova most likely will go undrafted when his college career comes to an end but I expect him to be a guy who will latch on as a free agent and will have opportunities to showcase his ability against NBA talent.
In terms of an player comparisons I look at Ricky Rubio's backcourt bud in Minnesota, Luke Ridnour. Despite Dellavedova's two-inch height advantage, their skill sets match up. Both are very savvy players who have good court vision but also can shoot from the perimeter.
As readers of this site know, the NBA is by no means the only way to go once a man's college days are over. Mathew Dellavedova is one of the best guards in the country this season and will be a tremendous pro somewhere, whether it's here with me in the NBA, in Europe with ELA or back home in his native Australia playing in Andrew Price's beloved NBL.