By: Freaknick/@Euro_Adventures
OK I joined this one a little bit late, but I couldn't resist throwing in my two cents on this Lithuanian thriller. Euroleague Adventures have been all over this one from the start, since our video preview of the series to our Vladimir Romanov conspiracy theory and finally to our encouraging message to fed-up Lithuanin hoopheads. Second half, let's get it:
-Dainius Salenga opens up the half with a drive and he's fouled by—you'll never guess it—Aron Baynes. Somehow he never can quite grasp the fact that tackling is not allowed. I would say he should petition the league for a rule change, but I think they've got their hands full with a few, um, other problems right now.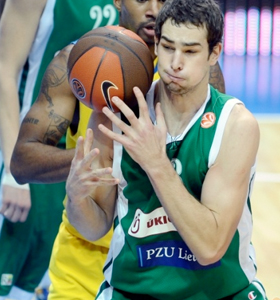 -A big bucket by Mario Delas and it's a ten point game. 61-51 withabout 4:00 left in the third. I really thought Mario was going to be a force for them late in the season after some impressive Euroleague minutes. He needs to hit the weights and get a midrange game working. He's a three-or-drive guy at the moment when he touches it 20 feet away (which by the way, it shouldn't come to that).
-A Martynas Gecevicius triple from the corner makes it a 13-point game. Wait, is that what happens when you leave him open? Oh damn, didn't realize that. Always thought he was more of an above-the-rim kind of guy…
-The imaginary coach should definitely check Pocius back in. One of the two or three guys who can guard Gecevicius, plus he's leading the team with 13. Seems like a no-brainer, perfect considering the Zalgiris organization seemingly has no brain.
-Most coaches preach the 2-for-1 shot clock mentality at quarter's end, where you try to get one up with enough time—27 or 28 seconds— to ensure a second possession before the buzzer sounds. Aleksander Capin has mastered the 1-for-you mentality, where he rushes one up right as the gameclock sinks beneath 24 seconds so that the other guys have a full shotclock to run through their offense. What a nice guy. I guess he hit it this time though, so maybe I should just shut the hell up.
FOURTH QUARTER
-Lietuvos Rytas with 73, Zalgiris with 61. Let's see what we got here.
-Pocius with a weird slidey thing and he loses it on the drive. Where's the wipe-up-the-floor-with-the-towel kid when you need him?
-I am without the benefit of stats right now, but I'd like to venture this guess: Zalgiris has taken more free throws as a team, but Rytas has still made more. The only thing that's really glaring right now to me.
-So of course when a Rytas dude falls, out comes the towel kid! Corruption!
-Travis Watson is one of the laziest I've seen in terms of hedging on screens, so why now does he feel the need to chase Baynes out to the threepoint line? Some things, man. Some things just make no kinda sense.
-Maybe as like a team unity thing, all the Zalgiris guys should shave their heads. It's been working for Kalnietis the last few games. He looks much more aerodynamic out there. On second though, Salenga would look like a Halloween costume if he shaved his head.
-Offensively, I don't know if I've seen Zalgiris attack ths much in a while. Again, free throws are killing them. Coach should definitely make them shoot extras at the end of the next practice.
-That's right, Travis. Pick up that fifth foul 22 feet away from the bucket. That's what you're in there to do. Use your head, big fella. They need you in there.
-For Capin's lack of offensive anythingness, he sure can lock a guy down on the perimeter. Whoever was supposed to be on Milosevic that time, apparently is not. He had room to dribble twice, read a movie review, eat a Fruit Roll-Up and stroke it. He chose to save those first three for later. Oh well, 86-70 Rytas.
-Three by Capin (I think, the video feed is a bit fuzzy) and it's 86-73 with 1:40 left.
-Crappy feeds such as this really make me appreciate players who accessorize. Watson's headband, Pocius' black arm sleeve, and I've decided to count Kenan Bajramovic's bald head as an accessory as well, because it's just more convenient that way.
-And 89-75 is your final. Time to open up the stat sheet and see what we've learned: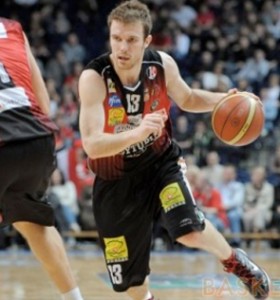 Lietuvos Rytas: Bajramovic (21 pts, 9 rebounds, 3 assists), Martynas Gecevicius (18 pts), Steponas Babrauskas (16 pts, 6 rebounds), Igor Milosevic (8 pts, 7 assists)
Zalgiris: Pocius (21 pts, 4 rebounds), Mantas Kalnietis (12 pts, 4 rebounds, 5 assists), Dainius Salenga (12 pts, 4 rebounds)
Separation Stats: I was right about the whole "I bet Zalgiris has taken more free throws than Rytas" thing, but wrong about Rytas still hitting more. I was close though, and I'll take that: Zalgiris was 22/35 (63%) while Rytas was 19/25 (76%). It ain't easy to make it to the line at a nearly once-per-minute pace on the road, so next time they'll need to convert.
Without Mirza Begic, Zalgiris lost the battle of the boards by 4, 30 to 26 but it shouldn't have mattered as they forced three more tunrovers (15 compared with 12).
The difference came beyond the arc, and mainly with timely 3's. Zalgiris shot a very decent 41% with 9/22, but Rytas still blew them away by hitting 8/13, good for 62%. All in all, not a huge "Let's dive into the stats" game. It just came down to Rytas making the plays—the shots, the extra pass, the offensive rebound—when they needed to.
I hate myself right now for using that cliché. See you for Game Six.