By: Freaknick/@euro_adventures
For over a year now, we've known this day was coming. To call it 'Earth shattering' is to give our planet too much credit. Labeling it as 'pivotal' or 'crucial' would only inflate our dictionary's ego. And for one moment on July 8, six billion breaths were held so tightly that plants shriveled and Al Gore smiled.
And it was official. The Euroleague draw was upon us.
What? Oh you thought I was…you thought that…? Ooooohhh. Damn. Yeah I guess that makes sense.
But while LeBron's third-person references neared double digits, Jim Gray's voice cracked and lavender plaid came back into style, Jordi Bertomeu was probably sleeping soundly in Barcelona having enjoyed a rather LeBron-less day. Lucky bastard. Here's how it went down:
And if you braved the 11-minute video, cheers.If not, it came down to this: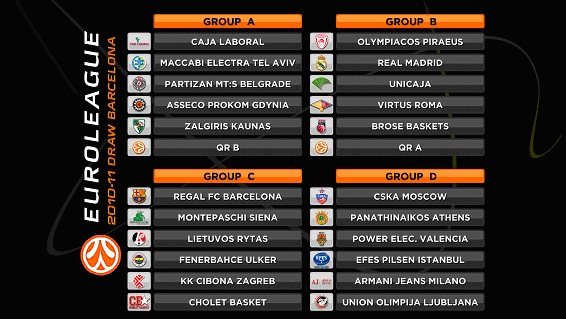 Now, for what they're worth after adjusting for inflation, my two cents:
Group A
When I read the names aloud it sounded like a ferocious continent. 'Maybe the deepest group in the old continent,' I might have even muttered to myself. Then I looked at the other three and it reaffirmed my own idiocy, which I should be used to by now.  My original trains of thought for each team, as I best remember:
Caja Laboral: Man, how much better do they seem to me now that they dismantled Barcelona in the ACB Finals? They just might have a shot at the title if they bring back their core, maybe add a piece or two. But what about Tiago Splitter? Pretty sure he'll be in San Antonio while his team is opening against Maccabi. That sure does leave a hole down low, a hole which Mirza Teletovic and his fear of contact has neither the desire nor the ability to feel. On the other hand they are getting David Logan—reportedly, at least—and if he'd been playing in Spain or Italy instead of Poland the past couple years we might be elevating him to the level of fellow free agent Terrell McIntyre. Tiago might've been the only player on that team with an appetite for halfcourt sets, so a run n' gun mindset might suit Vitoria well.
Maccabi Electra: An opponent that you circle on the calendar even after a couple of 'down' years. Someone had to be the victim of Partizan's inspiring run last season and it just happened to be Maccabi, who pulled off a clutch win on the road against Madrid to win their Top 16 group (I should know, I was there), had the look of a Final Four team. At times. And in spurts. Speaking of spurts, the ticking time bomb of coaches, Pini Gershon, was run out of town to make room for David Blatt, which I think is a good hire. And they've already tackled the Holy Tnirity of free agent signings and it's not even August yet. The Grizzled Veterans: Derrick Sharp and Tal Burstein. The Local Hero: Israeli League MVP Elishay Kadir. And New Blood: Richard Hendrix, the ACB's Newcomer of the Year. Hitting all the right spots.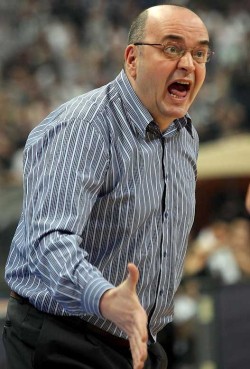 Partizan: Anything is possible with Dusko Vujosevic at the helm, but that's now only good news if you're a CSKA fan, as Dule bolted for Moscow and a franchise capable of paying market value for top talent. There's no team in the world who's more fun to root for than Partizan, so Aleks Maric, Jan Vesely and Bo McCalebb, I'm asking you nicely: stick around. Win something.
Asseco Prokom: Remember a few paragraphs up when I mentioned David Logan's imminent departure? Unless that's nonsense then Asseco's chances of making the playoffs again seem slimmer than all of Loren Woods' body parts (grab hair, remove head from gutter). Whether Logan sticks around or not may well be immaterial as my crystal ball shows Qyntel Woods packing his things and leaving Gdynia in the rearview. An NBA contract is in his future. So that leaves Daniel Ewing and Jan Jagla. Not exactly Stockton and Malone. I'm not sure what Prokom's money situation is looking like, but as basketball's popularity grows each day in Poland, the management would be wise to put together another contender before fans jump ship. Am I hitting the panic button too early? I usually do.
Zalgiris: Ever been on a rollercoaster? You know the part where you're suspended at the crest of the first big drop after cranking loudly toward the top? You can see the entire park and everything seems eerily quiet as you raise your arms and prepare to scream? That is Zalgiris' season in a nutshell. The whole season seemed to wrong at every turn yet the plummet we all expected never showed up to the party. One coach turned to two, two to three and three to zero as psycho owner Vladimir Romanov did all he could to deconstruct a legacy that Arvydas Sabonis and the people of Kaunas spent years building. Through it all though, Zalgiris kept things interesting. They advanced past the group stage on a miracle triple by Marcus Brown, beat rivals Lietuvos Rytas in the Siemens Arena for the Baltic League title and—though some might stop short of calling this a success—took Rytas to seven games in the LKL Finals without a coach. Next year they'll get a boost from alien lookalike Mindaugus Kuzminskas on the perimeter, leaving them a point guard and a Romanov kidnapping away from restoring glory in Kaunas.
Qualifier B: They need to grab Free Agent G to kick their guard play up a notch and Prospect 7 needs to start delivering on all that potential. I think that Coach X4 was a great hire though, and could lead this team to the promised land.
Group B
Some big names in this one.
Olympiacos: Now that Kleiza has terminated the second year of his deal, that leaves the Reds with nearly 5 million Euros to play with, and if Childress follows suit then we can almost double that number. It seems as though Spanoulis is a target, and while they've got their guns out they should hunt down a wing. Extra money is nice, but it's not easy replacing two All-Euroleaguers who lifted your offense to near-historic proportions.
Real Madrid: Let's get one thing straight: I'm not the biggest Ettore Messina fan. I know everyone wants to lift his name on high, but I wish he'd loosen up a bit this year and let his athletes loose a bit. Sergio Llull is as dynamic a guard as we have in the EL, but he's often forced to swing it and wait for open shot rather than waving off Pablo Prigioni and taking his man from the top of the key. I'm not asking for a purely isolation offense, but a little razzle dazzle every now and then might help shake things up. So will replacing the Hunchback of Vistalegre, Darjus Lavrinovic, with the slightly more upright D'Or Fischer. It's a start. Let's hear it for occasionally jumping.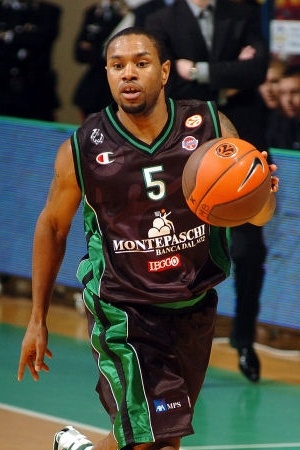 Unicaja: Terrell McIntyre turns this team from inconsistent to rock solid. Omar Cook is finally running the point like it was meant to be run and Freeland and Printezis make up the most active frontline in the Euroleague. I'm convinced that my Bieber-like mancrush, Augusto Cesar Lima, will be a contender for the Rising Star trophy when it's all over, even though the Brazilian big is only 19. If I'm right, Unicaja could be scary. Now if we can sign a playmaker on the perimeter to sidle up next to vets Carlos Jimenez and Berni Rodriguez, Malaga will be in business.
Virtus Roma: I remember when some moron picked Ibby Jaaber to win the scoring title. What a joke. I would never take him or his website seriously again. Honestly, Ibby Jaaber? Really? How stupid is this Nick Gibson guy anyway?
Brose Baskets: I really hope Tibor Pleiss sticks around Bamberg for at least one more year, if only so I can sound less dumb when assessing his NBA potential as an Oklahoma City Thunder (If you're on the Thunder, are you a 'Thunder'? What is a 'Thunder', and what does one look like? Isn't it just a post-lightning soundwave? I suppose they were the Supersonics in Seattle, which is either a loud boom or a description of speed depending, so it's not like their mascot was animate either. Sports teams should just stick to mammals and insects, if you ask me. Hornets to Bobcats? Now I can handle that, Charlotte. Utah Jazz? I've never seen a Mormon play a saxophone. And now it's time to close the longest parenthetical tangent ever. Good night, and good luck.).
Qualifier A: The team that pops out of this side of the bracket should feel good about their chances. One, two and three are locked up in my eyes, but it should be a three-horse race to make it a quartet. That last sentence was too confusing and cutesy; I meant to say this: the fourth spot in this group is up for grabs. There, all better now.
Group C
Regal Barcelona: What can you say about the champs? Well, for one they re-signed Terence Morris to a deal recently. Points for that. Never a bad idea to reward your most consistent player with Euros. The greatest comfort Barcelona's enjoying right now is the fact that Ricky Rubio—the best young point guard in the world—is slated to play another year for them. No drama, no David Kahn, and plenty of time to build around him and Navarro for one more title push before Ricky leaves for America and forces Barca to nab another PG. Whether or not Xavi Pascual will admit it, he knows he'll never have an opportunity like this again. The signing of Kosta Perovic leads me to believe either Vazquez or N'Dong will be on their way out, but this is purely speculation.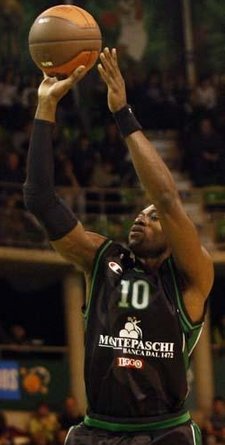 Montepaschi Siena: The bright side of the McIntyre situation: we'll all be able to see Romain Sato let loose and go wild. Expect Qyntel Woods-like production minus some of the untimely turnovers. But I sure do bet they'd like to have Morris Finley back now right about now…
Lietuvos Rytas: Last year after winning the Eurocup they let their big guns—Marius Petravicius and Chuck Eidson—walk, and it cost them. All season long they did more with less than anyone and their dedication to an organized offense even turned Bojan Popovic into a near-star and put Martynas Gecevicius on the map as the next Igor Rakocevic (yeah, I said it). This offseason they've wasted no time in making moves, although I'm not sure I like the firing of Coach Rimas Kurtinaitis. Ugly monochromatic suits and annoying facial expressions aside, the dude got his team ready to play. At first glance, I've got them advancing.
Fenerbahçe Ulker: The best free agency of any team in Europe so far belongs to Fenerbahçe Ulker. Period. Marko Tomas joins Emir Preldzic and fellow Croatian Roko Ukic to make up what could be a top three backcourt in the Euroleague from the jump (you guys don't get it: I really like Marko Tomas.), and Darjus Lavrinovic, while not my personal favorite player, will be a good pace change from Omer Asik and Oguz Savas down low. Unfortunately the Turkish League website is one of the few that decides not to work from America, so I'm left to guess who's still on their roster at this point. For instance, if they've retained Tarence Kinsey to play with the names above, I think Fenerbahçe could be a serious Final Four contender. I thought that last year, too, about both them and their Turkish buddies, Efes Pilsen. So I might put off a prediction until I go to Istanbul in person and see what the deal is.
Cibona Zagreb: Once I become rich and famous, I'm donating a million dollars to every team in the Adriatic League so that they can designate one star player per year and retain him. Based on my current projections this could be a reality as soon as the year 2183. I guess Marko Tomas' knees will have worn down a bit by then, huh?
Cholet Basket: Again, I'm mostly excited to watch Kevin Seraphin play. The past month I've been on somewhat of a draft binge, so excuse my drooling. Hopefully they'll start off a little hotter than their French counterparts did last year; Entente Orleanaise and Asvel Basket were the last two winless in the Euroleague in 2009-10.
Group D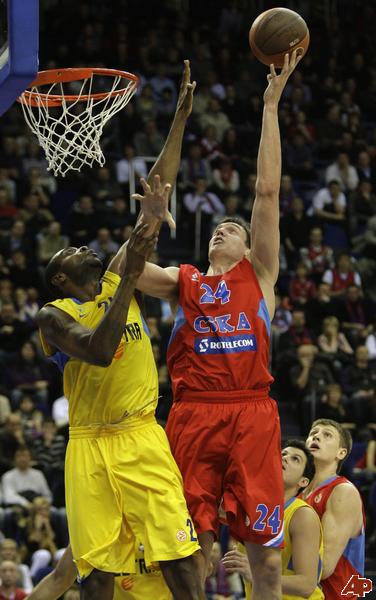 CSKA Moscow: Bringing in Dusko is a clear sign that they'd like to squeeze one more championship out of J.R. Holden and Trajan Langdon. If Sasha Kaun and Khryapa stick around then I think they're instantly the favorite. Story I'm watching: will Dusko's commitment to youth continue even with a swollen budget? Artem Zabelin and loaned-out Aleksey Shved certainly hope so.
Panathinaikos Athens: Complacency killed them last year as they let weaker teams hang around all game. When the fourth quarter shots wouldn't fall, they were screwed. Overall, it was boring basketball and now they're losing their most (only?) exciting player in Vassilis Spanoulis and their strongest inside presence in Nikola Pekovic, who's determined to beat Rubio to Minnesota by a year. Unless they get Aleks Maric, I don't know what they can really do to make themselves a serious contender this year. usually just being Panathinaikos is enough, but I think they've counted on that for too long.
Power Electronics Valencia: They've already lost Kosta Perovic and I'm afraid Rafa Martinez and Matt Nielsen might be next. If These dominoes fall and Nando de Colo and/or Victor Claver head to the NBA then the team that I watched win the Eurocup Finals in Vitoria will be almost entirely dissolved. I left the arena convinced that a similar core could challenge for a Final Four bid in the Euroleague the following season. It looks like I might never get a chance to see how foolish my intutiion was.
Efes Pilsen: Last year I thought Igor Rakocevic and Bostjan Nachbar could be the best duo in the Euroleague if things worked out. They might've made the top 50 if they're lucky. Rakocevic took far too long to find his stroke and Nachbar found himself on the bench during important stretches of important contest, clearly not getting the vote of confidence from the coaching staff. I love the Wisniewski signing as last year's biggest issue was finding a playmaker, and the Miroslav Radujlica sounds nice right now but won't mean anything this season if they stow him on the bench. Let's hope they let him breathe and let's hope Efes gets it together this season.
Armani Jeans Milano: Alex Acker, Jonas Maciulis and Morris Finley were supposed to join forces to produce fast, fun, uptempo offensive theater. The result was more like unorganized playground ball with nicer uniforms. You could tell that the talent was there, as was the effort, but everybody had their own private agenda. Traditionally busy buyers in free agency, let's see what Team Giorgio can come up with.
Union Olimpija Ljubljana: I hope they win every single game, but the better odds lie with the opposite.
And with that, the book was closed on 'The Draw.' The spectacle which stapled eyelids to eyebrows and redirected Twitter accounts to the Fail Whale came to its inevitable conclusion. As with many occasions, the conclusion we all sought only led to more questions. We'll have answers to some sooner than others, with the final shoe falling in Torino, Italy in early May of 2011. Sleep easy, now.