By: Freaknick/@Euro_adventures
"What's understood ain't gotta be explained, but you don't understand me, so let me explain."

-Lil Wayne, Don't Get It
Much like Bob Dylan lyrics or Sarah Palin's entire life, genius is often misunderstood. Likewise, carefully orchestrated anarchy is frequently perceived as 'chaos.' Well let me assure you that just because he's fired three coaches in one season, defied a nation's most iconic sports figure in Arvydas Sabonis, repeatedly been late for payments, completely lost the respect of his players, spoken giddily about Marcus Brown being Zalgiris' fourth head coach before sending his millionaires out there coach-less during the LKL finals against their biggest rivals, team owner Vladimir Romanov has everything under control. As a matter of fact we should all abandon logic and common sense, shut our mouths and watch as this modern day Einstein unveils the most foolproof formula for team building the basketball universe has ever seen. As we're about to see, he' just heating up.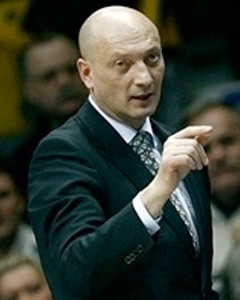 Phase One – Fire the incumbent midway through the season.
Gintaras Krapikas 'resigns' after Zalgiris loses its seventh straight Euroleague game. European coaches not finishing the seasons on the sidelines? No biggie. Happens all the time. Romanov is in control. Everyone is happy.
Phase Two – Bring in a big name to settle things down.
Welcome aboard, Ramunas Butautas. RB's previous work included leading Lithuania to a bronze in the 2007 European Championships and a fourth place finish in the Beijing Olympics a year later among other stints around the Baltic states and the rest of the continent. Big name, fresh start, Top 16 within reach. In Vladimir we trust.
Phase Three – Fire him.

Yeah, so they defied all the odds and advanced to the Top 16 under RB's leadership, but it's not like they were undefeated in the Lithuanian League or anything. Oh wait, yes they were. Still, Romanov has a plan and goshdarnit he's sticking to it. Butautas was merely a pawn in Phase Two, and now that he'd served his purpose it was time to toss him to the lions.
Phase Four – Handpick a clearly incompetent replacement.
Clearly afraid of there being a shortage of dumb people in the world when Phase Four rolled around, Romanov carefully planted Darius Maskoliunas on the bench long ago. When the time came, Vladimir was ready, and he promptly dubbed Scary Dari as his interim coach the day before an important Top 16 game with Unicaja. Romanov's intelligence: 1. Freaknick's: 0.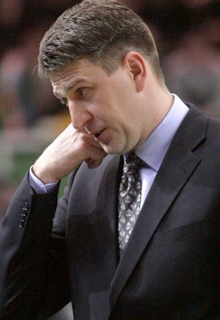 Phase Five – Fire him. Fire the shit out of him.

So it went a little something like this: Romanov boards the team bus, security in tow and demands Maskoliunas steps down only hours before their LKL tilt with cross-country rival Lietuvos Rytas. The players were all, "Oh no, he didn't!" and Vlad was all, "Oh, yes I did, sister!" and the bus driver was probably like all, "Boy you musta lost yo' mind, actin' a fool on my bus!" and then so Vlad went all, "That's wack!" on us. And then hegingerly stepped off the bus, pleased with the seed he had planted. Sure he had survived a near mutiny, but things were starting to fall into place. Imagine his delight when Maskoliunas arrived at practice the next day only to be denied access to team facilities. I would say Romanov 'showed him the door' but it would have been inaccurate since, technically, Scary Dari never stepped foot in the door.
Phase Six – Do, say, and suggest crazy alternatives during the next 24 hours.
So first, he asked our good buddy Gvidonas Markevicius to take the reigns. Afraid of having an evil genius as his boss, he politely resigned. Then Romanov suggested that his team's elder statesman, Marcus Brown, coach the team. He was less than enthusiastic. Alas, the players would enter game four without a head coach; this means play calling and most importantly substitutions would be on a voluntary basis by the players. Of course they performed admirably and won handily. Would you expect anything less from puppets suspended and yanked by Romanov's brilliance? Past the halfway point and people were buying his act; if he could just throw everyone off his scent for a few more days his dreams of a Zalgiris dynasty would be within reach.
Phase Seven – Target the NBA's disgruntled Europeans.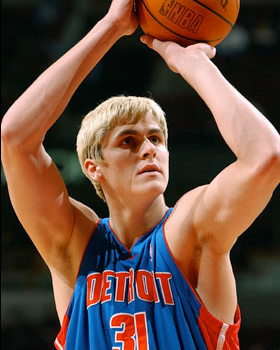 Rudy Fernandez is homesick and frustrated in Portland. Marcin Gortat knows Dwight Howard is good, but doesn't see why they should stow Poland's most valuable asset on a bench. And Darko Millicic…well, don't want to beat a dead horse here. Imagine their surprise when a team owner calls them up in the offseason with this pitch: "Hey guys, you want to play? How many minutes? Sounds good, just run on in there when you're ready, head for the bench when you need a breather. OK, see you soon then, have a safe flight to Kaunas. If you stop over in Latvia, I know a great pizza joint near Gate A." After they changed pants due to their uncontrollable excitement pee, they'll be scrambling for a pen and looking for the X ________________ to sign on. Sure these guys would be expensive, but think about all of the money Romanov is saving by not having any coaches? No assistants, no trainers, no stat guys, no team media manager. Add that to the paycut these guys would take to play self-assigned minutes and that frees up enough room to sign one of Europe's most frightening frontlines and a Spanish marketing magnet.
Phase Eight – Fill your Non-EU spots with the holy triumvirate of overpaid, underplayed American guards.
I'm talking Allen Iverson, Nate Robinson, and Stephon Marbury. Iverson's out of the league because of lack of playing time in his last two spots—Detroit and Philly—and alleged drinking and gambling issues (honestly, who has a gambling issue that is not partially alcoholically induced? Let's call it a 'drambling issue' and be done with it). Well Kaunas has casinos on every other corner and of course there's the 'sub yourself' policy, both of which bode well for the Answer's wants and needs. Nate is talking about filing a grievance against the Celtics for abusing their decision-making privileges and making the smart decision to bench him. And who wouldn't want Starbury? The dude is currently making big bones in China and could stamp his passport once more and move back up the basketball ranks. By the time he's 50 he might sniff an NBA roster again; Zalgiris is the perfect stepping stone.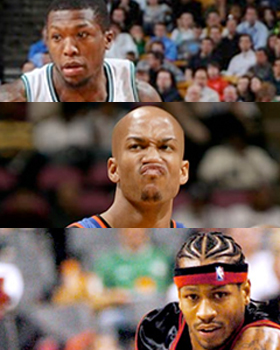 Phase Nine – Merchandising, merchandising, merchandising.
Maybe these six would clean house in Europe. Maybe they would bicker, ballhog and go Gilbert Arenas on each other. But who cares when Lithuanian babies are running around in Starbury kicks, grade school kids are rocking A.I. shooting sleeves, the highschoolers are spraying on fake 5 o'clock shadows with "Rudy-gaine" and all the hipsters are tagging their Tweets with #wordaapp. Slap a couple copyrights on them, collect the royalties and Romanov is in business. No coaches, no problems.
Phase Ten – Cut the players without cause. The Vladimir Romanov way.
I am not a lawyer. I am not an agent. But I am aware that Lithuanian basketball has no union and therefore no real organized protection against fraud, or against Vladimir Romanov's whims. So cut 'em, Vlad. Chop 'em down like Matis-freakin-yahu. Keep the money, save the money, spend it at your own discretion, whatever. All in all, we're looking at one to two seasons where you pay out almost nothing but water and electricity for your new stadium. Just one more step and Zalgiris is unstoppable.
Phase Eleven – Use your money on elite Europeans.
With money to burn and a reputation worth nothing, reel in the big fish. Any combination imagineable, it's yours. You want Rubio, Marko Tomas, Kleiza, Jankunas, Pekovic? Done. Teodosic, Navarro, Qyntel Woods, Lavrinovic (either one), Maric? Deal. Maybe you'd prefer McIntyre, Pocius, Mickael, Khryapa, Splitter? That works, too. In a world ruled by Vladimir Romanov, anything's possible.
Maybe he'll even hire a coach.